This Feliway Plug-In Diffuser comes with 48 milliliters bottle to help your cat deal with stress. When you adopt a cat from completely different environment, sometimes, the cat just can't cope with its new environment. This state of mind can lead to cry all night, vomit, fear and any other medical or physiological issues. Feliway emits cat's natural pheromones to help your cat feel relax, these pheromones are usually used by cats to mark their territory as secure or safe.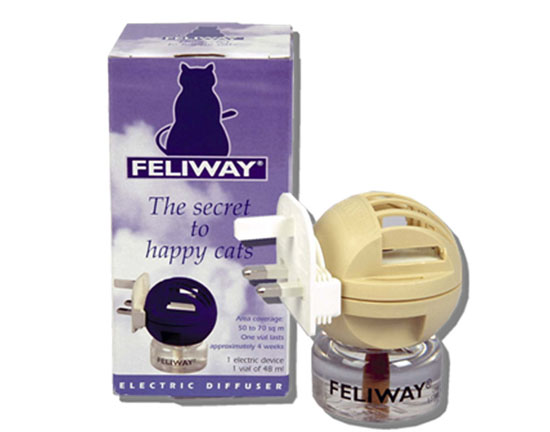 Simply plug this Feliway Plug-In Diffuser into your electrical socket, it will automatically emits synthetic cat's pheromone to calm your cat down. Don't worry, it is very safe and has been developed to meet health safety standards, but please do not plug it in beneath your furniture or behind doors because it might danger your cat while spending time in that areas. This product is a smart way to sooth your cat in a new place, the smell somehow reassures your cat that its new environment is really safe, at the same time, it reduces any behavioral or medical problems. The 48 milliliters bottle can last about 4 weeks and covers an area of fifty to seventy square meters.
Instead of giving your cat medication, you can try this natural and safe way. Usually it takes around 12 hours to see any improvement in your cat state of mind. You will notice that your cat becomes calmer, sleepy, charming and playful. One thing that you would definitely love is the urine marking symptom would also be gone, instead of messing with your wall, your cat will be back to urinate into the litter. Installing Feliway Plug-In Diffuser helps make your feline friend happier, it's odorless and doesn't affect humans.
Posts in this website may contain affiliate links. If you purchase a product through an affiliate link, your cost will be the same but Pawfi will automatically receive a small commission. Thank you for supporting us!
Tweets by @pawfipet
What others are searching for