Browsing articles from "October, 2014"
You can safely confine your small pets in certain area of the house with Richell Wood Pet Sitter Gate. It helps to know your little dog doesn't run around in the kitchen while you are preparing meals for the family. This adjustable gate fits doorways from 28.3-inch to 41.3-inch wide with its beautiful polished wood and metal. There's small wire door that you can open both directions to let your pet pass through, for you, simply step over it, this gate is actually pretty low, but high enough to stop small pets from jumping over it.
If you own a puppy, a shihtzu, or a yorkie, this could be a perfect gate. It is really easy to set up, the rubber skid bottom and side stoppers help to protect any surfaces from scratches. What we really love about this gate is its versatility and gorgeous design, just remember, it's meant for indoor use only. [CLICK HERE to checkout details of Richell Wood Pet Sitter Gate]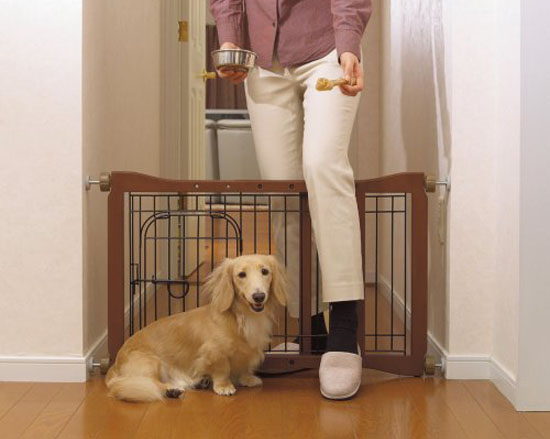 This modern Sidney pet house is the result of paying tribute to Jorn Utzon, the architect that designed Sydney Opera House. It's a unique way to re-interpret famous architecture in history and build it as a home for your lovely pets. The 3D shell must be cut on the front to create an opening for the pet house right after printing. It's available in 2 different sizes: big one for dog and the smaller one for cat. Using special technique of 2 mixtures at different times during molding, the designer has managed to develop multicolor version: one color for interior and another for exterior.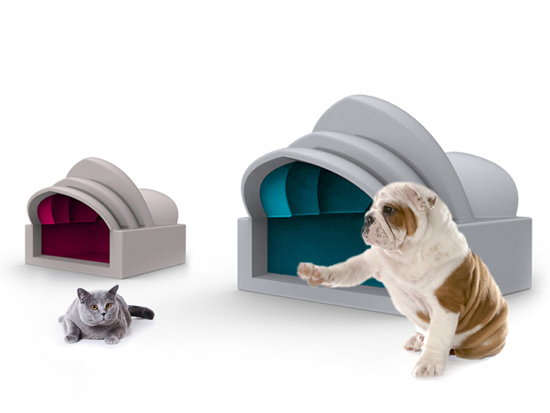 The people who bring up a puppy must know how much affection and love they show while bringing up a puppy. You might have seen many of your friends who suffered after their dog's death. Day by day they become a part of the family; without the little cute pup you cannot imagine your days. But besides showing love, care and giving food, you must be very conscious about your puppy's health too. You must be aware of vaccines and medicines and neutering. But how many of you know about pros and cons of spaying and neutering in dogs.
Neutering means "de-sex" the animal, removing the reproductive parts from their body. Spaying means sterilization procedure of a female dog.
Pros of spaying and neutering
– Spaying can prevent blood discharge. During heat periods the genitals swells and as a result blood is discharged from the body and her own far coats by blood. Your furniture, floor and carpet get stain marks.
– You have to postpone your vacation plan because you cannot keep her at that time in a relative or friend's home, as they will be annoyed. You cannot leave your unspayed dog into a boarding kennel or with pet sitter as there is high risk of the dog getting pregnant.
– You cannot leave her alone in the house yard as male dog can smell that scent from distance, even she may flirt with other dogs and with female dogs also and lure other dogs to mount on her.
– Unspayed female dog tend to develop a uterus infection named pyometra and its life risky. If your dog has already developed this disease the only solution is spaying. If you spay your dog early it would be healthy.
– After heat periods some female dogs show sign of false sign of pregnancy. Their belly may swell, nipples may produce milk. It can cause infection mammary gland infections due to the hormonal changes and it destroys the dog's metabolism rate.
– Many times dogs die while giving birth or after child birth. Just imagine how you would feel if you lose your pet!
– Spaying prevents ovary and uterus cancer and prevents mammary tumors.
– The dog gets fierce if you prevent them from mating; a spayed dog is more gentle and affectionate.
Cons of spaying and neutering
– Spaying escalate the risk of Hemangiosarcoma, a dreadful cancer that mostly attacks the heart and spleen.
– Hypothyroidism can be seen in spayed dogs that lower the level of thyroids that increases the risk of obesity, hair fall etc.
– If you remove the uterus and ovary too early it can bring diseases like bone rapture, ligament rapture, hip dysplasia.
However the pros outweigh the cons a lot more, and hence it's wise to get the dogs neutered or spayed while they are adolescent. There are millions of dogs all over the world who have no home; fall victim of pre-mature death. They do not get food and shelter, never receives affection. But when they are getting that affection and care from you, it's equally important they get the beast health benefits from you.
There's a new member in Zogoflex line, West Paw introduces Toppl. It's a colourful, stuffable puzzle toy that will entertain your dog all day long. You can stuff treats inside this toy, your dog would do anything to try to get them, it's fun to watch. Your smart dog will play with this bouncy and chewable toy, roll, wobble, or bounce it just to get those precious rewards. The cool thing about this toy is that you can interlock 2 different sizes in order to make playtime a bit challenging and more fun. Just like other Zogoflex toys, this one is recyclable, BPA and Phthalate free, FDA compliant. It is guaranteed to last.
Tweets by @pawfipet