Browsing articles in "Medications"
Anxiety and over excitement can be an issue to some dogs, the proven calming method would be giving your dog a comfortable constant and gentle pressure, that's why you need ThunderShirt Classic Dog Anxiety Jacket. By giving acupressure and maintained pressure to your dog's body, it helps to relieve stress and lessen fears in dogs.
We have featured this anxiety wrap sometime ago, this is the updated model to make sure that your dog gets the best of pressure wraps on the market. This product helps to eliminate five major conditions: hyperactivity, anxiety, fear, insecurity, and shyness, these are major conditions that cause unwanted behaviors in dogs.
Not only dogs that hate flea season, so are we as pet owners. There are many pets that can survive this season with clean coat, but not all dogs are so lucky, that's why you need Bayer Seresto Flea and Tick Collar. This product has been proven for safe and effective protection from fleas and ticks for dogs, unlike flea drops that need to be applied after every month, this product is easy-to-use and offers protection up to 8 months.
Seresto flea collar offers an affordable option yet works as good as other famous brands on the market. This product combines imidacloprid and flumethrin, these two ingredients provide dual action against fleas and ticks. So, basically not only this collar kills fleas and ticks, it also prevents future infestations. The collar is odorless.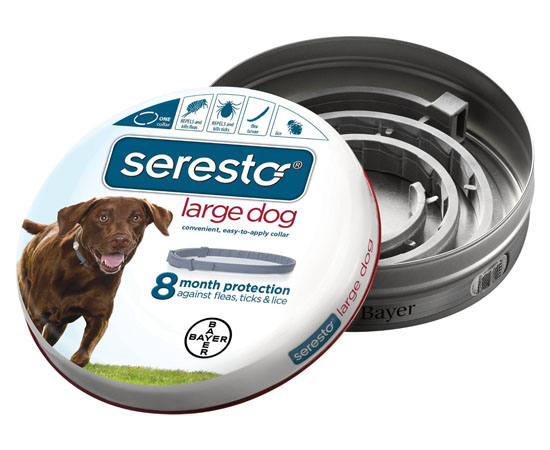 Based in Colorado, USA, Bixbi Pet has made one of best food nutrition for your pet, this one is Organic Pet Superfood JOINTS. This superfood offers premium supplement that promotes healthy joints, it's important to prevent arthritis or sore joints, which usually occur in older pets. You can drastically reduce the chance of your pet to suffer from those problems by giving them supplements as preventative. The formula in this product is packed with natural antioxidants, it features unique medicinal mushroom formula that fights free radical cell damage that is usually caused by age, exercise, and stress. The company grows their own mushrooms in laboratory conditions, so, it's safe to say that the mushrooms are 100% USA made, you would also be happy to know that they are USDA certified organic packed with high polysaccharide counts and tons of nutrition.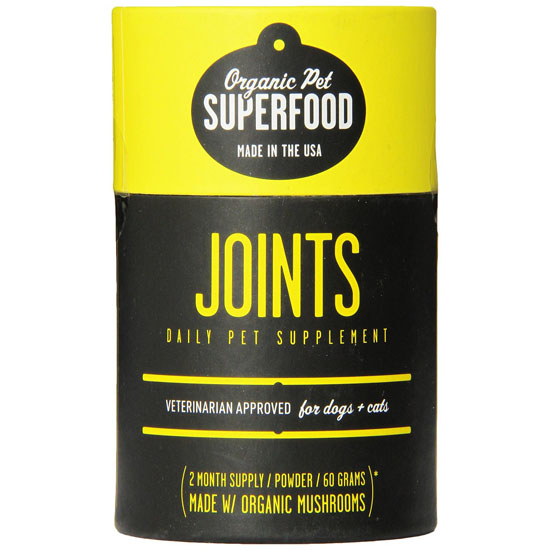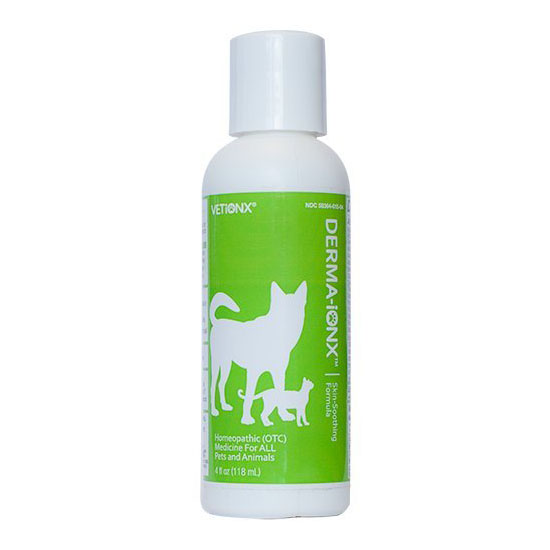 We'd like to provide you with VETiONX Derma-IonX pet skin care review, this all natural formula works amazing to take care your dog and cat itchy skin. Pet skin irritation isn't a problem not only for the pets but also the owners. If left untreated, it becomes worse over time, VETiONX Derma-IonX is a good medicine to deal with it, based on many happy pet owners, this formula just works. It's a homeopathic liquid medicine that has been used by many pet owners to overcome many symptoms of pet's skin irritation. The pet only needs to drink it from a bowl as simple as drinking water. Does your dog or cat need it? The fact is, the irritation can turn out to be worse if it's ignored. We also believe that your pet is a part of the family, you don't want to see your pet feels uncomfortable due to skin problems. This skin care formula is FDA approved, so it will be safe for the animals.
Made in USA, Pet Ultimates Probiotics for Dogs is a special product that contains 2 billion bacteria within each tasty scoop to support healthy skin, regular digestion, and renewed vitality. If your dog often suffers from vomiting, bad breath, joint issues, you can help strengthen their immune system with this formula, just sprinkle it on their food. This product is a human grade probiotics but designed specifically for dog. The company claims that other existing products on the market contain only as little as 1/20th as much active ingredient, this product features 2 billion CFU/scoop. This is not just another Chinese-made dog probiotics that usually only contain sugar, grain maltodextrins or "animal digest" as the base, this product offers you a base of pure prebiotic inulin, the same ingredient found in people's daily supplement.
Joint MAX TRIPLE Strength Soft Chews a.k.a Joint MAX TS is a supplement specially formulated for your dog's joint manufactured by Pet Health Solutions. Older dogs tend to suffer from arthritic joint pain, you can help to ease the pain of your furry friend by giving them this supplement. The formula in each soft chew lubricates joints and helps to gradually rebuild cartilage. When you've done your research about arthritis, you would know the effectiveness of Glucosamine, not only that, each chew also contains Chondroitin, Zinc, Vitamin C, and many other ingredients that support healthy joint and skin. This product combats stiffness and achiness due to the break down of cartilage between bones, you really don't want to see your lovely dog suffer due to this condition.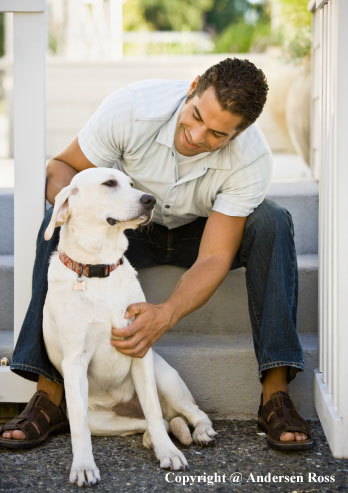 Itchiness in dogs may arise due to several reasons, for example, due to fungal, parasitic infections, due to inappropriate diet, due to dryness, or even due to any kind of injury. Just like humans can't tolerate itchiness at all times, or for longer durations, dogs also become quite sensitive and lose their tolerance against itchiness.
Firstly, the exact locations of itchiness should be identified, in order to get an idea about the extent to which the dog is affected. The next thing is to judge the nature of soreness or infection. If condition is painful for the dog, we strong suggest that your dog must be taken to the veteran as soon as possible. He or she will identify the problem and will give necessary medicines, foods and shampoos list to you.
Dogs or cats can have very sensitive stomach and refuse to eat anything. Nutramax Proviable DC for Cats and Dogs is a great supplement to restore your pet's digestive system. This medication works by reestablishing proper balance of good microorganisms in the intestines, it's better than antibiotics. Nutramax Proviable DC contains a multi-strain probiotic maintains your pet's health when diarrhea which is usually caused by stress, food sensitivities, antibiotics or simply a weakened immune system.
This medication is recommended by veterinarians to deal with vomiting or diarrhea. Please pay attention to your pet when he doesn't eat for days, because that can be a sign of bored or sensitive stomach. You can do some researches about this probiotic, you'll find out that this medicine is just one few products that contains active organisms and has passed all lab testing. Consult your vet about the dosage, you'll see improvement usually after a week or less, no more vomit or diarrhea. Nutramax Proviable DC can save you a lot of money due to sensitive stomach in dogs or cats, you should give this product a try.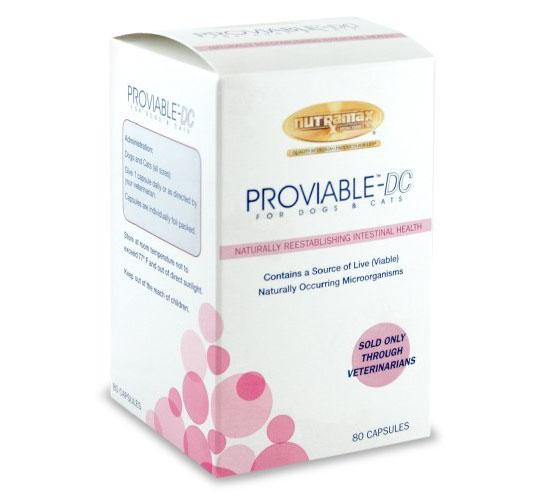 It's very important to maintain healthy bone structure and joint mobility of elderly dogs because they usually suffer in great pain because of that. PhyCox Soft Chews product provides nutritional supplement from enhanced antioxidant protection and Omega-3 fatty acids. Based on a customer review that we read, this supplement helped save his dog that was dealing with severe knee injury. The result can be seen within 2 weeks (but it's different for each dog), you'll notice that your dog moves easily or even run. This product works great for arthritic dogs as well, many customer reviews mention that they see the great effects after giving their dogs PhyCox Soft Chews.
The formula of Purina Veterinary Diets Fortiflora Canine contains helpful microorganisms which are usually found in dog's digestive system. These microorganisms help manage or shorten periods of diarrhea that your dog often suffers. This formula also helps to ease urinary tract infections because of its high level of antioxidant, vitamins A, E and C that really help support healthy immune system.
Do you know common causes of diarrhea on dogs or puppies are usually coming from environmental stress, antibiotic therapy or food changes? Yes, it happens. The Fortiflora formula helps to balance bacterial in the intestines, this nutritional supplement not only prevents but also speeds up recovery from diarrhea.
Sprinkle some Purina Veterinary Diets Fortiflora Canine on the dog food, mix it all up, usually you'll be able to see the result in a week. You should stop the treatment if your dog is back to normal
Tweets by @pawfipet