Browsing articles in "Apparel and Accessories"
A stylish dog coat, Dog Coat Brooklyn is made with waterproof outside fabric to ensure it's perfect for rainy days. In colder weather, we're pretty sure that you dog would be much more comfortable inside this cozy and warm coat, the inner lining is made of ultra soft fleece. Aside being comfortable to wear, this coat also adds style to your dog with that lovely high neck collar. There are several size options available, it's perfect from medium sized to large sized dog. The inner lining is machine washable for added convenient.
Training your dog requires treats and toys, PupGym Dog Treat Pouch and Training Bag is a nice pocket bag to keep those treats and small toys. It features high quality material to keep all dog training essentials. The front large zippered pockets can hold your phone, keys, or a tennis ball, you can easily pull it to secure all items inside in one step. Inside this pouch, the inner lining is made of a light blue color, a nice color to help you locate treats or accessories much easier, it can also be pulled out fully for easy cleaning.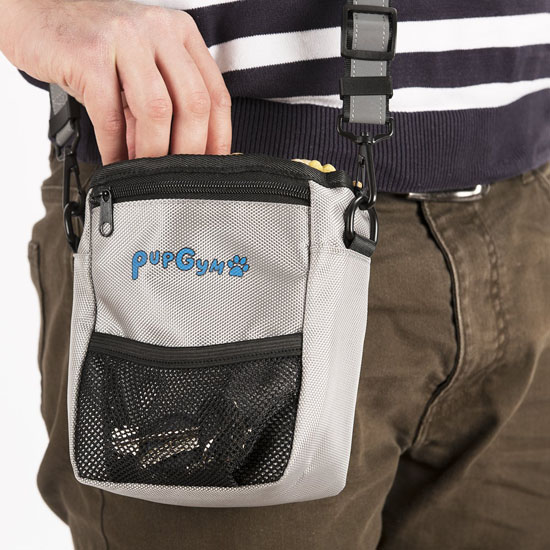 Controlling odor when your house is full with pets can be challenging, you should try installing CritterZone Air Purifier to eliminate those nasty odors. CritterZone Air Naturalizer is pretty powerful unit, filterless and chemical free, the natural process eliminates bacteria, odors, and other pollutants(e-coli, salmonella, mildew, mold, and many more).
Once this unit turns on, it safely and naturally kills germs in the air, not just that, it also provides protection for the surface to prevent any germ and mold growth. Due to its compact size, this unit is highly portable, even perfect for vehicle (use car adapter). It is pretty powerful unit, unlike other air purifier that only covers around 50 to 150 sq. ft., this unit can cover an area up to 800 square feet, it can save your hard earned money. There are 3 settings that you can choose to control the amount of natural charged flow to clean the room or vehicle, it cleans surfaces and even in fabrics. It takes less than 3-watts of energy, CritterZone cleans your air 24/7 for less than a penny/day, it sounds nice, heh?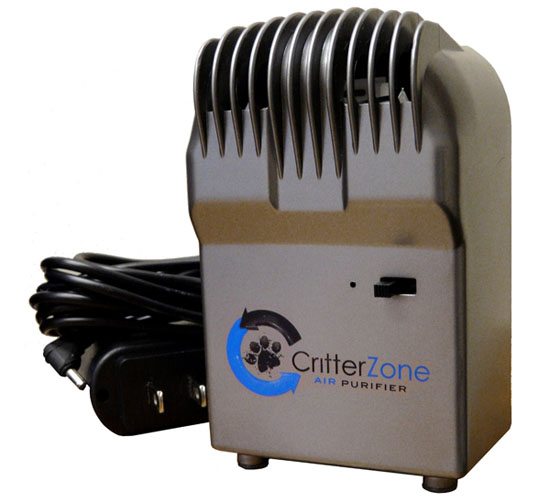 You can stop telling everyone around you that your dog is a service dog by making him/her wearing Cool Red Mesh Service Dog Vest. We're pretty sure it will shut most people up when they are about to question your partner. This vest features strong mesh lining breathes to ensure your dog feels comfortable when wearing it, even during warmer weather. It is light and comes with adjustable straps (12-inch to 24-inch), those reflective straps allow the dog to be highly visible under low light vision for its safety and yours.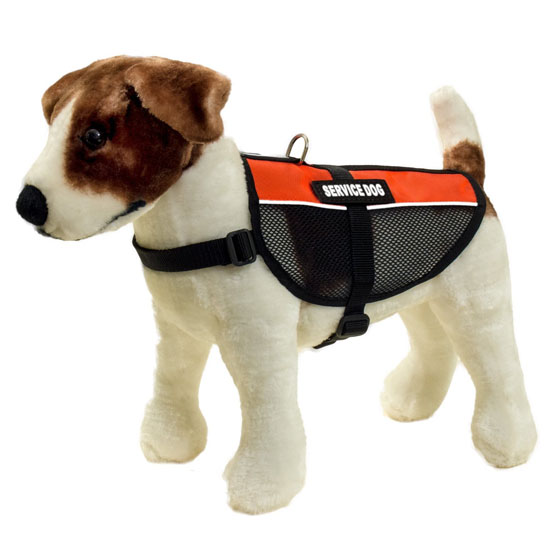 This All Weather Jacket keeps your dog dry and comfortable in style. Each jacket is made in USA, San Francisco to be exact, the material is lightweight and breathable while the microfleece lining insulates warmth. The jacket is pretty stretchy and durable, there's a belly strap for adjustability, you can use the anti-leak opening to attach your dog's leash to harness below. There's only one color choice available, but you can choose the accent color: blue or orange.
Make sure you measure your dog's size (neck to tail and around the chest), Wildebeest offers range of sizes from XS to XL. The built-in D-ring provides convenient way to attach the leash directly to the jacket, however, if you own strong and heavy pet that pulls, it is highly recommended that you use your own method of harness attachment. All Weather Jacket is machine washable then hang dry. Your four legged friends would enjoy their daily walk with this jacket.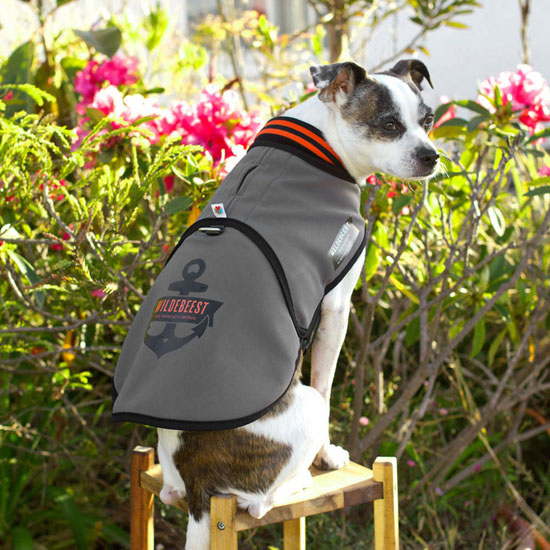 Protect your furry friend's paws from harsh surfaces with Musher's Secret. During winter, salt and snow can hurt dog's paws, by applying this wax on your dog's pads and between toes, you protect your dog's paws from sand, hot pavement, ice or salt. It's perfect for dogs that usually have outdoor activity on any weather, simply apply this wax-based cream and wait for like 15 seconds to dry, this formula will form some kind of shield to protect the paws. The formula used inside Musher's Secret is non-toxic, non-staining, and non-allergenic which can be used on weekly basis, it prevents any burning, drying or cracking, the vitamin E inside this formula helps in healing wounds.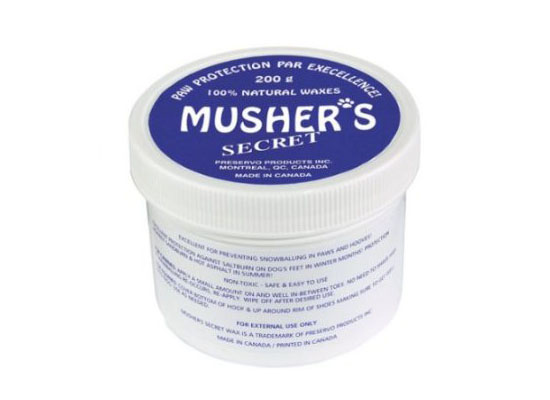 Protect your dog in rainy days with Fashion Pet Rainy Days Slicker, it's an updated version of the classic rain slicker. It is completed with reflective stripe both on the back and hood for extra safety while walking in the dark. There are size options you can choose, from XS to XXL, measure your dog correctly to get the right rain jacket. The material used is good quality and not too delicate. Its Velcro allows for easy on and off, you can attach the leash on the slit which you can find right under the hood. It's a great product to protect your dog from being wet as well as your floor :).
Where to buy Fashion Pet Rainy Days Slicker?
– PetSupplies
– PetMountain
– Dog.com
– Chewy
– Amazon
For pet owners who have multiple pets in the house, they know that food and water dispenser area can be pretty messy. If you need to use raised border to prevent any spill or crumble all over the floor, you can use Petmate Le Bistro Single Food Mat. The ribs design on the interior will keep spilled water confined in the mat, not all over your floor. We hate picking up kibble crumbs on the floor as much as you do, but if you want to prevent the mess from spreading all over the house, you have to clean them as soon as you can. This food mat is the help that you need.
Walk your dog during the night can be dangerous, Petflect Reflective Dog Vest is a great prevention to make your dog visible even from 500-feet away. This vest is made of lightweight nylon with cute reflective paw print and stripes, there's adjustable Velcro fastener that you can use to ensure your dog feels comfortable wearing it.
One of the main keys to stay safe on the read is to be visible. Having Petflect Reflective Dog Vest on your dog provides you a better peace of mind, your dog won't even realize wearing one since it's very lightweight and comfortable to wear thank you to its breathable nylon material.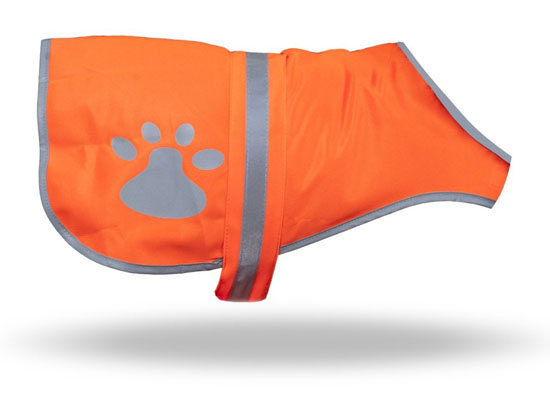 Walk your dog and let him carry his own treats, toys and water with Kurgo Wander Pack Dog Backpack. You can take your dog with you while hiking, camping or just walking around the park, with this backpack, you give extra exercise for your dog to make him work harder, but not that much. This backpack is made from heavy-duty polyester that can withstand any rugged outdoor conditions. Your dog will feel comfortable carrying this bag, the adjustable saddle bag system ensures snug fit, however please only use this bag for dogs 30 – 85 pounds.
The reasonable price is also pretty attractive point, yeah, backpacks from other brands could come with a price tag higher than a college backpack.
Tweets by @pawfipet