Browsing articles in "Cages and Carriers"
Living World Deluxe Pet Habitat is a spacious and comfortable habitat for your small pets. This hybrid cage features an upper wire frame with plastic bottom safe, a good ventilation to ensure your pet gets good air circulation. It is an ideal place to house your rabbits, ferrets, guinea pigs, or chinchillas, with those small toys such as access ramp, balcony, or other additional toys you can purchase separately to make your furry pals happy.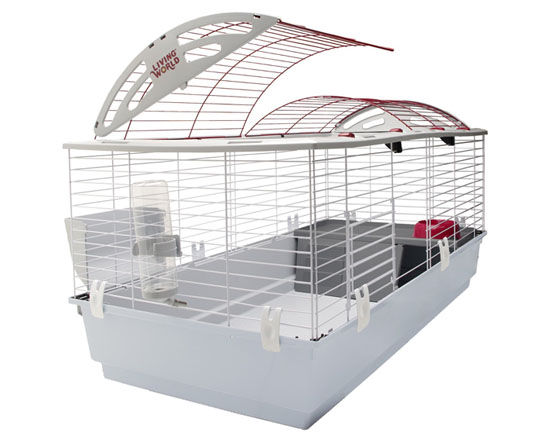 It doesn't look like plastic cheap looking cage, the wire has been elegantly styled with an arcing red wire top and white wire sides, a nice color combination. Aside from open top, there's also wire door at the front for additional accessibility. We really love that little balcony that has an access ramp, very cute, also there's a hideaway space under it where your pet can enjoy some privacy and quiet time. Every cage comes with a tip-proof food dish and a drop-proof water bottle. This unit is available in large and x-large size options so of course you can expect to get a lot of space for your pets, they will be able to stand and stretch conveniently.
where to buy Living World Deluxe Pet Habitat?
– EntirelyPets
– ThatPetPlace
– Sears
– Amazon
Contain your dog inside this strong and durable Midwest Black E-Coat Exercise Pen to ensure your dog stay away from dangerous area. Due to its durability, this crate is perfect for both indoor and outdoor use, the black e-coat finish resists rust and corrosion for a very long time. There are 5 different heights you can choose from 24"(W) x 23"(H), 24"(W) x 30"(H), 24"(W) x 36"(H), 24"(W) x 42"(H), and 24"(W) x 48"(H). The setup is pretty easy, no tools required on your part, also the ground anchors ensure this pen will stay in place. Another nice feature is that this crate folds flat for easy storage.
There are certain areas in your house that is dangerous for your pet, for example the kitchen. You can also this pen as barrier between rooms, in this way, you are separating your own area from the pet. Compared to plastic pen, you should go with this metal version if you're looking for extra strength and durability.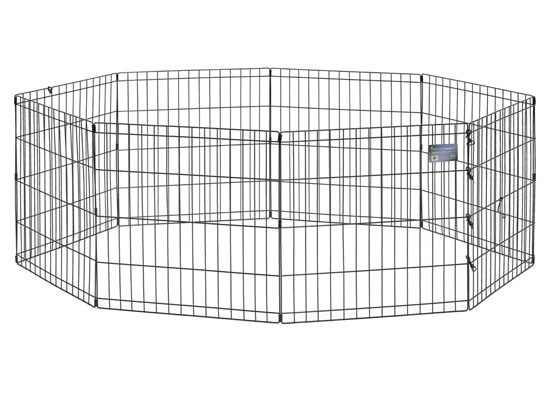 Checkout Chimere Modern Pet Furniture 2012 collection by Frederic Stouls and Marc Ange. This is the first manufacturer of contemporary and modern furniture dedicated to pets. This furniture set not only offers comfort but also beyond it's functionality, it provides decorative element in our home. Impressive soft and noble materials combined with high quality manufacturing, each of these furniture pieces is not an ordinary pet furniture, it's a beautiful creation with timeless soul.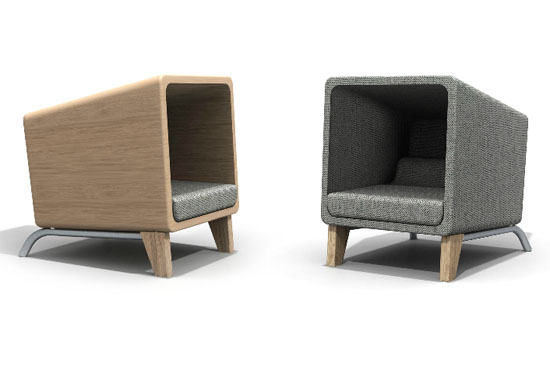 Did you just adopt a cute bunny? Well, then you probably need a safe and spacious cage to keep your bunny safe. You might want to consider Kennel Aire Frame Bunny House as it's been designed to provide your bunny the ultimate safety and comfort. Instead of straight flat roof, this cage features arched roof design which is a great feature we should mention here, it gives extra room atmosphere for the rabbit. There are 2 doors that you can use to give great access inside the cage, one on top and one on the side. Each unit comes with durable plastic tray, yes, it means you can easily clean your rabbit mess, just slide the tray out and wash it clean.
Ware Premium Rabbit Hutch is an attractive penthouse hutch for your bunny. This unit will arrive in a large box but not too heavy. It's fairly easy to assemble since the instructions are available inside the package, the cedar panels have all pre-drilled holes, all you need is a screwdriver. With dimensions 45.75" L x 25" W x 36.25" H, this hutch is pretty big, make sure you have enough space if you plan to keep this inside your house combined with a play pen. The full open-top roof is what we like about this rabbit hutch, because that means a great access inside when you need to clean it, if preferred you can just leave it open.
Super Pet My First Home is the perfect home for rabbit or ferret. If you're planning to get your first rabbit or ferret, you should consider purchasing this home starter kit, because it's meant for beginner small-animal owners. A 1-month old Guinea pig usually doubles its size within the next 2 months, yet this cage still can accommodate this pet. This unit comes in pieces, however, it's very easy to assemble, just snap them together without any additional tools. You'll get a perfect pet home in minutes.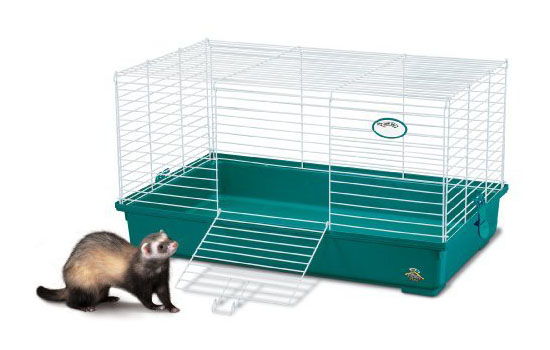 Iris RP-750 plastic rabbit cage offers a comfortable home for your bunny. It's a multi-level cage that features side and top animal access along with easy door latching mechanisms. The material is made of strong and lightweight molded polypropylene and ABS plastic.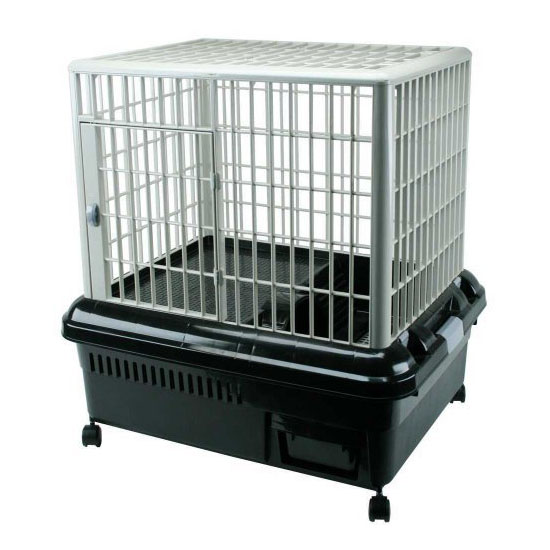 Tweets by @pawfipet