Browsing articles in "Dogs"
Anxiety and over excitement can be an issue to some dogs, the proven calming method would be giving your dog a comfortable constant and gentle pressure, that's why you need ThunderShirt Classic Dog Anxiety Jacket. By giving acupressure and maintained pressure to your dog's body, it helps to relieve stress and lessen fears in dogs.
We have featured this anxiety wrap sometime ago, this is the updated model to make sure that your dog gets the best of pressure wraps on the market. This product helps to eliminate five major conditions: hyperactivity, anxiety, fear, insecurity, and shyness, these are major conditions that cause unwanted behaviors in dogs.
Found My Animal Waxed Cotton Vest is a stylish apparel to keep your dog warm in colder weather. This is the latest FOUND vest collection, specially handcrafted from best USA sourced waxed cotton brown canvas for the outer part with red and black buffalo plaid wool lining, the hood features cozy olive drab cotton. This vest is ideal for different kinds of dogs, from small sized dog such as yorkies and chihuahas to large sized dogs such as spaniels. This stylish dog vest is available from sizes of 11-inch, 18.5-inch, and 20-inch length. You can also let your dog carry their own treats, there's a cute side pouch with solid brass zipper and grommet, the solid brass snaps are nice for an adjustable fit.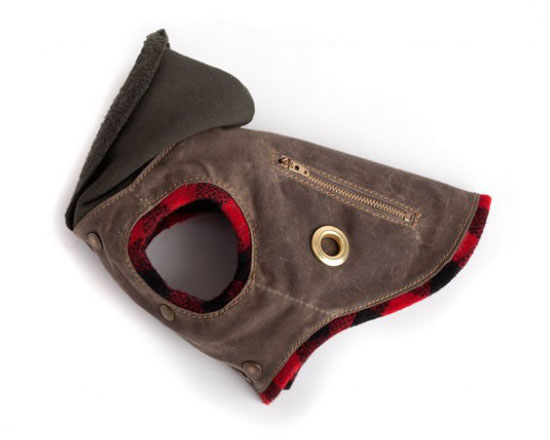 From : Petswag
Designed and crafted in Italy, Hand-Painted Greyhound Collar is a work of art. Each item is created by Riccardo Malucchi with amazing details, these collars use only highest quality components so that the results are real jewels/collection. The work of Malucchi has been characterized by a work according to ancient tradition of Florentine leather processing. The company's experience has put its reputation at the top of leatherwear manufacturers, you would love the elegant details put onto this dog collar.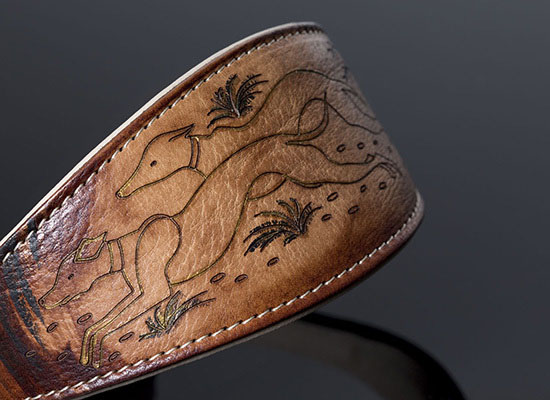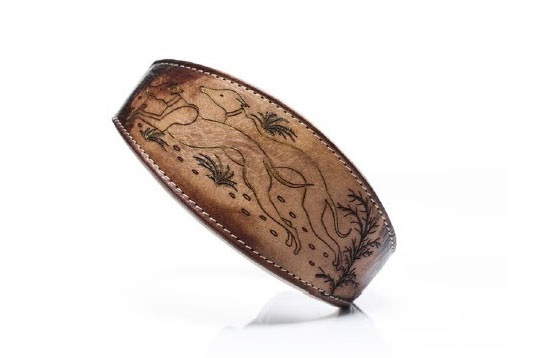 Bathing your dog is an important routine to keep them clean, but not all house/apartment has the right equipment to do so, that's when you need Rinse Ace 3 Way Pet Shower Sprayer. This tool allows your pet to enjoy indoor shower anytime, it's a nice sprayer with 8ft. long hose, flexible enough to bathe your dog/cat. Featuring 3 setting modes: gentle full spray, pulsating massage spray, and concentrated spray.
Bathing time for your pet becomes easier and much more enjoyable, use full spray when you need to rinse hard-to-reach underbelly, pulsating massage spray to relax your pet, while concentrated spray mode can be used to target rinsing delicate areas. This sprayer is equipped with flow lever toggles, from pause to light to full flow, you can save water and prevent any accidental sprays.
Adorable dog bed, Bohemian Workbench offers you a Retro-Modern Dog Bed which is handmade in details from walnut. Don't expect for a cheap rice, this dog house is designed and hand crafted with attention to details, you can even smell the rich mahogany material. Featuring retro design, this dog house represents beautiful piece of premium grade materials, crafted without any help from computer-assisted machinery by Charles Lushear . There are many cool furniture design you can also browse in his store, you'll be amazed by many unique and high quality furniture pieces.
Look at this Cute Denim Dog Harness, it comes with the same cute detachable backpack. Designed and made by PupaChurros, this stylish harness will turn eyes to your cute dog, also you can keep poo bags inside the backpack, so that you are always ready. That little backpack is also good for carrying treats.
To ensure your dog's comfort, this harness is fully lined, it features unique Velcro locking system for better security while walking on a lead. This is really cute and attention grabber, thanks to the matching backpack. The harness features front and back lined, double stitched to ensure its strength and durability.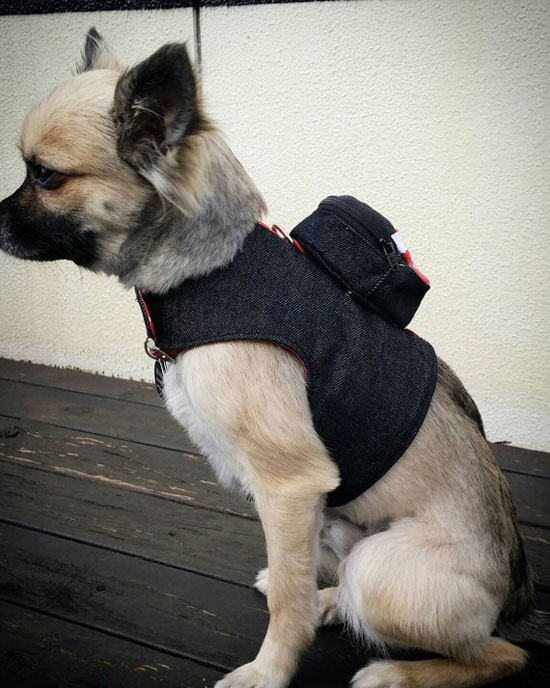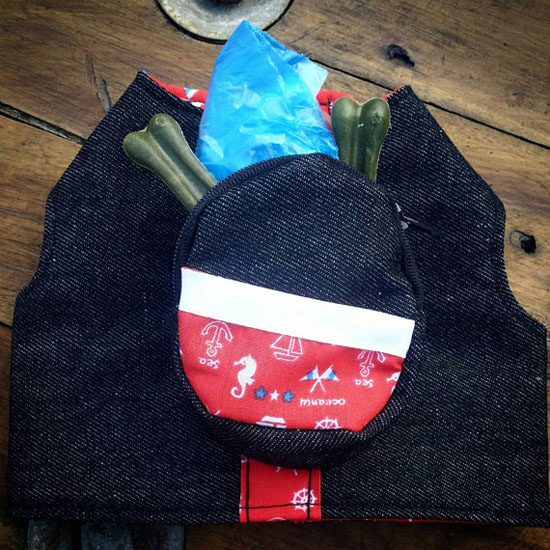 A stylish dog coat, Dog Coat Brooklyn is made with waterproof outside fabric to ensure it's perfect for rainy days. In colder weather, we're pretty sure that you dog would be much more comfortable inside this cozy and warm coat, the inner lining is made of ultra soft fleece. Aside being comfortable to wear, this coat also adds style to your dog with that lovely high neck collar. There are several size options available, it's perfect from medium sized to large sized dog. The inner lining is machine washable for added convenient.
Training your dog requires treats and toys, PupGym Dog Treat Pouch and Training Bag is a nice pocket bag to keep those treats and small toys. It features high quality material to keep all dog training essentials. The front large zippered pockets can hold your phone, keys, or a tennis ball, you can easily pull it to secure all items inside in one step. Inside this pouch, the inner lining is made of a light blue color, a nice color to help you locate treats or accessories much easier, it can also be pulled out fully for easy cleaning.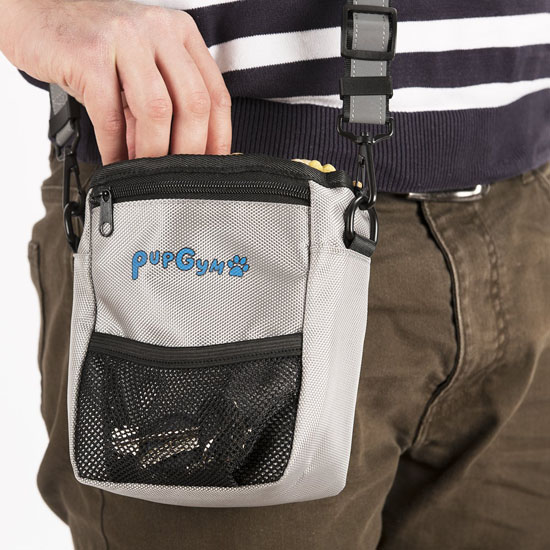 Kong Fuzzy Frog Squeaker Toy offers quality plush toy for your dog. Claiming to be "indestructible" might not be appropriate because there's going to be a dog out there, somewhere that can destroy that claim. However, we can assure you that the quality from this company is much better than most dog toys on the market. This plush toy squeaks when your dog bites it, it also comes with a free replacement squeaker just in case your dog manages to destroy it, you still have an extra.
We recommend that you purchase small instead of x-small size, even though your dog might be petite in size, many customer reviews mention that the x-small frog is actually really, really small (preferable for puppies). Your dog might be better play with the small size.
Looking for playful and cute toy for your dog? Checkout these Animal Squeaky Toys. Each one is designed to be endearing and very durable, promising hours of fun for your dog and you. There's squeaker inside each arm and leg, so basically, your dog would jump and have fun playing with it, even more, at the moment we write this review, the company offers reduced price when you choose two or more toys. Durable Tuffut Technology construction makes sure this corduroy plush toy can handle your dog's rough play.
Tweets by @pawfipet