Browsing articles in "Cages and Carriers"
Living World Deluxe Pet Habitat is a spacious and comfortable habitat for your small pets. This hybrid cage features an upper wire frame with plastic bottom safe, a good ventilation to ensure your pet gets good air circulation. It is an ideal place to house your rabbits, ferrets, guinea pigs, or chinchillas, with those small toys such as access ramp, balcony, or other additional toys you can purchase separately to make your furry pals happy.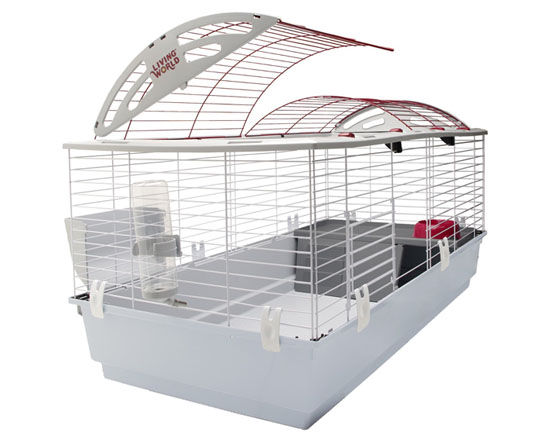 It doesn't look like plastic cheap looking cage, the wire has been elegantly styled with an arcing red wire top and white wire sides, a nice color combination. Aside from open top, there's also wire door at the front for additional accessibility. We really love that little balcony that has an access ramp, very cute, also there's a hideaway space under it where your pet can enjoy some privacy and quiet time. Every cage comes with a tip-proof food dish and a drop-proof water bottle. This unit is available in large and x-large size options so of course you can expect to get a lot of space for your pets, they will be able to stand and stretch conveniently.
where to buy Living World Deluxe Pet Habitat?
– EntirelyPets
– ThatPetPlace
– Sears
– Amazon
If you prefer smaller animals instead of dogs or cats, you might go with rabbits or guinea pigs. We'd like to recommend Midwest Interactive Guinea Habitat Plus to keep your small furry friends safe. This spacious 8-square feet of living space is recommended by many breeders and veterinarians, the dividing panel allows you to separate between play area and care area. The lock-in-place doors also function as ramps for passage in or out and between habitats, you can configure this cage as you like with unlimited expandability. For easy access, this unit features full removable wire mesh top, cleaning should be easy, right?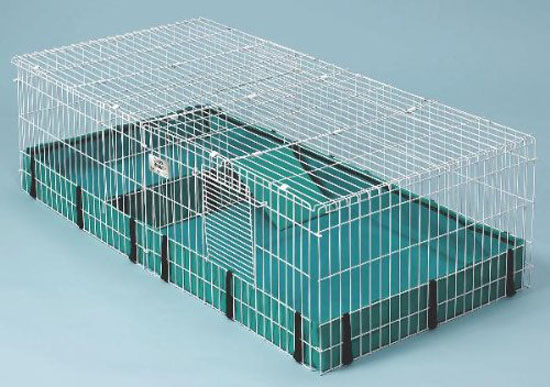 It's an ideal cage for average everyday guinea pig pet owner, your pet would have enough room to move around, eat, and exercise. It would probably take about less than 15 minutes to set this cage up, very sturdy. You can also add fleece or thick towel to cover this cage, it helps protect guinea pigs sensitive feet. Please pay attention to the dimensions (47"x24"x14") as this unit is pretty large (but not really that high), make sure you have the space for it. Midwest Interactive Guinea Habitat Plus is certainly a product that's designed by keeping guinea pigs in mind.
IRIS Small Animal Carrier is a perfect carrier for your dwarf rabbit or other small animals. It looks pretty adorable with its transparent ventilated roof and carrying handle, plenty of space for a dwarf bunny. Measures 10″ x 6.6″ x 7.25″, you can be sure your bunny will feel comfortable in it, it won't be a problem if your pet want to turn around and move a bit. The hinged lid top design allows for easy access, even when your pet has to sit in a car for like 5 hours straight, he or she will be just fine. It has a strap that comes within this product that you can connect to the sides, a very nice touch.
We need to remind you that if the size of your small pet is pretty big, this carrier probably can only carry 1 pet. There's a little feeding hold for smaller foods, but we don't recommend you to fill the water bottle during a car trip, it will spill all over the car, you should use a travel bowl.
CLICK HERE to purchase IRIS Small Animal Carrier, this compact pet carrier is easier to handle if you have small sized pet.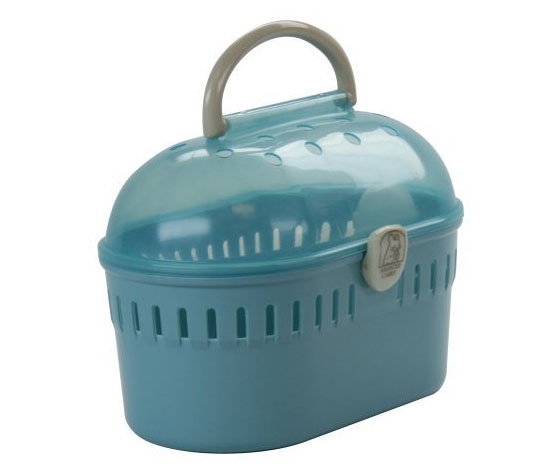 Super Pet CritterTrail Clear View Habitat is a compact and colorful house for your small pets to keep them safe. It is an easy-view habitat with 2 levels of space where they can have good exercise and spacious room to play. We would consider this unit is a great place for mice and small hamsters. We love the oversized clear view window because this way, it would be easier to interact with your lovely little furry friends. The removable petting zone is pretty handy when you need to carry this house around, when not in use, it turns into a resting location.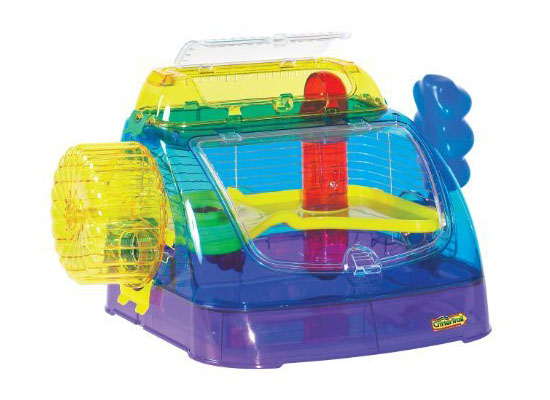 If you have unused 10-gallon tank, you can use Super Pet My First Home Tank Topper to create multi-level high rise habitat for your small pets. It doesn't require any tool to make this tank topper snaps together. There's a nameplate that you can use to write your pet's name, pretty cool, you can write "Michael and Drew live here" to identify your two little hamsters that live happily in it. This unit is constructed using chew-proof coated wire while the other materials are stain-resistant plastic parts.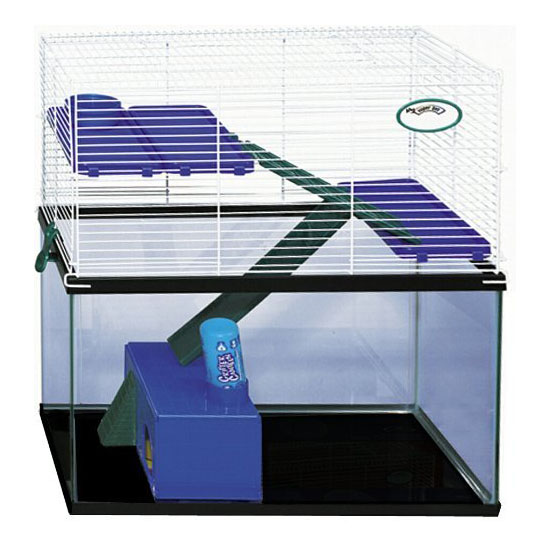 Habitrail OVO Loft offers spacious environment and endless entertainment for your small animals, the modern and colorful design is a bonus. In order to keep litter inside, this loft has been designed with deep base, however it's still easy for you to clean. The sleek steel door adds modern touch and look of the overall product design. If you are a new hamster owner, this loft should be enough to get you started. Inside this all-in-one box, you'll get a cage with opaque white bottom, cool orange retractable roofs, orange wheel, stairs, water bottle in turquoise color, feeding bowl, chewable cardboard maze for your hamster to play with, 2 windows and 1 lock connector.
Super Pet My First Home Deluxe Multi-Level Pet Home provides creative and spacious environment for your small furry friends. It's safe and has multi-level environment where your small pets can exercise and play, an ideal home especially for ferrets. This unit comes in parts, however, it's easy to assemble, just snap-together all the parts to create 1 great multi-level home.
Super Pet Crittertrail Extreme Challenge Habitat hamster cage offers an adventurous habitat for your small pets, an ideal habitat for hamsters, mice, gerbils and other small animals. They will find the rotating-pet powered wheel is a fun spot to play (it provides good exercise too). The spiral slide is a shortcut to go down fast. There are many accessories available that you can purchase to add the fun in the cage. For easy interaction and safe resting location, this habitat offers removable petting zone and well ventilated environment. The top opening provides easy access to pet the hamsters and feed them.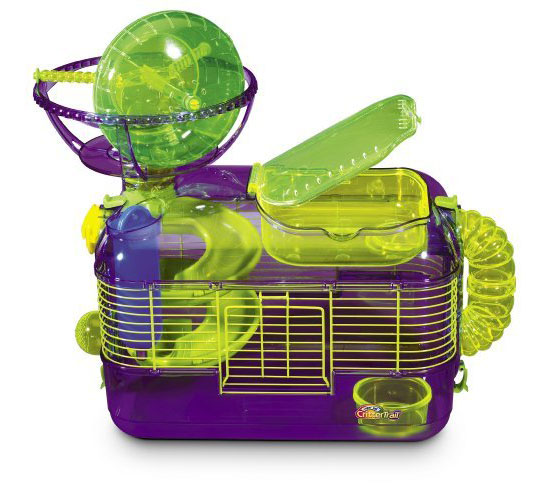 Tweets by @pawfipet