Browsing articles in "Apparel and Accessories"
Controlling odor when your house is full with pets can be challenging, you should try installing CritterZone Air Purifier to eliminate those nasty odors. CritterZone Air Naturalizer is pretty powerful unit, filterless and chemical free, the natural process eliminates bacteria, odors, and other pollutants(e-coli, salmonella, mildew, mold, and many more).
Once this unit turns on, it safely and naturally kills germs in the air, not just that, it also provides protection for the surface to prevent any germ and mold growth. Due to its compact size, this unit is highly portable, even perfect for vehicle (use car adapter). It is pretty powerful unit, unlike other air purifier that only covers around 50 to 150 sq. ft., this unit can cover an area up to 800 square feet, it can save your hard earned money. There are 3 settings that you can choose to control the amount of natural charged flow to clean the room or vehicle, it cleans surfaces and even in fabrics. It takes less than 3-watts of energy, CritterZone cleans your air 24/7 for less than a penny/day, it sounds nice, heh?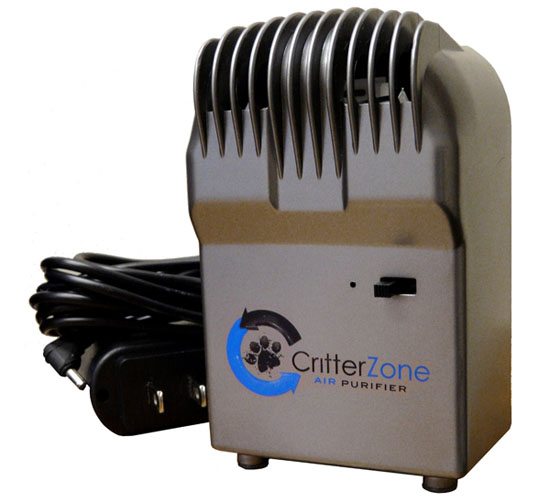 Keep your floor clean from your cat food crumbs using Cats Rule Lilypad Splash and Crumb Catcher Mat. It's a special designed lid that prevents any moisture or crumbs get on the floor. Measures 12" x 14" x 1", this mat is durable and very easy clean. Simply place your cat bowl over it, all those crumbs will fall on the mat instead of your floor, in this way, once your cat is finish, you can easily clean the mess.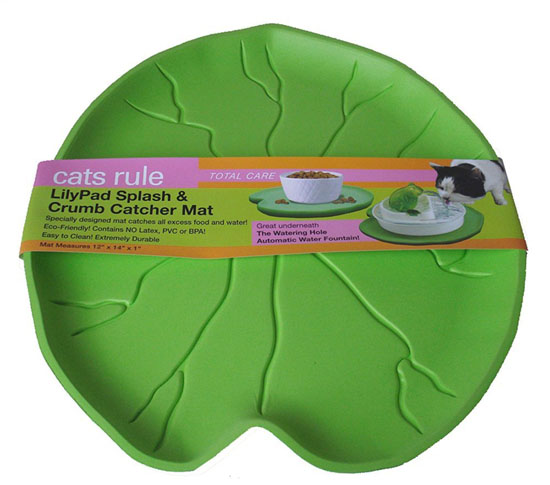 For pet owners who have multiple pets in the house, they know that food and water dispenser area can be pretty messy. If you need to use raised border to prevent any spill or crumble all over the floor, you can use Petmate Le Bistro Single Food Mat. The ribs design on the interior will keep spilled water confined in the mat, not all over your floor. We hate picking up kibble crumbs on the floor as much as you do, but if you want to prevent the mess from spreading all over the house, you have to clean them as soon as you can. This food mat is the help that you need.
Are you anxious about loosing your beloved pet companion? Worry no more! Tagg Pet Tracker caters your ultimate needs. Yes, now you can stay at ease and need not worry about your pet being lost. It is an innovative pet tracking system that is equipped with GPS together with wireless capabilities, which enables loveable pets to stay under the control of their owners. Snaptracs Inc., a subsidiary of Qualcomm Incorporated unveiled this pioneering product.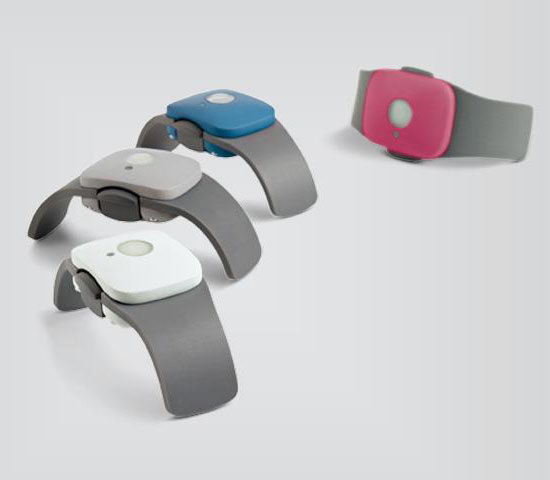 When I was browsing for a unique dog tag, I landed on this cool etsy store of Lynn & Natacha (FetchAPassionTags), a mother-daughter team located in Quebec, Canada. They work together to create unique and affordable hand stamped pet tags. This modern pet tag comes in different shapes and sizes, you can choose different symbols or charms from sea shells to an angel wings.
Tweets by @pawfipet