Browsing articles in "Cages and Carriers"
Although a bird cage is meant to house your feathered friend, it will also become a permanent fixture in a room in your home, this kind of cages are usually called decorative bird cages. There is no reason why you can't have an efficient and spacious bird cage while having it act as a decorative piece as well.
Bird cages don't have to be boring and ugly. There is absolutely no reason why you need to put your bird up in a cage that downgrades the rest of your decor. You certainly don't want to end up sticking the bird in a corner of the room so that your lovely furniture isn't affected by a bird cage eyesore.
Here is an example of a decorative bird cage that would fit in perfectly to a room that has a blue matching tone. This cage can act as a standalone accessory for a room. It is that stunning!
It should fit one or two small birds easily and will enhance the style of the room instead of taking away from it! It is a quaint cage with a homestyle look and feel to it.
If you have multiple birds such as canaries, parakeets or finches, then Prevue Pet Wrought Iron Flight Cage with Stand (F040) should be a great cage to accommodate all of them. Inside, there are 4 plastic durable cups, 3 wood perches for your birds to hangout, and of course plenty of space. This cage features two large doors on the front, 3 doors on each of two sides and a bottom shelf. You can take advantage of the shelf to keep bird seed and treats in there. We love that this cage stands on rolling casters which make it easy to move from room to room when needed, yes they roll in any direction smoothly. The bottom tray makes it easy to cleanup your bird's mess.
Havana Flight Cage offers high quality cage with such an affordable price. With dimensions of 31"W x 22"D x 35"H, you can place multiple medium-sized birds where they still have plenty of space to stretch up. This bird cage is very well constructed, although there are many complains about bad instruction guide, but in the end, you'll get a sturdy and durable bird cage.
Square Playtop cage is constructed of durable wrought iron with white powder coated finish. It's a beautiful cage with .75" bar spacing that makes it a perfect cage for small birds such as lovebirds, cockatiels, small parrots, parakeets. This cage features 2 wooden perches as the perfect spot for your birds to hang out while the top cage can be opened to create a play area.
If you don't like the idea to put nail your ceiling to hang the bird cage, you might want to consider Prevue Pet Quad-Pod 4 legged cage stand. This unit can be used to hang a cage up to 24 in. wide and 40 in. long, unless you have a very big bird cage, this product should be enough to hold small to medium sized cage. The 4-leg support and the tubular steel stand are strong enough to hold many different bird cages. If you check the cage stand in your local pet stores, you might find that this one is more expensive. We suggest that you make comparison of the quality since many people agree that this product looks the same but has much better quality.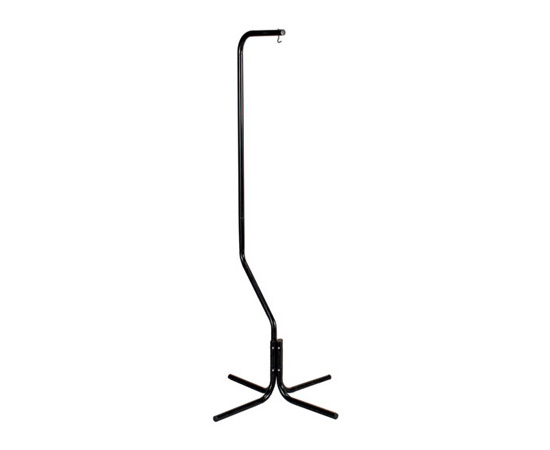 You can place this stand on the corner of the room or any room since it is easy to move around without having to put another hole on your ceiling. We suggest you not to use it for oversized bird cage, we are afraid it might tip over.
You can find Prevue Pet Quad-Pod 4 Legged Cage Stand from these merchants
– NewEgg
– Amazon
Tweets by @pawfipet