Although a bird cage is meant to house your feathered friend, it will also become a permanent fixture in a room in your home, this kind of cages are usually called decorative bird cages. There is no reason why you can't have an efficient and spacious bird cage while having it act as a decorative piece as well.
Bird cages don't have to be boring and ugly. There is absolutely no reason why you need to put your bird up in a cage that downgrades the rest of your decor. You certainly don't want to end up sticking the bird in a corner of the room so that your lovely furniture isn't affected by a bird cage eyesore.
Here is an example of a decorative bird cage that would fit in perfectly to a room that has a blue matching tone. This cage can act as a standalone accessory for a room. It is that stunning!
It should fit one or two small birds easily and will enhance the style of the room instead of taking away from it! It is a quaint cage with a homestyle look and feel to it.
Decorative cages are available in stainless steel, bamboo, wood, acrylic and iron. Some are adorned with creative architectural designs like arches and domes. They come in various sizes for all bird varieties.
When you are shopping for decorative bird cages that will add an extra spark to your room, just make sure that you find one that is big enough for your bird. Some cages are made too thin and don't give the bird enough room to fly around the cage or even to hop from perch to perch.
As long as you take into consideration your bird's well-being when selecting a cage, you're sure to find the perfect decorative bird cages that will make you happy as well as your bird.
We have selected Top 10 Decorative Bird Cages that might be interested in:
1. Deco 79 Metal Bird Cage (Set of 2)
These are 2 beautiful birdcages with banded embossed floral and diamond design. This set consists of 24-inch and 16-inch iron round hanging cage where each one is domed and latched top with hanger. The classic bronze finish would enhance any room décor. [Click here to find out more]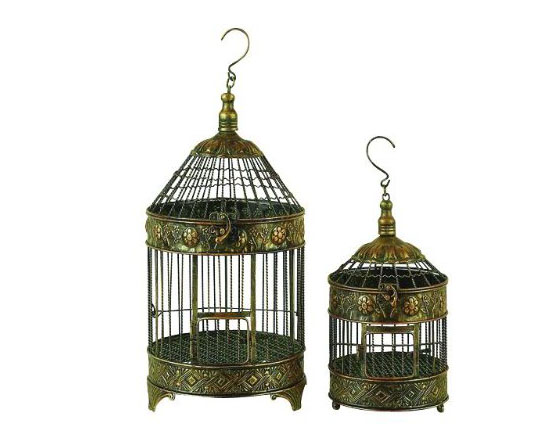 2. Featherstone Heights Cape Cod Bird Cage
A bird cage that doesn't necessarily look like one. This unique cage designed to replicate the classic American Cape Cod architectural style, with 2 access doors (one at the front and another one on top), 2 perches, and 2 plastic cups. It even has 2 little windows, very cute. [Click here to find out more]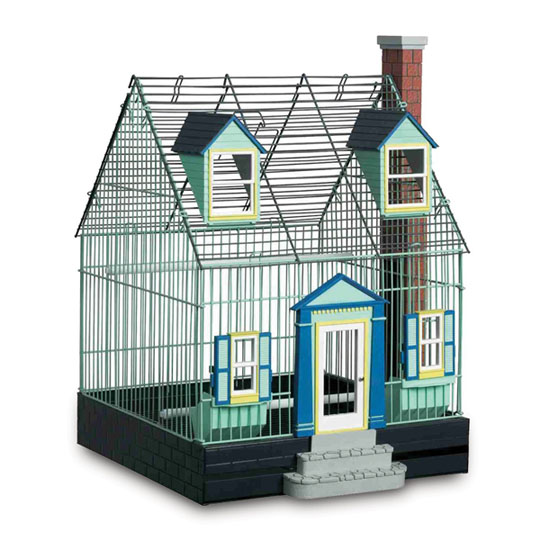 3. Monumental Hollywood Regency Gilt Bird Cage
A large standing bird cage in gold, it's nearly 10feet tall. This custom made cage is made entirely of metal and finished with a matte gilt faux detail. Enclosed by a diamond pattern fretwork, it has working door that latches. The roof has been designed with pagoda style along with 4 large pointed finials while the roof edge is adorned with several smaller finials. Two strong steel bars support the bottom cage, these bars are covered with a thick removable board that supports the weight of an adult. [Click here to find out more]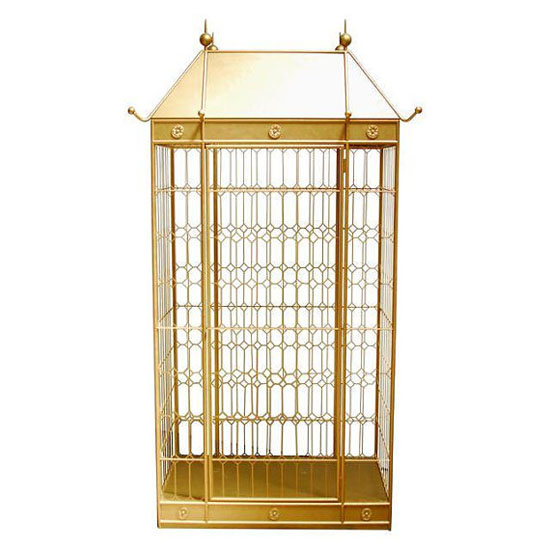 4. Prevue Pet Products Dynasty Stainless Steel Bird Cage
This one is a gorgeous stainless steel bird cage, perfect when you want to add an elegant touch in your home. The design features embossed decorative artwork around the base and roof cap, including an embellished finial for hanging. Even the water and food cups are not ordinary plastic ones, they are decorated porcelain cups. Even though you don't use it as a bird cage, it can be used as decoration. [Click here to find out more]
5. Deco 79 Metal French Style Bird Cage (Set of 2)
This set of two bird cages feature French Country style design. It boasts hexagonal form with ivory finish, a beautiful geometric caging with door and latch openings. These 2 cages are beautiful and very well made, some people don't use it to keep any bird inside, they use them to decorate the room due to the lovely design. [Click here to find out more]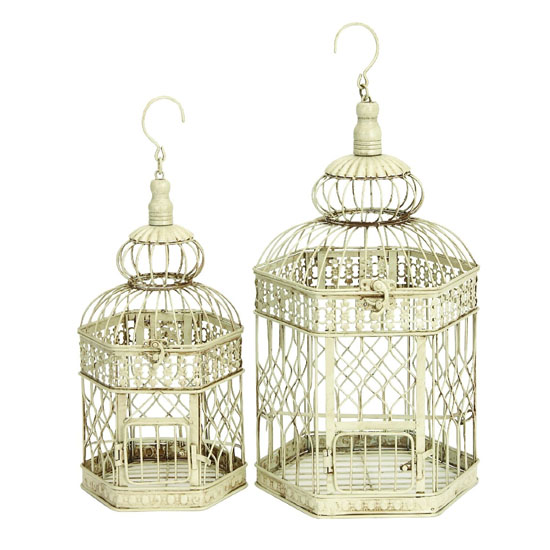 6. Featherstone Heights Stone Cottage Bird Cage
Look at this bird cage, it features American Stone Cottage architectural style, one look at the chimney, we're in love. This cage is perfect for small bird, there are 2 plastic cups and 2 perches included, 2 doors (front and top) for easy access, and removable bottom grille and drawer. [Click here to find out more]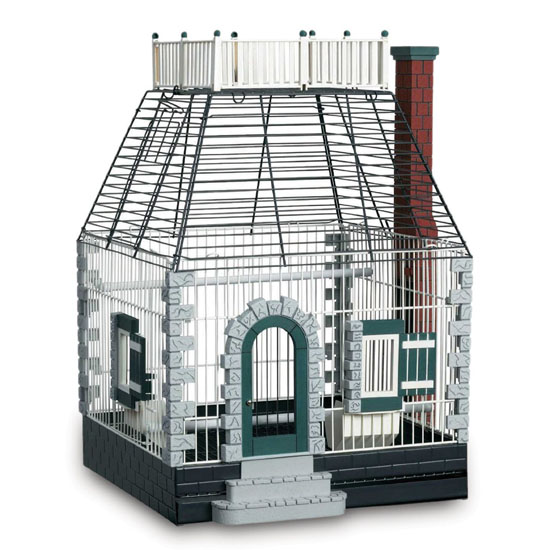 7. Vintage Bamboo Bird Cage
Asian style bamboo birdcage and it's available on 1 item. Crafted of light weight bamboo, this cage certainly will add unique touch to any room. There's a wood stray that slides out for easy cleaning. You can hang this cage using the brass hoop on top or simply place it on any flat surface. [Click here to find out more]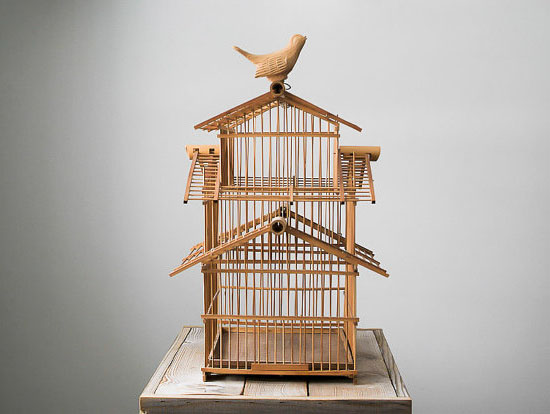 8. Decorative Antique Nesting Wire Bird Cages (Set of 2)
This set consists of 2 decorative bird cages with antique wire finish. The unique style is loved by many, its 100% iron construction makes it last for years. There are 2 access doors, the side hinged accent door and hinged top that opens up to give you great access to the inside cage just in case you want to place a plant pot instead of bird. [Click here to find out more]
9. Achla Victorian Decorative Hanging Bird Cage
This cage is a gorgeous handmade replicas of 19th century English birdcages. Finished in a steel gray powder coat, this item is available in 2 size options. Designed to be used as a décor, it doesn't mean that you can't use it to house your little bird, unfortunately, it doesn't have sliding tray. [Click here to find out more]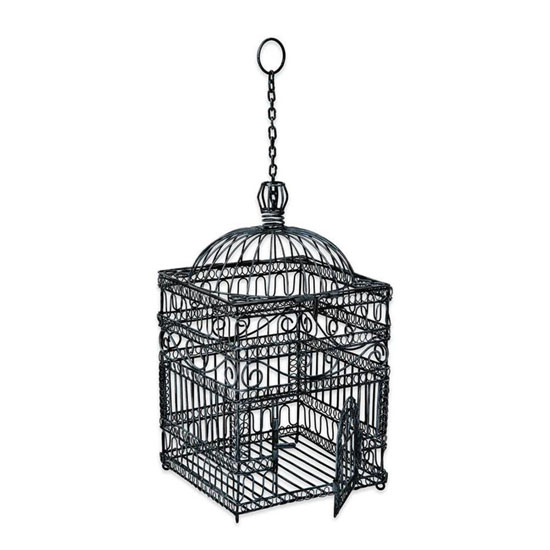 10. Featherstone Heights Victorian Bird Cage
House your bird inside this beautiful classic American home style cage, it offers generous floor plan for small bird. This cool cage features 2 access doors (front and top), it also comes with 2 plastic cups and 2 perches where your bird can hangout and relax. It measures 18-inch long, 18-inch wide, 25-inch high, and 5/8-inch wire spacing. Made in USA, this nice cage is visually appealing, unfortunately, there's no handle since it's not meant to be hung, you need to place it on a flat surface. [Click here to find out more]
Posts in this website may contain affiliate links. If you purchase a product through an affiliate link, your cost will be the same but Pawfi will automatically receive a small commission. Thank you for supporting us!
Tweets by @pawfipet
What others are searching for