Drinkwell 360 pet fountain provides continuing stream of water to keep your pet hydrated. The falling water stream encourages your pet to drink more, as you already know, drinking plenty of water is important for your health as well as your pet's health. This unit has been carefully designed with the multiple-pet households in mind, thus resulting pet fountain with rubber feet and five interchangeable spout rings that the pet owners can use to customize the speed and the angle of this water fountain. Your pets don't have to wait longer for their turn to drink, they all can have their fresh flowing water from any angle.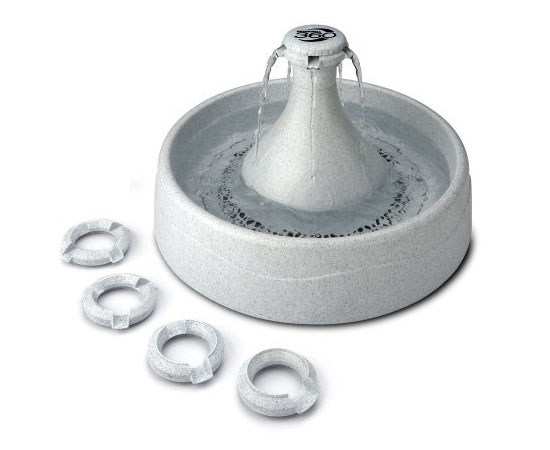 The charcoal filtration technology used in Drinkwell 360 pet fountain is the same one as other Drinkwell fountains. It prevents bacteria growth and keeps the water fresh and odorless, thus it's really important for you to replace the filter for every a couple of week. One of customers says that she finds out by using both the filter and filtered water, she can use the charcoal filter for about a month before it needs to be replaced. This unit is easy to take apart, you just need one good twist then the whole assembly comes apart for quick cleaning. It is recommended you clean this unit every week. Each unit can hold 1 gallon of water.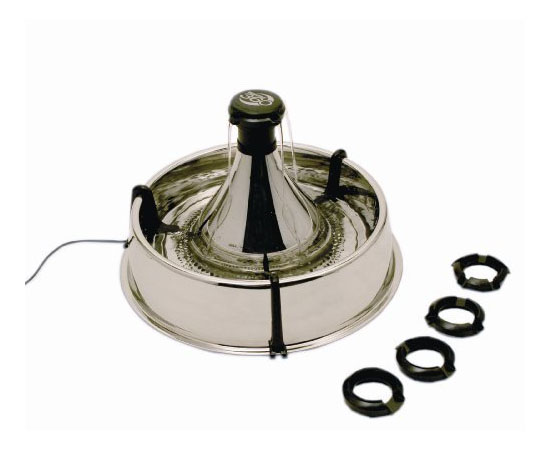 Drinkwell 360 Pet Fountain Stainless Steel
If you're still worried about the splash, we recommend you to use a mat underneath it. Since the distance between the water fall and the edge of the bowl is not that far, when you choose to control the valve to produce thinner stream, you'll get less water splash. Pay attention to the Max/Min marks on the bowl, do not fill the water above the "Max" mark.
The pump works pretty quiet but the stream of water can be pretty loud when on max flow. Most cats don't like noise, however, from what we've read, almost all customers agree that their cats are not afraid to use this water fountain. If you don't like the plastic version, Drinkwell comes with more attractive version, Drinkwell 360 Pet Fountain Stainless Steel.
Where to buy Drinkwell 360 Pet Fountain?
– OnlyNaturalPet
– Amazon
– EntirelyPets
– Newegg
Posts in this website may contain affiliate links. If you purchase a product through an affiliate link, your cost will be the same but Pawfi will automatically receive a small commission. Thank you for supporting us!
Tweets by @pawfipet
What others are searching for