Browsing articles tagged with " charcoal filter"
Similar to other Drinkwell pet fountains, Drinkwell Pagoda Ceramic Fountain offers plenty of water to your lovely pets. Just like its name suggests, it's a ceramic fountain for pet lovers that don't like using plastic as their pet's water bowl. Each fountain holds up to 70-ounces of filtered water to provide your dogs or cats with clean and fresh water to maintain their health. Yes, drinking plenty of water can keep your pets hydrated, which is an important parts to keep them healthy. The ceramic design makes this fountain easy to clean and looks gorgeous in any home. Pets are attracted to the sound of trickling water, those free-falling streams would encourage your dogs or cats to drink even more.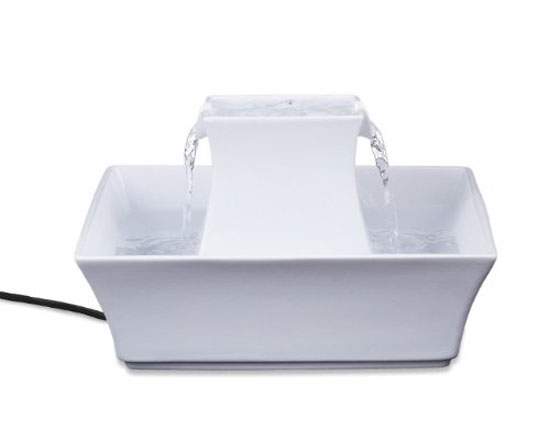 Drinkwell Platinum Pet Fountain Starter Set features innovative and patented watering system. It provides your dog or cat with 5-inch free falling water stream, very attractive to keep them drinking and hydrated while you are away. Since this unit is a starter set, you will also get a cleaning kit and a package of filters, the fountain itself can hold up to 168 ounces of water. Cats usually jump on the sink or toilet to drink some water, using this unit, it won't happen again, the sound of trickling water attracts pets to drink from this fountain. In order to ensure the freshness of water, this fountain features replaceable charcoal filter.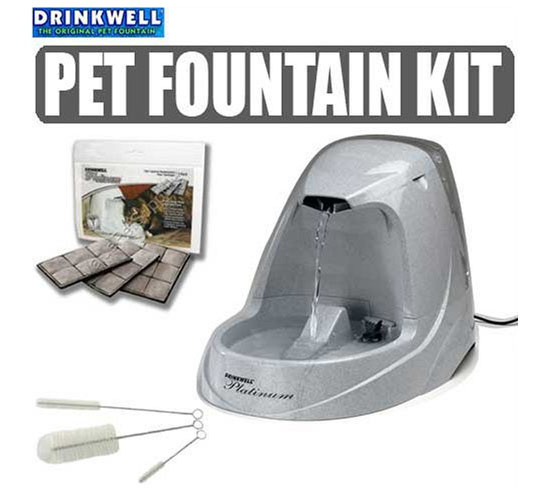 Pets are always interested in moving water, it helps them drink more, that's why we would like to recommend Pioneer Fountain Big Max Stainless Steel. Its circulating drinking water will look really appealing to your dog or cat, drinking more water helps keep your pet hydrated. The material used for this fountain water is stainless steel, in the past, you probably notice that most pet fountain was using plastic. This stylish stainless steel design fits any modern home décor, a bowl water for your dog or cat that you don't need to hide.
If you have read our Drinkwell 360 Pet Fountain review and want to look something simpler due to limited space, you might want to consider Drinkwell Original Pet Fountain. It provides constant stream of water for your pet to encourage him or her to drink more as you know, drinking plenty of water is one of crucial points to keep your pet's health. Somehow, pets are always attracted to water fountain, I guess the sound of trickling watering sound attracts not only birds but also dogs and cats.
Drinkwell Original Pet Fountain features:
Patented 5" free-falling stream. This is the main feature that attracts your pets in the first place.
This fountain holds up to 50-ounces of flowing water to ensure your dog or cat gets plenty of water all the time.
Charcoal filter guarantees the water to be odorless and fresh. To maintain water from bad tastes, you need to replace the filter after sometime.
CLICK HERE to checkout this pet fountain. This product is great if you plan to place it against a wall instead of in the middle of the room due to limited space.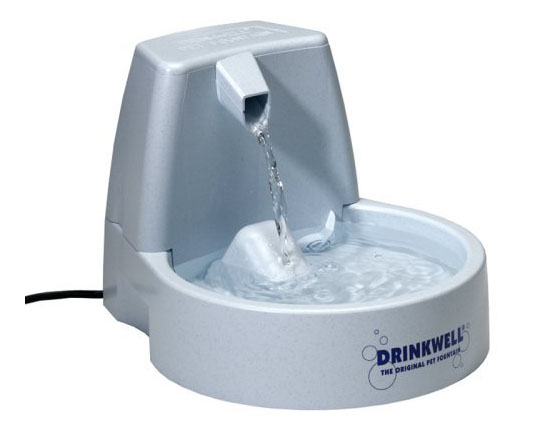 Pioneer Pet Ceramic Drinking Fountain (6022) features attractive and heavy duty construction. Its replaceable charcoal filter ensures clean, safe, and great tasting water for your pet all the time, dogs or cats, they all will be attracted to drink from this fountain. You might also consider to purchase along some extra filters for future use. Pioneer Pet also offers plastic drinking fountain of the same model, however, some people prefer to purchase this ceramic because it's definitely more aesthetically beautiful, sleek, and sturdy (no scratches). The unique modern raindrop shape blends perfect in your modern interior décor, this is not the kind of pet drinking fountain that you want to hide.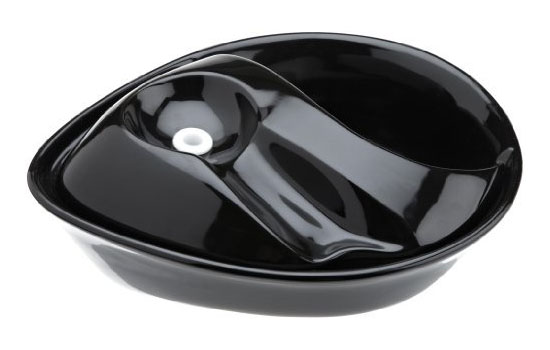 Drinkwell 360 pet fountain provides continuing stream of water to keep your pet hydrated. The falling water stream encourages your pet to drink more, as you already know, drinking plenty of water is important for your health as well as your pet's health. This unit has been carefully designed with the multiple-pet households in mind, thus resulting pet fountain with rubber feet and five interchangeable spout rings that the pet owners can use to customize the speed and the angle of this water fountain. Your pets don't have to wait longer for their turn to drink, they all can have their fresh flowing water from any angle.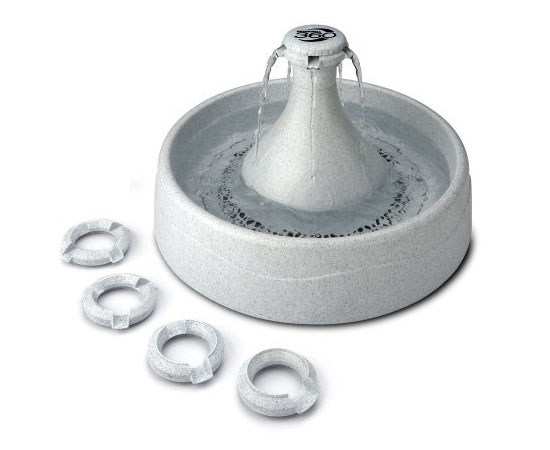 Tweets by @pawfipet