Browsing articles in "Feeding and Watering"
Whether you own a dog or a cat, doesn't matter, they will enjoy Heyrex Torus Ultimate Pet Water Bowl. It's a modern pet bowl that provides fresh and cool filtered water to your furry friends, it can hold up to half a gallon or 2 liters carbon filtered water to keep your pet hydrated. This ergonomically designed water bowl is travel-friendly, you can easily carry Torus anywhere you want with your lovely furry pal since you don't need any batteries or electricity. This unit provides you pet with fresh water at all time thanks to its patented self-filing design, it is completely mobile (lockable water supply), a nice fresh water on-the-go.
The self-filing mechanism works once your pets have drunk all the water, when they are away, it refills itself before your pets can find it again. Any unused water is stored inside the ring around the bottom of the bowl, it's a great insulation as well as it makes the bottom heavy to prevent accidental tip over.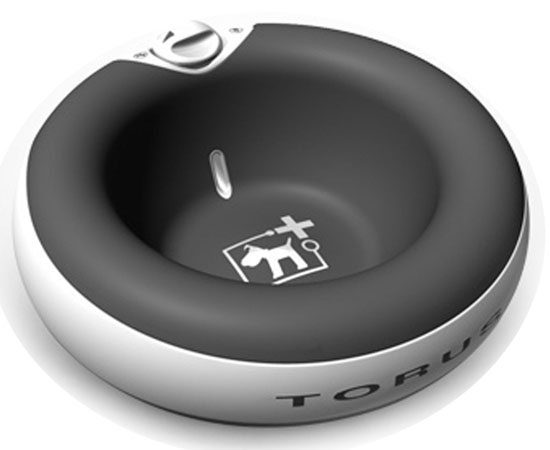 Having a large dog or cat, you need to ensure your furry friend gets enough daily food intake while you are away, you don't want to risk your pet to get malnutrition or overfeeding. Crestuff Automatic Portion Control Pet Feeder is a large capacity feeder that holds up to 45 cups of pet food or 10.65 liter, you can set 4 separate feeding day time and for over 90 scheduled meals. It depends on the size of your pet, you can set the portion size from ¼ to 2-1/2 cups, just make sure you get the ideal proportion to keep your pet healthy.
When your pet misses you, they can hear your voice, thanks to built-in microphone and speaker that allow you to record personal message for each feeding time. The easy-to-read LCD display provides you with clear viewing to setup the command, the clock is displayed with 2 formats: 12hr or 24hr, the alarm turns on when scheduled feeding time expires. You can also trigger it to feed your pet manually.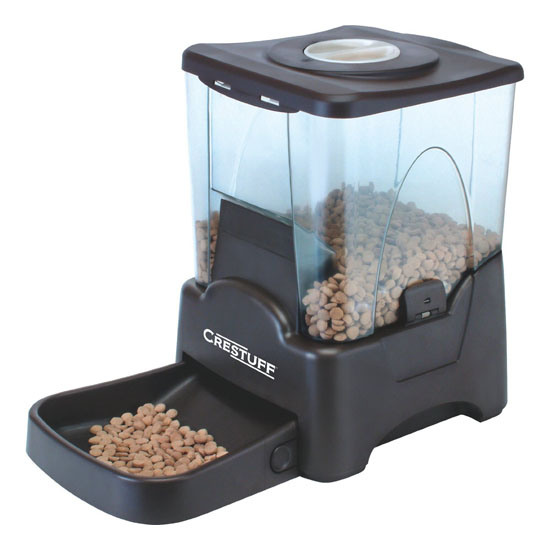 Bergan Gourmet Pet Refilling Water Dish is a simple water container to keep your pet hydrated while you are away. It is equipped with transparent container to allow you easily check the content level at a glance. There are 2 models available Elite (3 gallons) and Petite (1-1/2-gallons), the large opening makes you easy to re-fill as well as clean, it has a removable fill cap that won't release water until the tower is placed on the base. Whether your pet has short or large nose, they still can benefit from this product thanks to its large reservoir design.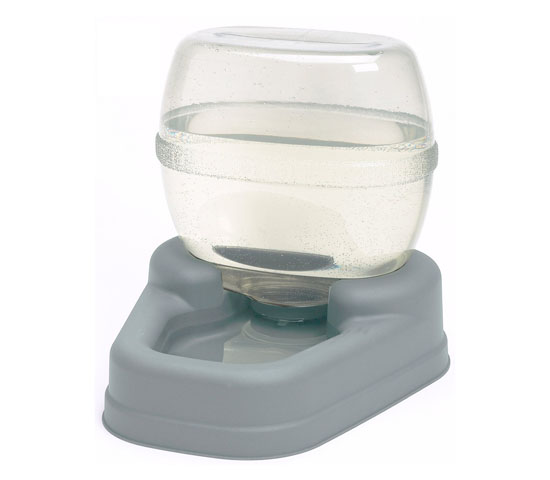 The water container stays securely in the base while the walls of the base are pretty high to contain the water inside, you won't find your dog spill the water out of it and make a mess on the floor. The wide base design is helpful to prevent tipping, unless your dog pushes it quiet hard, it will stay upright. It doesn't require any electricity, everything works naturally with its smart cap. Just in case you are looking for something more fancy, and of course more expensive, you can checkout Drinkwell pet fountain, the nice trickling water sound encourages your pet to drink more.
Similar to other Drinkwell pet fountains, Drinkwell Pagoda Ceramic Fountain offers plenty of water to your lovely pets. Just like its name suggests, it's a ceramic fountain for pet lovers that don't like using plastic as their pet's water bowl. Each fountain holds up to 70-ounces of filtered water to provide your dogs or cats with clean and fresh water to maintain their health. Yes, drinking plenty of water can keep your pets hydrated, which is an important parts to keep them healthy. The ceramic design makes this fountain easy to clean and looks gorgeous in any home. Pets are attracted to the sound of trickling water, those free-falling streams would encourage your dogs or cats to drink even more.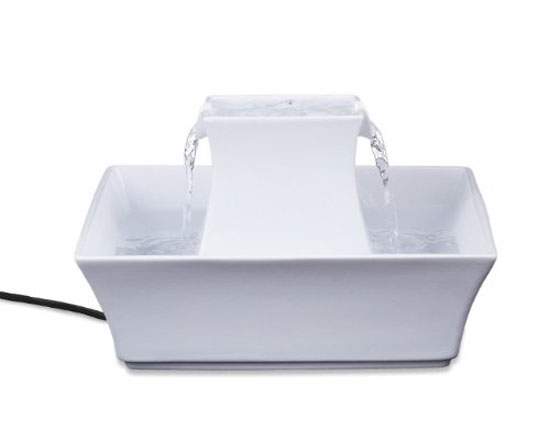 A combination of a water dispenser and a dry pet food dispenser in one, Crown Majestic Diamond Series V2 Automatic Pet Feeder. It's a flexible feeder since it runs on electricity or batteries, your choice. If you've read our review about PetSafe food and water station system, you realize that Crown Majestic actually combines 2 dispensers in one. Suitable for both dogs and cats, this device features simple automatic program which automatically dispense ¼, ½, ¾, 1, or 2 cups of pet food, it's pretty accurate despite the size of the kibble. You setup and read the information from backlit LCD display that informs you about time and number of meals per day.
Record your voice for about 12 seconds to alert your dog or cat when the food is ready, in this way, your pet would know it's time to eat even though you're away from home.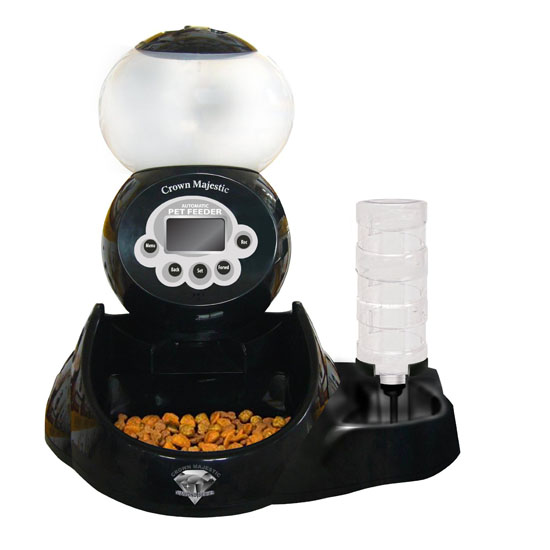 Two functions in one, this is what IRIS Large Elevated Feeder with Airtight Food Storage offer you. For a tall dog, it's important to eat with elevated feeder to improve its digestion and reduce any muscle strain, it promotes healthy eating. It's been smartly designed so that it can be used as food storage as well, it can accommodate up to 47-pound. The seal works really great, even under dishes, no water can get into the storage area, it keeps the food fresh. You will also get 2 stainless steel bowls within the purchase.
Many customers love the idea, because this means they can remove any bag of dog food in the kitchen. The smoke color blends perfectly well especially if you have black kitchen interior theme, we believe you will be pleased after getting IRIS Large Elevated Feeder with Airtight Food Storage.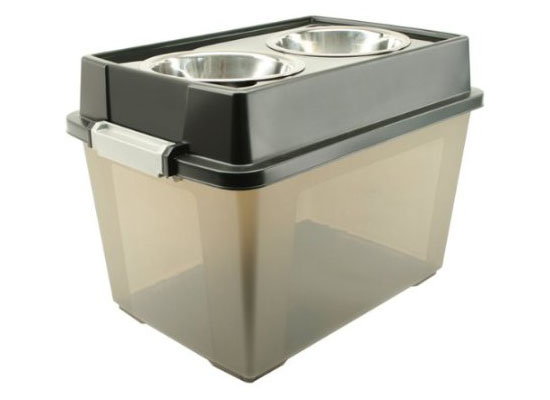 If you own multiple pets in your home or a very large dog, then you should consider purchase Drinkwell Big-Dog Pet Fountain. It's the biggest pet fountain model from Drinkwell which holds up to 2.25 gallons of water to ensure your big pet hydrated. Its patented watering system features 5-inch free falling continuous stream of water to attract your pet to drink from this fountain instead of your sinks or toilets. There's a large replaceable charcoal filter to ensure the water is fresh and odorless. You can also use the flow control lever to adjust a stream that's perfect for your dog or cat, there's a handy splash guard to keep water off your floor. It is completed with rubber feet to keep from moving around when used.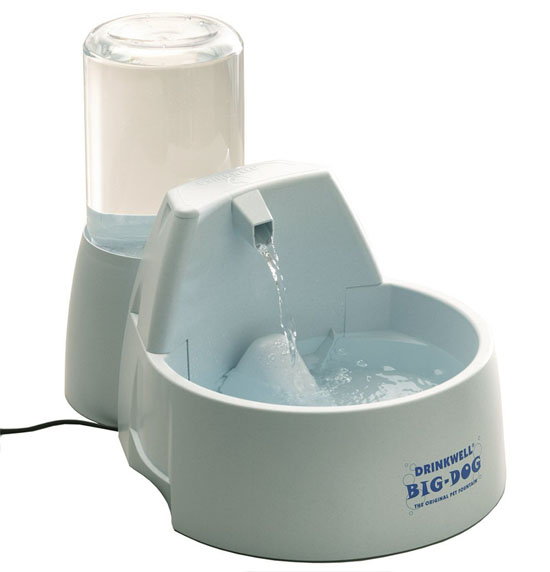 Drinkwell Platinum Pet Fountain Starter Set features innovative and patented watering system. It provides your dog or cat with 5-inch free falling water stream, very attractive to keep them drinking and hydrated while you are away. Since this unit is a starter set, you will also get a cleaning kit and a package of filters, the fountain itself can hold up to 168 ounces of water. Cats usually jump on the sink or toilet to drink some water, using this unit, it won't happen again, the sound of trickling water attracts pets to drink from this fountain. In order to ensure the freshness of water, this fountain features replaceable charcoal filter.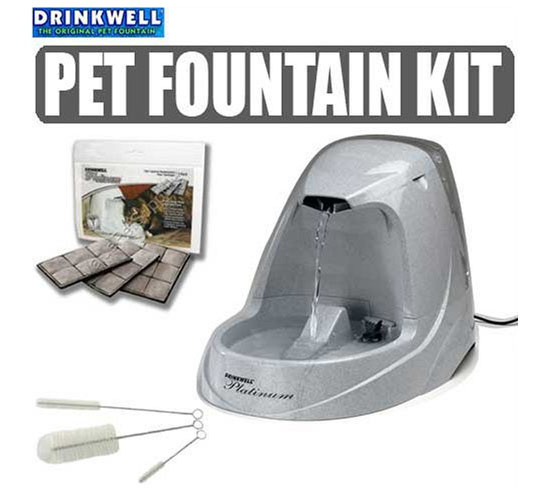 Trust us, Stoneware Crock dog dish is an awesome bowl for dogs, cats or other animals. It is very easy to clean and you would love high gloss finish to match your modern interior décor. This bowl is pretty heavy, therefore, it would be pretty hard for your furry friend to knock it over, therefore, it reduces any movement or spillage. It is easy to clean and you'll also notice that this product is less expensive compared to other bowls in its class.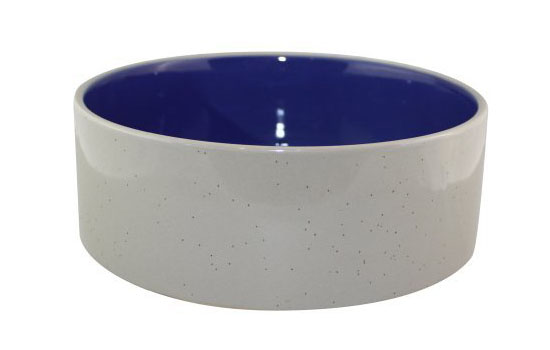 If you have read our Drinkwell 360 Pet Fountain review and want to look something simpler due to limited space, you might want to consider Drinkwell Original Pet Fountain. It provides constant stream of water for your pet to encourage him or her to drink more as you know, drinking plenty of water is one of crucial points to keep your pet's health. Somehow, pets are always attracted to water fountain, I guess the sound of trickling watering sound attracts not only birds but also dogs and cats.
Drinkwell Original Pet Fountain features:
Patented 5" free-falling stream. This is the main feature that attracts your pets in the first place.
This fountain holds up to 50-ounces of flowing water to ensure your dog or cat gets plenty of water all the time.
Charcoal filter guarantees the water to be odorless and fresh. To maintain water from bad tastes, you need to replace the filter after sometime.
CLICK HERE to checkout this pet fountain. This product is great if you plan to place it against a wall instead of in the middle of the room due to limited space.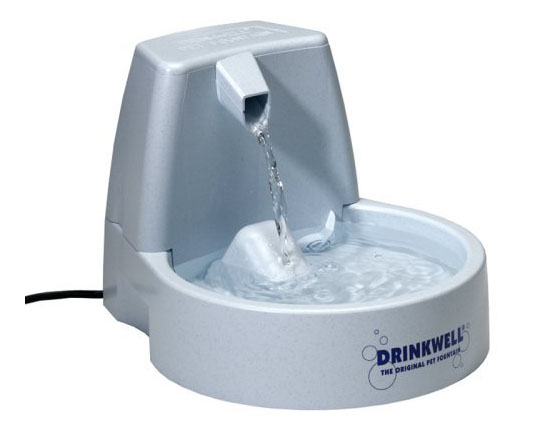 Tweets by @pawfipet