Browsing articles in "Cats"
Do you know that IKEA has LURVIG collection dedicated for pets? At this moment the products are just for dogs and cats, but who knows what they might add in the future. Designed by Inma Bermudez, LURVIG Cat House on legs offers a modern cat house that blends with modern and contemporary décor. Its size is dimensioned to fit KALLAX shelf unit. You can place this cat house on its legs or when you need the space, you can hang it on the wall or slide the house into KALLAX shelf unit.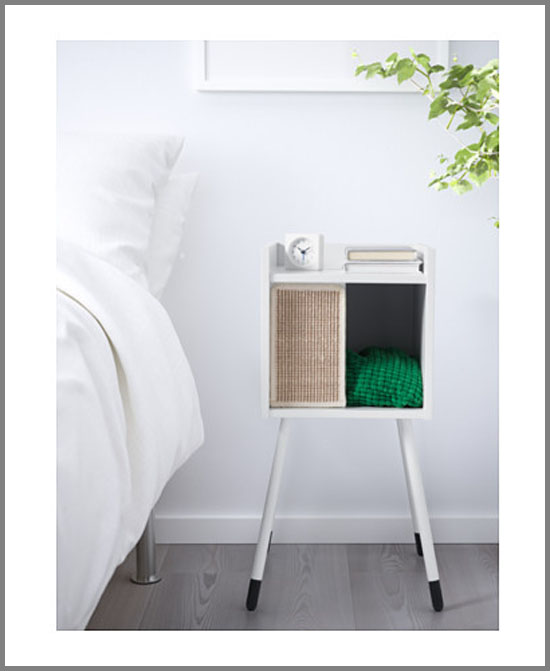 Bathing your dog is an important routine to keep them clean, but not all house/apartment has the right equipment to do so, that's when you need Rinse Ace 3 Way Pet Shower Sprayer. This tool allows your pet to enjoy indoor shower anytime, it's a nice sprayer with 8ft. long hose, flexible enough to bathe your dog/cat. Featuring 3 setting modes: gentle full spray, pulsating massage spray, and concentrated spray.
Bathing time for your pet becomes easier and much more enjoyable, use full spray when you need to rinse hard-to-reach underbelly, pulsating massage spray to relax your pet, while concentrated spray mode can be used to target rinsing delicate areas. This sprayer is equipped with flow lever toggles, from pause to light to full flow, you can save water and prevent any accidental sprays.
Your cat would look badass wearing this Cat Battle Armor, it's a custom armor designed specially to fit your cat. It is 100% wearable and comfortable costume with real armor harness for your cat, but please remember, it's a costume, it's not meant to protect your cat against predators. This cool costume is handmade from veg-tan leather, waxed cord, and nickel silver hardware, it makes your cat looking like a soldier ready to go to war.
The detail is pretty impressive, the imposing torso section features riveted, articulated plates, combining that with a rack of dorsal spines. Oh yeah, that's one awesome Halloween costume for cat. Those nickel silver domed rivets complete overall look and feel as a battle armor costume. The adjustable collar comes with elastic and two nickel silver buckles, the belly part features corset-style lacing for secure and comfortable fit. Since each one is handmade, you can request custom size, color, or even specific design, but it won't be cheap.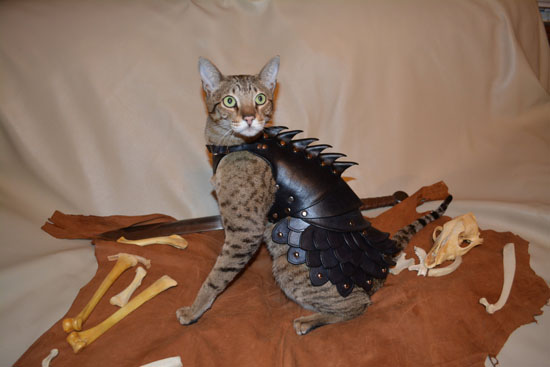 Cat lovers, meet Cone, a modern scratching post and nap space for your lovely furry baby. It's a beautifully design scratching post that would complement your existing interior décor, you have worked so hard to keep your home beautiful, so why you have to end up with ugly pet product? Cone is designed with a clean and minimalist aesthetic, adding modern touch to your existing home décor.
Aside from keeping your cat from scratching your precious furniture, this unit also offers a nice space for them to relax and sleep. The nice cover made of 100% natural sisal offers good privacy to your cat. This scratching post is over 30-inch tall, it means that you cat can fully stretch out when they scratch, it is super stable due to its 15lbs weight. The company claims that you cat can use Cone to scratch, play with, climb and jump, it won't knock it over, even big kitties.
This tall cat tree would paper your cat while complementing your contemporary décor. Designed by Designer Pet Products, Sebastian 65-inch Modern Cat Tree is an absolute fun place for your cat to play, it is constructed with manufactured wood for sturdy and lost lasting use. It's a cat furniture that also wants to enhance the room, that's why it comes with multiple finishes.
This cat furniture features 5 separate levels for climbing and playing, the first tier offers sisal scratching material to satisfy your cat's instinct to scratch. The second to fourth level is covered with carpet. There's a cool cubby hole with hiding place on second level where your cat can relax and feel secure when it needs privacy. Basically, this structure can accommodate up to 4 cats, even though there's also space for decoration, we don't recommend you do that, since cat's play can be pretty rough. We do recommend that you accessorize this cat tree with colors and objects that attract your cat to play with.
Keep your cat busy with FroliCat Pounce Automatic Cat Teaser, it's a lovely, interactive toy designed especially for your feline friends. You can't always play with your cat and at certain point, your cat might get bored, just home alone or even locked in a room. This toy is one of great, automatic fun toys to keep your cat entertained, it features electronic mouse that moves around randomly around circular path. This little mouse would catch your cat's attention, the mouse can hide under obstacles, move in reverse direction, zoom forward, and sometimes twitching back and fort. This toy will kick your cat's instinct to hunt, chase and pounce a prey.
If you have an empty corner and an active cat, that place would be perfect for Sauder 44″ Sphere Scratch Post Cat Tree. Please pay attention to the dimensions, this cat tree is pretty big (43.7″ H x 19.88″ W x 21.65″ D) and requires some space.
It features a nice wicker sphere (made from natural, banana leaf material) on top with 2 access holes for easy access. Inside this sphere there's a machine washable bed cushion to keep your cat cozy and comfy when relaxing inside. Supported by 3 legs, one of them is covered with sisal rope, a nice spot when your cat needs scratching, keep it away from your precious furniture. The second tier is covered with rug, a nice spot just to hang out.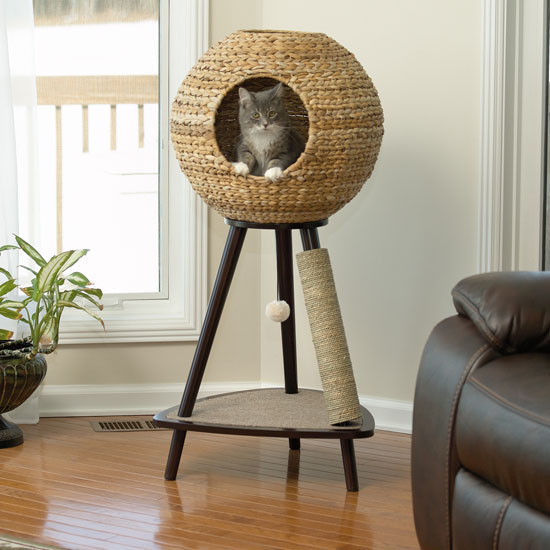 Based in Colorado, USA, Bixbi Pet has made one of best food nutrition for your pet, this one is Organic Pet Superfood JOINTS. This superfood offers premium supplement that promotes healthy joints, it's important to prevent arthritis or sore joints, which usually occur in older pets. You can drastically reduce the chance of your pet to suffer from those problems by giving them supplements as preventative. The formula in this product is packed with natural antioxidants, it features unique medicinal mushroom formula that fights free radical cell damage that is usually caused by age, exercise, and stress. The company grows their own mushrooms in laboratory conditions, so, it's safe to say that the mushrooms are 100% USA made, you would also be happy to know that they are USDA certified organic packed with high polysaccharide counts and tons of nutrition.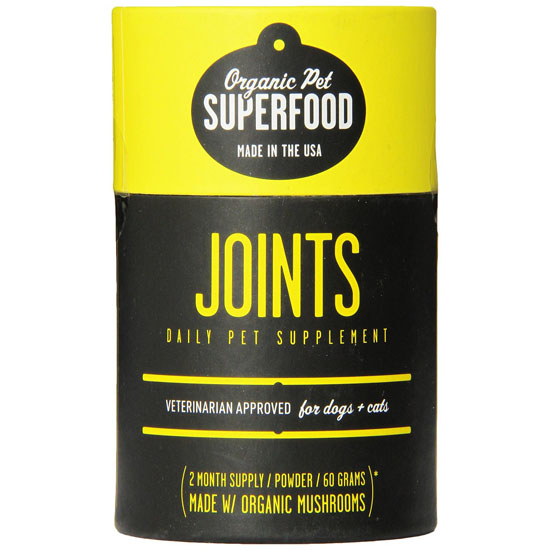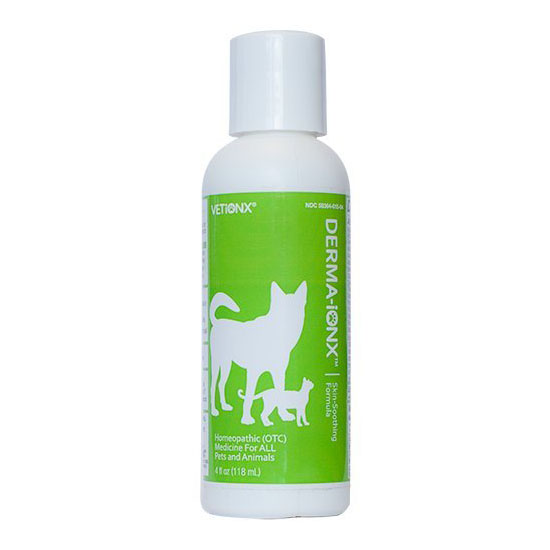 We'd like to provide you with VETiONX Derma-IonX pet skin care review, this all natural formula works amazing to take care your dog and cat itchy skin. Pet skin irritation isn't a problem not only for the pets but also the owners. If left untreated, it becomes worse over time, VETiONX Derma-IonX is a good medicine to deal with it, based on many happy pet owners, this formula just works. It's a homeopathic liquid medicine that has been used by many pet owners to overcome many symptoms of pet's skin irritation. The pet only needs to drink it from a bowl as simple as drinking water. Does your dog or cat need it? The fact is, the irritation can turn out to be worse if it's ignored. We also believe that your pet is a part of the family, you don't want to see your pet feels uncomfortable due to skin problems. This skin care formula is FDA approved, so it will be safe for the animals.
Controlling odor when your house is full with pets can be challenging, you should try installing CritterZone Air Purifier to eliminate those nasty odors. CritterZone Air Naturalizer is pretty powerful unit, filterless and chemical free, the natural process eliminates bacteria, odors, and other pollutants(e-coli, salmonella, mildew, mold, and many more).
Once this unit turns on, it safely and naturally kills germs in the air, not just that, it also provides protection for the surface to prevent any germ and mold growth. Due to its compact size, this unit is highly portable, even perfect for vehicle (use car adapter). It is pretty powerful unit, unlike other air purifier that only covers around 50 to 150 sq. ft., this unit can cover an area up to 800 square feet, it can save your hard earned money. There are 3 settings that you can choose to control the amount of natural charged flow to clean the room or vehicle, it cleans surfaces and even in fabrics. It takes less than 3-watts of energy, CritterZone cleans your air 24/7 for less than a penny/day, it sounds nice, heh?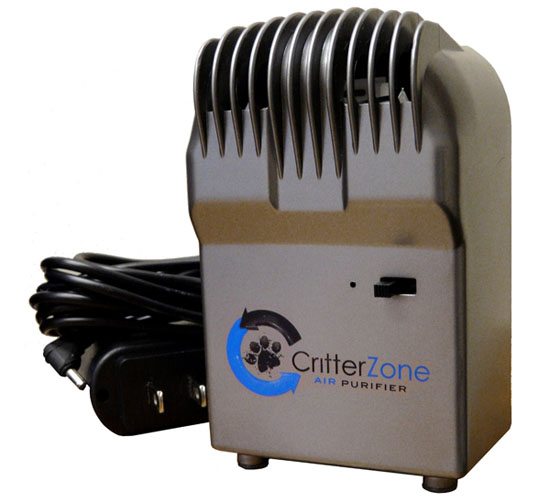 Tweets by @pawfipet