Browsing articles in "Cats"
This Halloween, your little cute cat is ready to turn into a Lion, still cute thou. Pet Krewe Lion Mane Cat Costume can bring loads of fun, turn that sweet cat into a sweet lion, put a smile on everyone's face. This piece is an easy-to-wear hood with Velcro strap to ensure it won't slip. This hood fits most animals up to 15 pounds, perfect for party or Halloween where an adorable little lion lights up the room. Made with non-toxic and high quality materials, this costume is safe for your cat or your dog, you'll receive a lot of complements from friends and family, they will also treat your pet like a king of the house.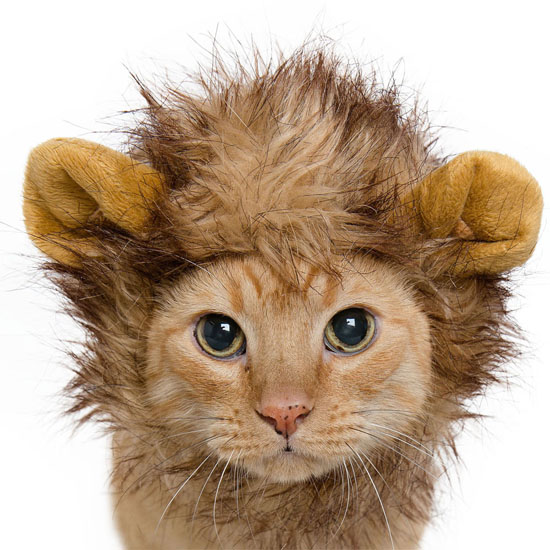 One of fundamental pet trainings is crate training, it's a method to train your pet that they do have a special space to sleep, relax, or feel safe. It takes advantage of dog's natural instinct as a den animal. Unfortunately most crates nowadays are made of metal, heavy, hard to collapse, and look like a jail. PAWD offers something much better, a modern home for your pet, it is light weight, easy to collapse, and safe.
You can train your pet to make PAWD as their cozy space, the design also integrates beautifully with your modern home.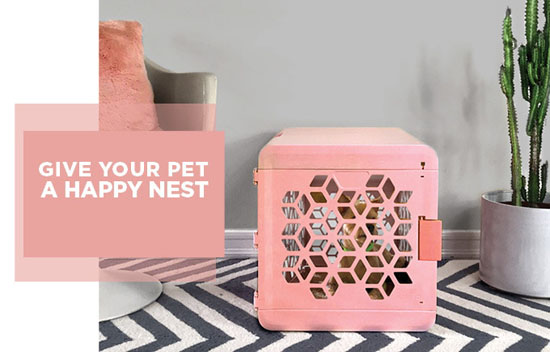 For the love of cats, a couple of architects have designed modular cardboard cat house. It's a project specially dedicated for cats, the focus was to enrich the living space of our beloved feline friends, making homes suitable for cats and humans. As humans, we need a warm and safe environment to live in, this concept goes for cats as well, or any pets. After these architects live with their cats, they understand the importance of safety and space for cats, they are much more comfortable when relaxing in a small and narrow space. The result is a set of mini-building made of cardboard for cats.
Cute Cat and clean house with Modkat Flip Litter Box. The design of this litter box provides you with easy access for both scooping and cleaning. Inside the box is pretty spacious to satisfy your cat's need, there are three lid positions that you can choose to give your feline friend its privacy: fully open, half-open, or completely closed. Upon opening this box, you'll find reusable tarp liner for mess-free litter solution, the liner is designed to work with Flip's hook. These liners are rip-resistant and pretty easy to clean, it means that you can use each liner up to 3 months but it also depends on how many cats use this litter box and how ferociously they scratch.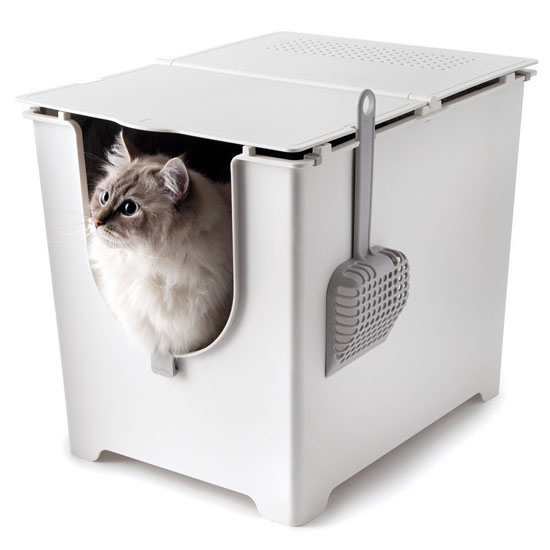 As a cat activity center, CatastrophiCreations Cat Mod Climb Track is beautifully hand crafted to provide your cat with strong play structure. It helps to bring out acrobat in your cat, it's also a perfect way to avoid furniture scratching behavior. Highly functional, this activity center is captivating, durable, and relocatable. Each component is carefully designed and handcrafted to evoke cat's natural instincts, it is also space conscious, it's like a mini jungle gym for your feline friend.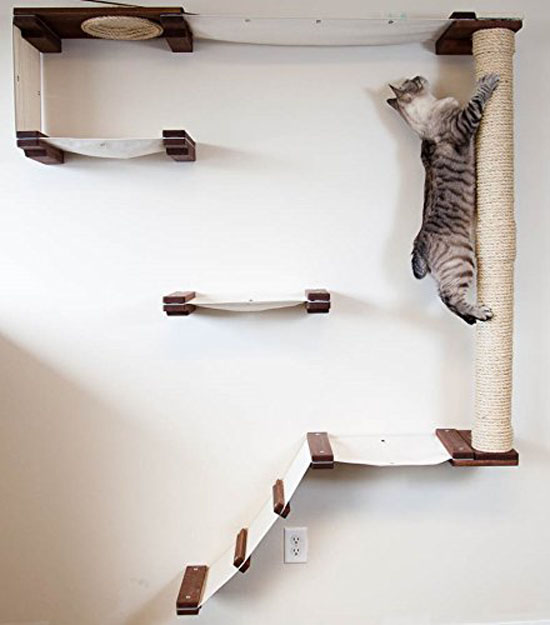 Do you know that IKEA has LURVIG collection dedicated for pets? At this moment the products are just for dogs and cats, but who knows what they might add in the future. Designed by Inma Bermudez, LURVIG Cat House on legs offers a modern cat house that blends with modern and contemporary décor. Its size is dimensioned to fit KALLAX shelf unit. You can place this cat house on its legs or when you need the space, you can hang it on the wall or slide the house into KALLAX shelf unit.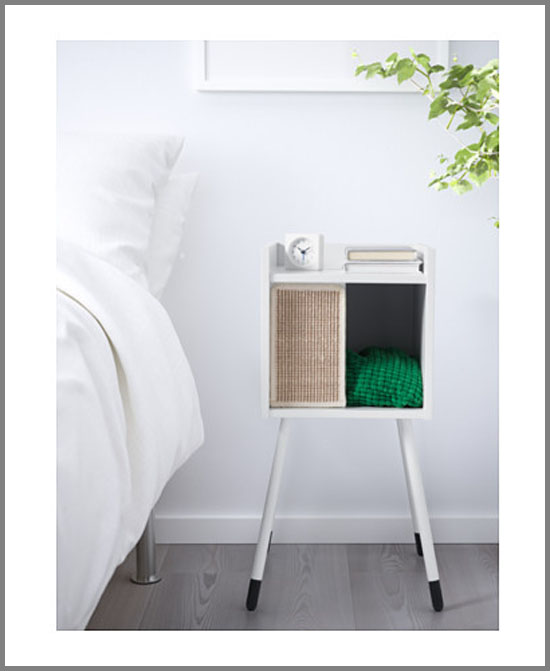 Bathing your dog is an important routine to keep them clean, but not all house/apartment has the right equipment to do so, that's when you need Rinse Ace 3 Way Pet Shower Sprayer. This tool allows your pet to enjoy indoor shower anytime, it's a nice sprayer with 8ft. long hose, flexible enough to bathe your dog/cat. Featuring 3 setting modes: gentle full spray, pulsating massage spray, and concentrated spray.
Bathing time for your pet becomes easier and much more enjoyable, use full spray when you need to rinse hard-to-reach underbelly, pulsating massage spray to relax your pet, while concentrated spray mode can be used to target rinsing delicate areas. This sprayer is equipped with flow lever toggles, from pause to light to full flow, you can save water and prevent any accidental sprays.
Your cat would look badass wearing this Cat Battle Armor, it's a custom armor designed specially to fit your cat. It is 100% wearable and comfortable costume with real armor harness for your cat, but please remember, it's a costume, it's not meant to protect your cat against predators. This cool costume is handmade from veg-tan leather, waxed cord, and nickel silver hardware, it makes your cat looking like a soldier ready to go to war.
The detail is pretty impressive, the imposing torso section features riveted, articulated plates, combining that with a rack of dorsal spines. Oh yeah, that's one awesome Halloween costume for cat. Those nickel silver domed rivets complete overall look and feel as a battle armor costume. The adjustable collar comes with elastic and two nickel silver buckles, the belly part features corset-style lacing for secure and comfortable fit. Since each one is handmade, you can request custom size, color, or even specific design, but it won't be cheap.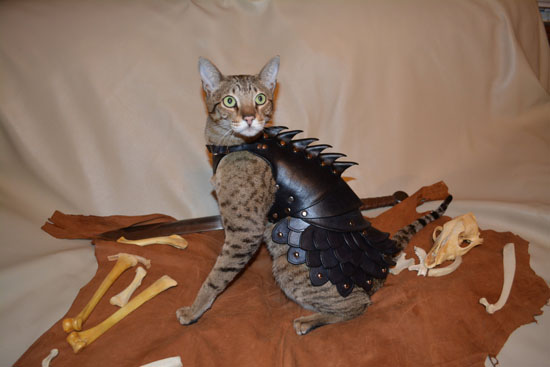 Cat lovers, meet Cone, a modern scratching post and nap space for your lovely furry baby. It's a beautifully design scratching post that would complement your existing interior décor, you have worked so hard to keep your home beautiful, so why you have to end up with ugly pet product? Cone is designed with a clean and minimalist aesthetic, adding modern touch to your existing home décor.
Aside from keeping your cat from scratching your precious furniture, this unit also offers a nice space for them to relax and sleep. The nice cover made of 100% natural sisal offers good privacy to your cat. This scratching post is over 30-inch tall, it means that you cat can fully stretch out when they scratch, it is super stable due to its 15lbs weight. The company claims that you cat can use Cone to scratch, play with, climb and jump, it won't knock it over, even big kitties.
This tall cat tree would paper your cat while complementing your contemporary décor. Designed by Designer Pet Products, Sebastian 65-inch Modern Cat Tree is an absolute fun place for your cat to play, it is constructed with manufactured wood for sturdy and lost lasting use. It's a cat furniture that also wants to enhance the room, that's why it comes with multiple finishes.
This cat furniture features 5 separate levels for climbing and playing, the first tier offers sisal scratching material to satisfy your cat's instinct to scratch. The second to fourth level is covered with carpet. There's a cool cubby hole with hiding place on second level where your cat can relax and feel secure when it needs privacy. Basically, this structure can accommodate up to 4 cats, even though there's also space for decoration, we don't recommend you do that, since cat's play can be pretty rough. We do recommend that you accessorize this cat tree with colors and objects that attract your cat to play with.
Tweets by @pawfipet
Recent Searches