PetZoom Pet Park indoor dog potty is a revolutionary product which offers pet accident-free living, especially if you live in a place with no yard. This product is made of a synthetic surface, the look and the feel is similar to real grass, thus, inviting your dog to urinate on it instead on your carpet, furniture or floor. If you think you don't need this, think again. There are times when you can't come home on time or take you dog out just like his daily routine. The last thing you want to find when you get back home is his mess all over the house.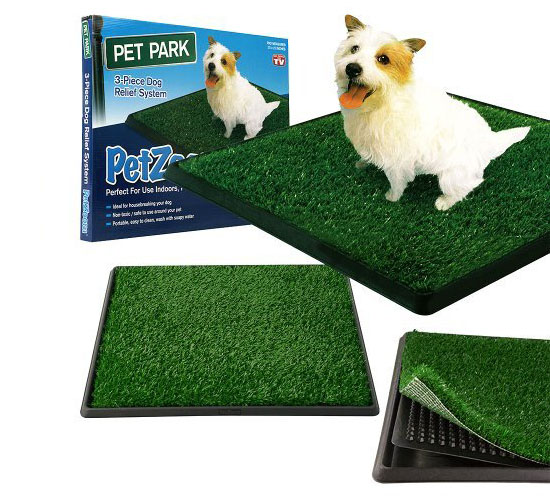 PetZoom Pet Park
is basically a non-toxic mat consists of three stage layers that allow fluids to pass through anti-microbial mat. The top mat is located high above the liquid in the collection tray, thank you to Pet Park's elevated grid system. Don't forget to empty the tray at the end of the day, but this also depends on how many dogs are using Pet Park in your house. Since this product uses synthetic grass, it's weather-proof. You can place it outside on the balcony or patio, usually after a few trainings, your dog knows where to go when he needs to do his business. The product says it's an ideal training tool for your puppy, but we think this product will also work great for older dog that is no longer able to go outside.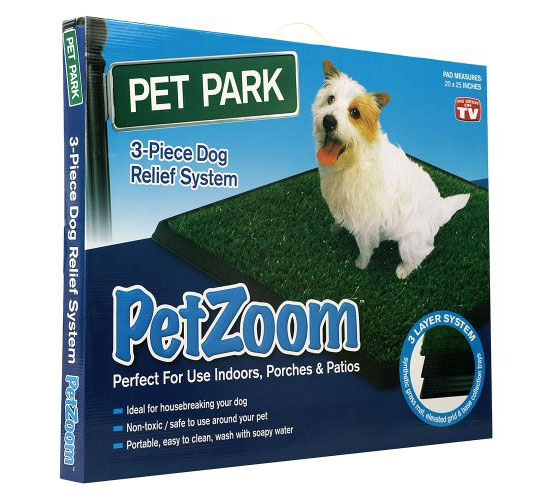 We recommend that you never leave your dog unattended with Pet Park, since the dog might scratch and try to pull it up. Make sure you also train him not to play or scratch it.
Cleaning is easy, just use warm soapy water to make the reusable surface stays fresh and sanitary. If the grass still smells, you can try to use odor spray for ever after cleaning, which usually help a lot. Even though the price of PetZoom Pet Park indoor dog potty is inexpensive, the product you get is not cheap made product.
Posts in this website may contain affiliate links. If you purchase a product through an affiliate link, your cost will be the same but Pawfi will automatically receive a small commission. Thank you for supporting us!
Tweets by @pawfipet
What others are searching for