Petsafe Simply Clean Litter Box could be your secret weapon to keep your house fresh and odor free although there are multiple cats in your house. This self-cleaning litter box system can handle cats up to 12 pounds and work around the clock to serve a clean house all the time. The system is pretty quiet, it cleans and removes waste continuously and automatically, even the cat won't get disturbed while he's taking care of his business.
For every 24 hours, the litter box rotates slowly to scat out of the kitty litter with its internal filtering system. You don't need additional tool assemble this unit, there are no dangerous moving parts that usually can catch the cat's fur. When you traveling and take your cat with you, this unit packs along easily on your trip, setting it up takes only minutes, yet it's pretty handy for cats on-the-go.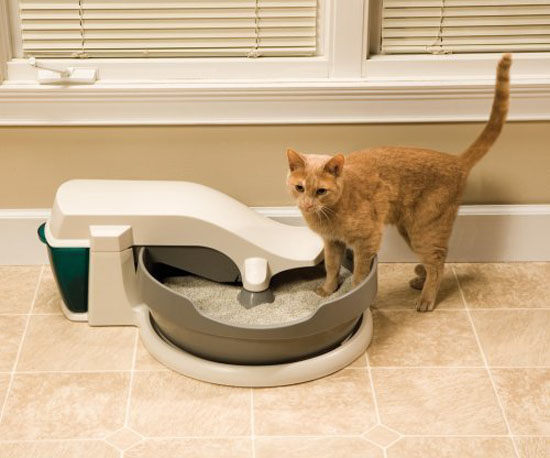 With multiple cats in the house, all you need is just one unit of Petsafe Simply Clean Litter Box, no more multiple litter boxes scatter all over the house. This automatic litter box uses recycled plastic shopping bags for its container, economical and environmentally safe. So don't throw away your plastic grocery bags after grocery shopping, save them for use with this device.
Based on a reviewer experience, when he and his wife left his cats for almost 10 days he asked his friend to check the cats on daily basis to make sure they had enough food and water. During that period, his friend never checked the litter box, because it did its job well. Upon their return, the bag was full yet it still had room left for a day or two. Petsafe Simply Clean Litter Box offers you the confidence to leave your cats alone with minimal supervision, cleanup or maintenance of the litter box.
Maintenance is easy, you need to clean this litter box every month or so, it depends on how many cats use it. However, just in case you notice Petsafe Simply Clean Litter Box begins to squeak, you can try to apply graphite lubricant to all moving components (you can break it down, please remember the locations of all gears and components). To some cats, the box is not deep enough to keep them from kicking litter out, resulting messy floor around this litter box. We suggest you to extend the shield with some flexible plastic materials.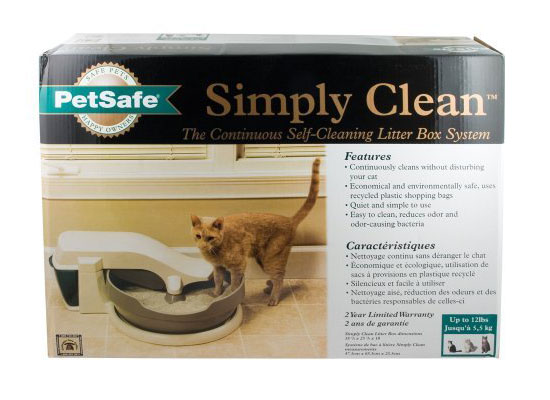 Overall, this unit works great but like all electronic devices, it requires maintenance and modifications as you see fit. Purchasing this unit might be one of your great decisions.
Where to buy Petsafe Simply Clean Litter Box?
– Amazon
– Newegg
– EntirelyPets
– UnbeatableSale
Posts in this website may contain affiliate links. If you purchase a product through an affiliate link, your cost will be the same but Pawfi will automatically receive a small commission. Thank you for supporting us!
Tweets by @pawfipet
What others are searching for