Glyco-Flex III Canine (bite sized chews) maintain your dog's healthy joint, each bite provides your dog with higher levels of glucosamine, MSM, manganese, and DMG, all these ingredients have been formulated to support your dog's comprehensive joint health throughout his life. This product represents the third stage of life stages joint health program, the company knows the health of a geriatric dog in need of serious joint support, by giving extra glucosamine and MSM, it makes sure this product can keep up with those needs.
Dogs age just like humans, they tend to have problem in their joints, especially with age related weight, it usually increases pressure on each joint. It's important to maintain the fluid that surrounds these joints or synovial joints, because it acts as nourishment for the cartilage. Loose cartilage means that the bone can rub on other bone, creating uncomfortable or painful friction.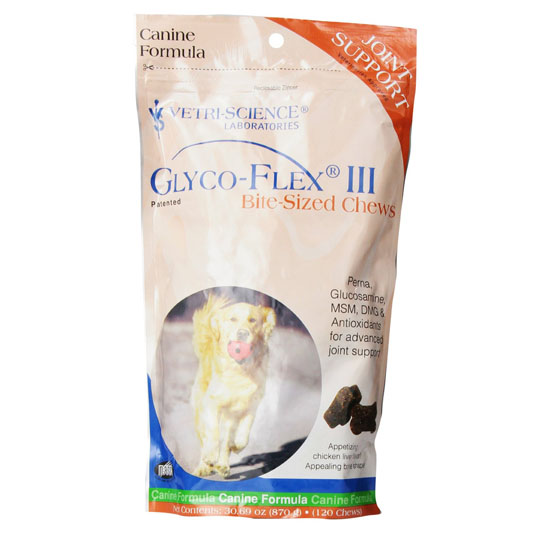 Glyco-Flex III Canine is a joint support product registered with the FDA as an animal health product with patented DMG, an adaptogen known for its immune support properties. This amino acid promotes better nutrient delivery to the joints, keep them healthy. Compared to Glyco-Flex I and II, the third formula stands out due to higher levels of glucosamine, it's a constituent of glycosaminoglycans in synovial fluid. This means that this formula supports joint health by maintaining synovial fluid thickness and the strength of cartilage matrix.
Where to buy Glyco-Flex III Canine Bite Sized Chews?
– OnlyNaturalPet
– Amazon
– PetCo.
– Walmart
– eBay
Posts in this website may contain affiliate links. If you purchase a product through an affiliate link, your cost will be the same but Pawfi will automatically receive a small commission. Thank you for supporting us!
Tweets by @pawfipet
What others are searching for