Kitty Tube Fully Insulated Outdoor Cat House is newly improved insulated cat house that provides your cat everything he or she needs, safety, comfort, and warmth. Its innovative door design protects your feline friend from predators, the pillow inside the house gives a cozy and comfy base for your cat to relax. It's an ideal outdoor cat house for any weather, it cools in the summer and warm in winter, in fact, it can accommodate 2-3 medium sized cats.
What's new in this version? Well, you can see some improvements such as built-in lifting handles that you can use to adjust the ventilation, open it during summer or close it during winter to retain heat, better quality for the exterior, increased R-value insulation, including fully insulated floor at the bottom of custom pet fluffy pillow. The company even claims the shell is guaranteed to never chip, crack or fade, for life!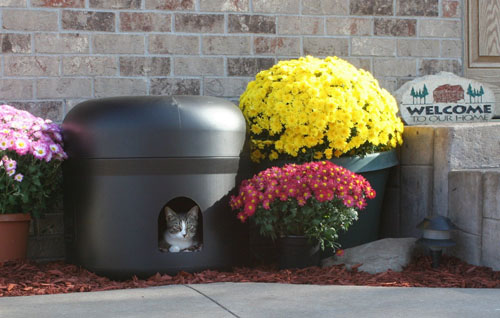 For green conscious pet owner, you need to know that the shell of Kitty Tube Fully Insulated Outdoor Cat House is constructed from 100% post consumer recycled milk and detergent bottles. Although you can use it for both indoor and outdoor, we suggest you to use this cat house for outdoor cats due to its durability and geometric shape that resists wind, the removable dome lid protects cat from heavy rain.
Due to its lightweight plastic material, you can easily carry and move around this cat house. You might want to place cat nip or toy when your cat seems reluctant to use Kitty Tube Fully Insulated Outdoor Cat House, but once your cat tries it, you will see him/her hanging out in it all the time.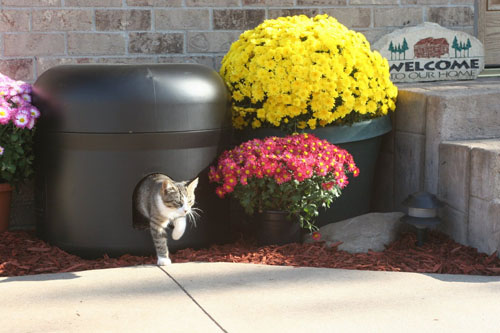 Posts in this website may contain affiliate links. If you purchase a product through an affiliate link, your cost will be the same but Pawfi will automatically receive a small commission. Thank you for supporting us!
Tweets by @pawfipet
What others are searching for