Omega Paw litter box is one of the top self-cleaning litter boxes in the market. If you have big cats or multiple-cat households, you might want to consider this cat litter box as this device not only self-cleans quickly but also control dust and contain odors. It requires you to roll the litter box to the right until the top part touches the floor, then roll it back to the upright position. In this way, the patented internal mechanism deposits the clumped waste into the pullout waste tray, thus providing you an easy disposal without the need to scoop the waste or changing out bags and filters. You might wonder why you have to do this manually when you can just go with the automatic one, well, consider this, you don't need electricity to make this unit works!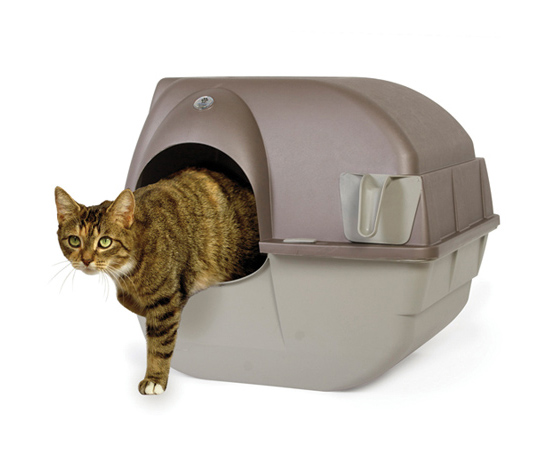 You need to understand that Omega Paw litter box is a roll and clean litter box that works only with clumping litter. The waste tray does a great job in separating the waste from clean litter, thus, you don't have to throw away the clean litter, you can save some bucks. Measured 19.5" x 22" x 20" (large size), this litter box features 9"x9" opening, pretty big for big sized cat. The covered pan design gives your cat privacy when he does his business.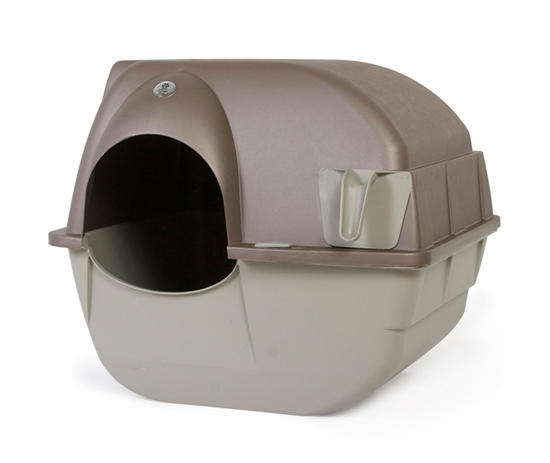 There are many buyers that claim they love the concept of this litter box, in the end they use less litter and there's less odor, everybody is happy. You can use any brand of cat litter, but be sure it's clumping cat litter. When you roll the box, all used litter will have gone up and into the tray area, it will stay there until you empty it.
We've found some tricks on how to use Omega Paw litter box on a limited floor space. You could just scoot the box leftward as you roll it to the right. It will still work great. This box comes with the right quality as it's not too heavy or too light, the latches hold the top and the bottom of the box together pretty well, unless when they are not lined up straight, check again. We also read a warning when it comes the latches/clips, please check and each unit of this device comes with 3 clips, other wise you'll get a mess when you try cleaning the Omega. There 2 different sizes available: regular and large. The regular one is good for a kitten or small cat, but if you have a fat cat, better get yourself the large version.
There are many recommendations to use World's best clumping litter, you might want to take this into consideration as it lasts a long time because it won't be caught up in the clumps that much. It takes only 30 seconds to clean this litter box (no need to remove the lid :D), you can even toss away your scoops as you'll never need it the moment you own Omega Paw litter box.
Where to buy Omega Paw litter box?
– Amazon
– PetCo.
– eBay
Posts in this website may contain affiliate links. If you purchase a product through an affiliate link, your cost will be the same but Pawfi will automatically receive a small commission. Thank you for supporting us!
Tweets by @pawfipet
What others are searching for