Help your cat to relax with Pet Naturals of Vermont Calming for cats. The formula is especially designed for cats to decrease any destructive behavior and stress. The company claims that its formula provides great stress reduction support factors that you won't find in other calming formulas in the market, perfect for traveling or handle thunderstorms. The main ingredients of this formula are colostrum calming complex, thiamine and L-theanine to deal with stress and of course help your cat relax.
It's been widely known that L-theanine is an amino acid that has great relaxing effects in the brain, thus making pets have better concentration and focus while at the same time reduces irritability. L-theanine supports the production of alpha brain waves to create deep relaxation without leaving mental alertness. Aside from that, it also helps the body to produce more calming amino acids such as GABA, dopamine and tryptophan. We can say that L-theanine is extremely useful to maintain the good mood of your pets.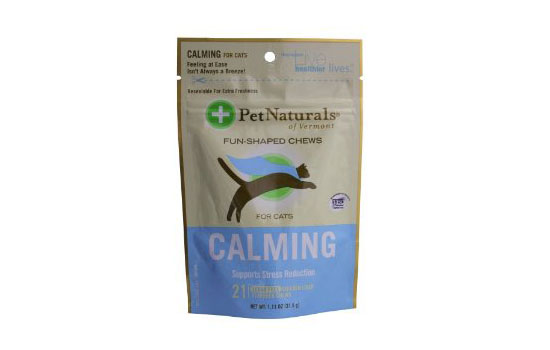 The colostrum in Pet Naturals of Vermont Calming for cats is rich in vitamin A, protein and sodium chloride. Also, colostrum offers immune support, its high levels of antibodies to help fight bacteria or viruses and help destroy foreign substance. In this way, your pet will become more active and healthier.
The company of this product claims that every ingredient in the formula doesn't have any side effects such as drowsiness, addiction or impaired motor skill. So, you can relax knowing that Pet Naturals of Vermont Calming for cats helps your furry friend to relax without affecting its charming personality or energy levels.
Will your cat love it? Well, we're pretty sure the delicious taste will attract your cat, giving this formula to your pet won't be an issue. You might want to try to give this product 2 hours before when you plan to take your cat to the vet, as we all know, taking your pet to the vet can be a stressful experience.
Where to buy Pet Naturals of Vermont Calming For Cats?
– US Pets
– UnbeatableSale
– Amazon
Posts in this website may contain affiliate links. If you purchase a product through an affiliate link, your cost will be the same but Pawfi will automatically receive a small commission. Thank you for supporting us!
Tweets by @pawfipet
What others are searching for