Browsing articles tagged with " pet"
Super Pet Guinea Pig Igloo Hide-Out is a perfect house for your guinea pig, it encourages this animal natural nesting instincts. The plastic construction is pretty durable, watch as your pet plays inside, a perfect hide-away for ferrets, dwarf rabbits, guinea pigs or any other small animals. The material makes it pretty easy to clean and resistant to odors or stains, the igloo design makes it really cool. It's been designed with fresh air vents to make sure your pet keeps getting great circulation of air when nesting, you can also add small bed inside to keep your pet cozy and comfy. Super Pet Guinea Pig Igloo Hide-Out measures 10.5 x 12 x 6.25 inches, enough for your pet to crawl inside.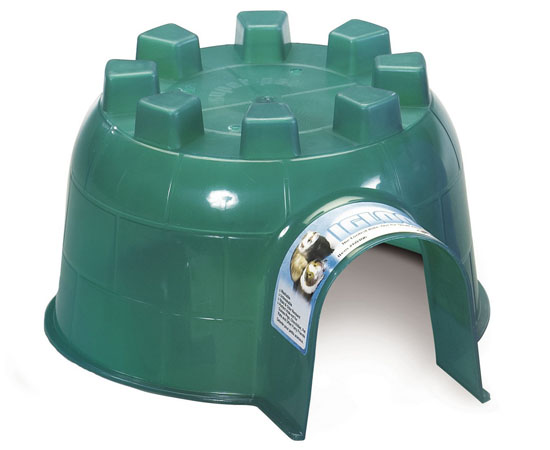 Impressive! That's the word we've been hearing about Hoover Platinum LINX Pet Cordless Hand Vacuum (BH50030). The new technology incorporated in this vacuum has been especially designed to provide you with total removal of stubborn pet hair on any surfaces. The freedom of cordless allows you to move freely, the 25-degree pivot design nozzle offers flexibility to clean hard-to-reach spot and its lithium-ion interchangeable battery offers two times longer run with fade-free power. If you have multiple pets in the house, we can understand when you say you just can't sit on the sofa without having to get fur all over you. This hand vacuum could be your solution.
<CLICK HERE to read the specifications of Hoover Platinum LINX Pet Cordless Hand Vacuum (BH50030) as well as checkout the discount offered for this awesome unit.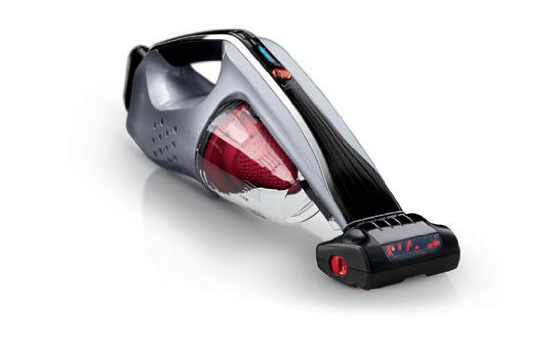 Help your cat to relax with Pet Naturals of Vermont Calming for cats. The formula is especially designed for cats to decrease any destructive behavior and stress. The company claims that its formula provides great stress reduction support factors that you won't find in other calming formulas in the market, perfect for traveling or handle thunderstorms. The main ingredients of this formula are colostrum calming complex, thiamine and L-theanine to deal with stress and of course help your cat relax.
It's been widely known that L-theanine is an amino acid that has great relaxing effects in the brain, thus making pets have better concentration and focus while at the same time reduces irritability. L-theanine supports the production of alpha brain waves to create deep relaxation without leaving mental alertness. Aside from that, it also helps the body to produce more calming amino acids such as GABA, dopamine and tryptophan. We can say that L-theanine is extremely useful to maintain the good mood of your pets.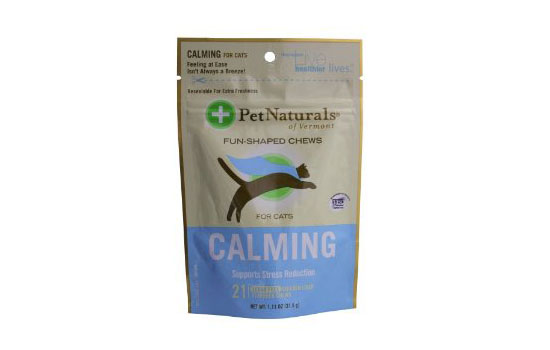 Trimming small pet's nails can be difficult without the proper tool, that's why Super Pet Small Animal Pro-Nail Trimmer is a big help. This trimmer offers an easy way to cut nails of your guinea pigs or ferrets, no more breaking and snagging, nice little tool. Please don't cut your pet's nails using scissors, we can assure you that it's a very bad idea. Measures 2-1/2-Inch long, 3-1/4-inch wide, 6-1/4-inch high, this trimmer can be too small if you have big hands, perhaps you can ask your friend who has small fingers to finish the job.
Super Pet Small Animal Pro-Nail Trimmer delivers smooth nails and no sharp edges, if you own small animals as your pets, then you should have this tool in the house.
If you have read our Drinkwell 360 Pet Fountain review and want to look something simpler due to limited space, you might want to consider Drinkwell Original Pet Fountain. It provides constant stream of water for your pet to encourage him or her to drink more as you know, drinking plenty of water is one of crucial points to keep your pet's health. Somehow, pets are always attracted to water fountain, I guess the sound of trickling watering sound attracts not only birds but also dogs and cats.
Drinkwell Original Pet Fountain features:
Patented 5" free-falling stream. This is the main feature that attracts your pets in the first place.
This fountain holds up to 50-ounces of flowing water to ensure your dog or cat gets plenty of water all the time.
Charcoal filter guarantees the water to be odorless and fresh. To maintain water from bad tastes, you need to replace the filter after sometime.
CLICK HERE to checkout this pet fountain. This product is great if you plan to place it against a wall instead of in the middle of the room due to limited space.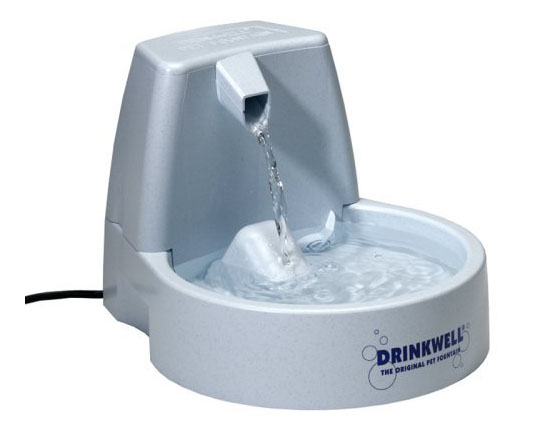 Checkout Chimere Modern Pet Furniture 2012 collection by Frederic Stouls and Marc Ange. This is the first manufacturer of contemporary and modern furniture dedicated to pets. This furniture set not only offers comfort but also beyond it's functionality, it provides decorative element in our home. Impressive soft and noble materials combined with high quality manufacturing, each of these furniture pieces is not an ordinary pet furniture, it's a beautiful creation with timeless soul.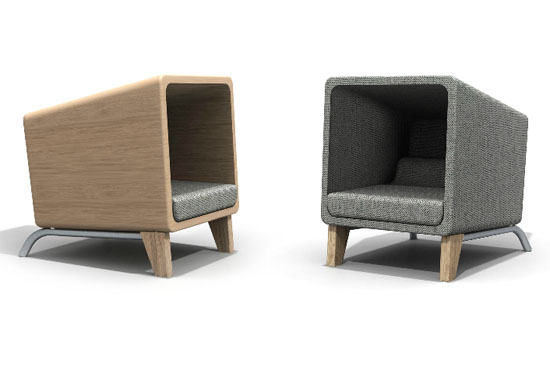 Relaxing by the pool or in the backyard, your dog will love this Coolaroo Elevated Pet Bed. Instead of having to lay on hard and cold floor, your dog can stay on this elevated pet bed that features breathable knitted fabric. The fabric is easy to maintain, you can simply spray it down with a hose and mild soap. Not only this fabric is very comfortable, it is also fleas, mites and mold resistant, with its 3-year UV degradation warranty, you can have a peace of mind.
This pet bed is available in variety of sizes to accommodate your dog. The black steel frame is pretty solid and durable, you can fold it in half for easy storage when not in use or traveling. Yes, you can carry this pet bed when you go camping with your best pal.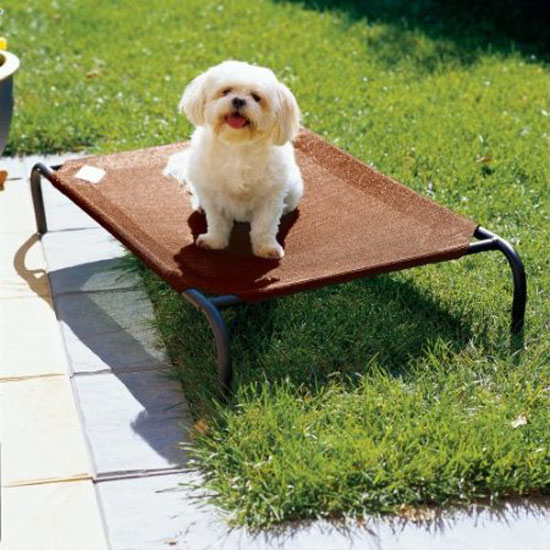 What a cozy and luxury bed for your best pal! K&H Bolster Couch Pet Bed offers luxurious microsuede while the inside cushion is tufted in order to securely keep the premium polyfill made from recycled plastic bottles in place. You can give your dog or cat its own private couch, the surrounded bolster also provides secure feeling to your pet. Available in 2 sizes and 2 colors, your pet will love this bed for napping or just relaxing, the large size is big enough for large breed dog to stretch out.
For pet owners, you'll be happy to know that K&H Bolster Couch Pet Bed has been designed with removable cover and liner, therefore, simply toss them in your washing machine to clean. The reasonable price is also another reason to grab this cozy and comfortable couch bed for your furry friend.
K&H Bolster Couch Pet Bed (Small) measures 24″ back width x 14″ front width x 19″ deep (sleeping surface)
K&H Bolster Couch Pet Bed (Large) measures 32″ back width x 19″ front width x 24″ deep (sleeping surface)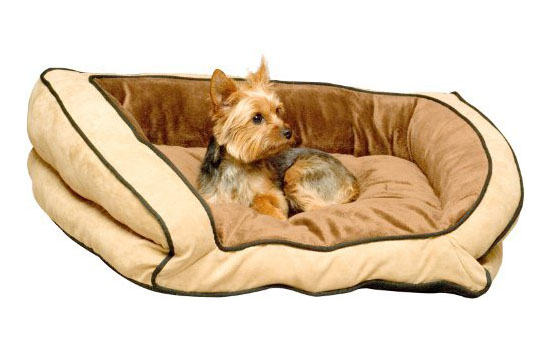 The inappropriate use of nail clippers can be a painful experience to your pet, but with Dremel 7300-PT Pet Grooming Kit, you provide quick and safe nail trimming experience. It features rotary tool that gently grinds down claws with different speeds option, in this way, you can safely and carefully grind nails of your furry friend in stages. Yes, it's a less stressful way to clipping, as you probably don't know, using conventional scissors and clippers to trim your pet's nails might cause cracking, splintering or even bleeding. If you don't want to risk all those problems, you might be interested in trying this tool for easy grooming. The cordless operation provides you optimum control.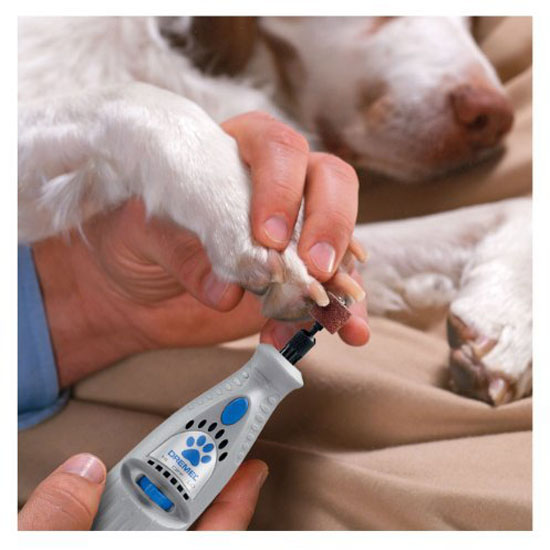 Do you let your dog sleep with you in your bed? Some people do, like me, I let her jump on the bed whenever she wants to sleep next to me. For small sized dog or older dog, it would be difficult for him or her to reach your bed, it would be great if you could place Solvit PupSTEP Plus Pet Stairs next to your bed to make it easier for the dog to climb to its favorite napping place. This pet stairs have been designed to perfectly sized for couches or beds in attractive and affordable way, the safety siderails boost your pet confidence when climbing. It weights only 5 pounds, very lightweight, yet it can support up to 120 pounds.
Tweets by @pawfipet