Browsing articles tagged with " litter box"
Blackhole cat litter mat is a specially designed mat to capture cat litter when your feline friend coming out of their litter box. This dual structured mat works really great in preventing cat litter from being tracked everywhere, with the size of 30-inch x 23-inch x 0.5-inch, it's large enough to cover the base of box. The unique feature lies on the round-shaped upper mat that meets your cat footprints, it softly removes the dirt down to the lower part of the mat. All those fallen litters are trapped on the lower mat, making it really easy to clean.
Each mat is made of durable, non-toxic EVA foam rubber, thus, giving you durable, scratch free mat that needs only water and shake off to clean all those litter, fast and comfortable. It's pretty rare nowadays to find a product that really lives up to the hype, this one does.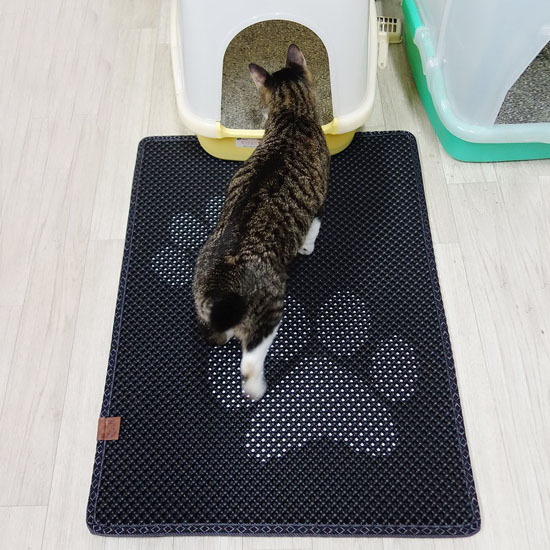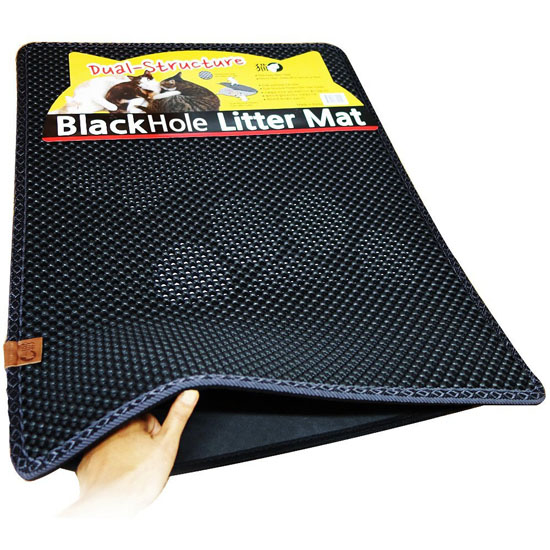 Four Paws Wee-Wee Housebreaking Pads for dog feature super absorption to protect your floors and carpets from mess. It's been especially designed and formulated to attract puppies when nature calls, you can use it for training or alternative when your dog is housebound or during poor weather. There are variety sizes you can choose to suit the size of your dog, buy bulk for cheaper price.
By training your dog to use wee-wee pad, you can be sure that your dog won't make a mess on your floor, for example if you are late from work, and can't make it home in time to get your puppy out, it will use the wee-wee pad. It also means that elderly people can benefit from the pad since there maybe times when they can't take their dog out. We also read that even though Four Paws Wee-Wee Housebreaking Pads are meant for dogs, some customers use it for their cat, under the litter box to be exact, to catch any accidental over shooting.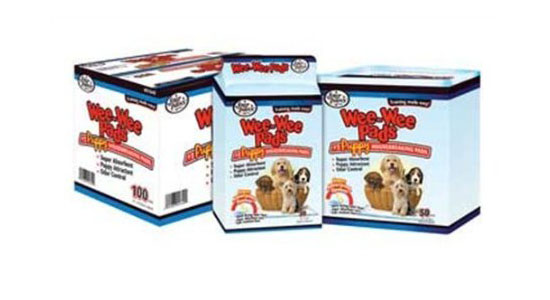 If you own multiple cats because you rescue foster cats or just love having cats around you, Kitty Kan 5-Pack Disposable Enclosed Litter Box. It's a temporary litter box that you can use when you have guests coming with a cat, so convenient, isn't it? There are no trays to disinfect or clean in your bathroom. It utilizes all natural 99% dust free clay litter, it's healthier and safer. Inside, your cat would feel comfortable as there are 4 vents for great air flow. Easy to set up as easy to dispose, all you need is less than a minute.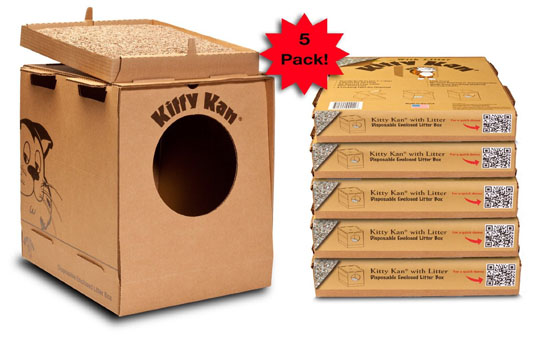 Cats dig hole to do their business and then cover it back up again, it would cause messy litter all over your floor. Hagen Catit Hooded Cat Litter Pan eliminates that mess since your cat can do its business inside. The nice hood or cover provides privacy as well as keeping it looks neater compared to open litter box. The plastic door swings smoothly, an easy access for your cat to go in and out. Since the litter is contained inside, there's a built-in bag anchor that you can use, just use ordinary plastic bag to eliminate the need for hand scooping. Simply open its large hood to clean, in fact the door itself is pretty wide enough (10.4" high x 9.6" wide) for easy cleaning without having to take the entire top off.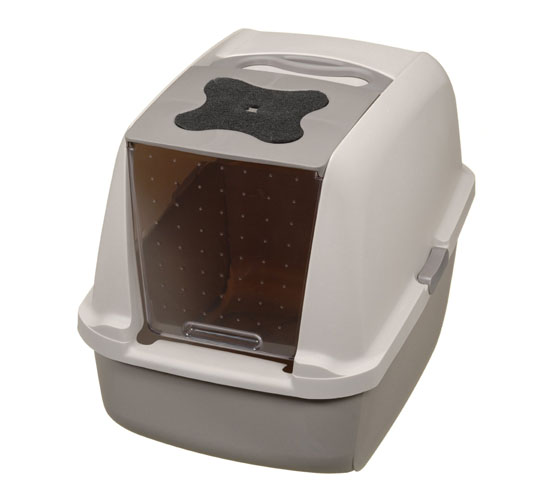 Tidy Cats Breeze Litter Box might not be an automatic fancy cat litter box, but it changes the way you collect waste as well as litter that you use. You can collect your cat waste easier, therefore litter box is easier to maintain. You can choose to use Pine Pellets instead of Tidy Cats clay pellets, it works just as great but combined with Tidy Cats Breeze Cat Pads, it contains odor much better. The unique system separates the urine and solid waste, in this way, it creates optimum odor control. The company claims that the disposable pad located inside a pull out tray absorbs urine odor up to one week.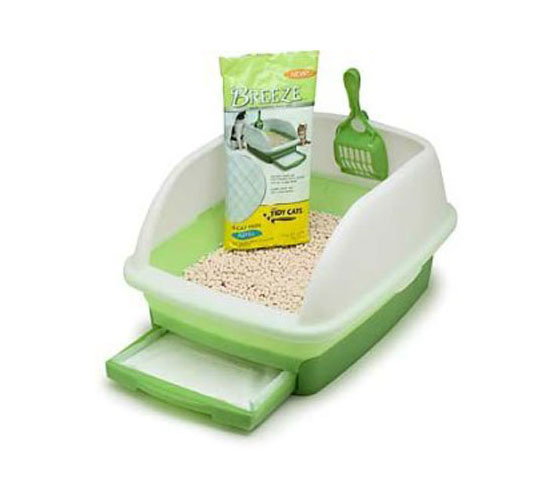 Petco Jumbo Enclosed Litter Box can accommodate multiple cats in your house yet not so large to take much space in the room. It's a great solution when you don't want to purchase those expensive automatic litter boxes. We love the high design that offers spacious feeling for the cat and the cover helps in controlling odors, your cat won't have any problem with the cover since the opening is pretty adequate, besides the enclosed litter box provides your cat with additional privacy.
No more scattered litter in the house, the odors will also drastically reduce thanks to the snap-on cover. This litter box has been designed for simple use by a variety of felines, it would be easy for you cat to come and go as he likes.
UGODOG indoor dog potty is one of great potty solutions in the market. You can use this unit for house training small or large breed dogs (thank you to its solid base) to keep your house clean, in fact, cleaning this litter box is simple and easy for you, just clean the base and wipe it with damp cloth. If you've been a loyal customer to wee pads, you might want to test this product as when it works, it is definitely more economical than wee pads. With the price tag below $50, UGODOG indoor dog potty is less expensive than patio potty systems. No more wet paws all over the house, this system will keep your dog's paws dry because the urine passes through cubed openings on to base.
Tweets by @pawfipet