Search results for "dog toy"
An automatic ball launcher, hm…that sounds pretty cool isn't it? iFetch project started when one afternoon, Grant tried to do his homework at the kitchen table but his dog, a toy poddle, kept dropping the ball at his feet, begging him to play fetch. He couldn't resist the request (who could?), but after 20 minutes, Grant was tired and needed to finish his homework. The little dog didn't feel the same way, well, we know how dog can be so energetic. This was the idea of automatic ball launcher hit Grant, what if he could make a device that could throw the ball automatically so that he could finish his homework.
So, the journey began, it became a family project with extensive researching, prototyping, testing and refining, this family launched a Kickstarter campaign and received 4 times of their original pledge.
iFetch is a ball thrower, it has 3 distance settings that you can choose from: 10 feet, 20 feet, or 30 feet. To do so, simply press the button on the back to go through the distance options. Place the ball into the funnel, it will automatically launch to the chosen distance.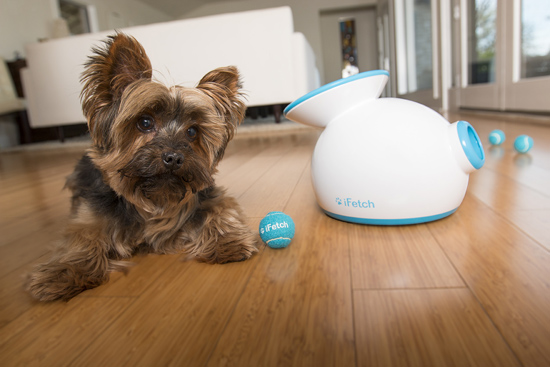 At first sight of DOGTEK Sonic BirdHouse Bark Control, people might think it's a toy birdhouse. It looks and works great, each unit is very well built to help you control unwanted barking from either your furry friend or your neighbor's dogs. This unit features 3 built-in bark sensors with 1 XL ultrasonic loudspeaker, it is able to detect barking up to 50-feet away. You can set the sensitivity levels to indicate what barking level should activate this device. Most people need this device not to control their dogs, but the neighbor's dogs. Yes, we can control our dogs but unfortunately other people don't really care or try to stop their dogs from barking excessively, if these people are your neighbor, then, you should install this device with the sensors pointing at your neighbor's house.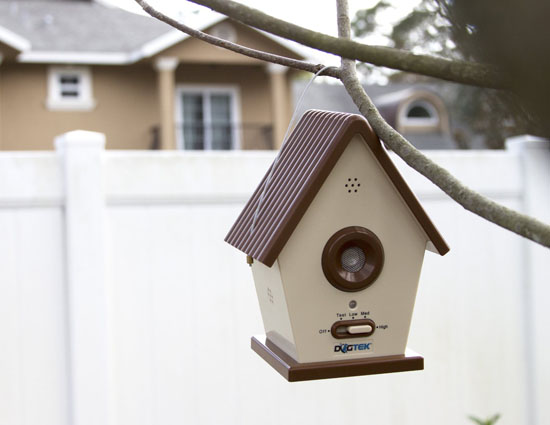 These 3 piece dog accessory set has been designed by Japanese design studio Nendo for PEN, Japanese lifestyle magazine. This accessory set consists of a unique dog bed, dishes, and toys, the artificial leather bed turns into a little hut when your dog burrows inside it and then transforms into a cushion when your dog lies on top. The dishes are also beautifully designed; they are reversible so that you can use the shallow dish for food and the deeper dish for water. The silicone rubber bone toy can be reshaped into a ball simply by tucking in the 2 ends. The toy is pretty cool, it is constructed of triangular panels connected in polygon mesh. There are 2 color options available: white or black, so, it is easy to blend with your existing home interiors.
Designed by Tiziana Agnello, Energy Pyramid Cat House provides eco-friendly house for your feline friend. It could be the center of your cat universe, it's a four sided pyramid shaped play house that comes with 3 unique diamond cutout toys. As we all know, cats are attracted to cardboard, this product provides your cat a place to take a nap as well as scratch surface that they just can't resist.
Aside from cats, this pyramid is also a great place for rabbits, ferrets, or other small animals including dogs. Made in Brooklyn with love, each cat house is printed with soy based inks, acrylic coated, thus making cleaning is as simple as wipe it.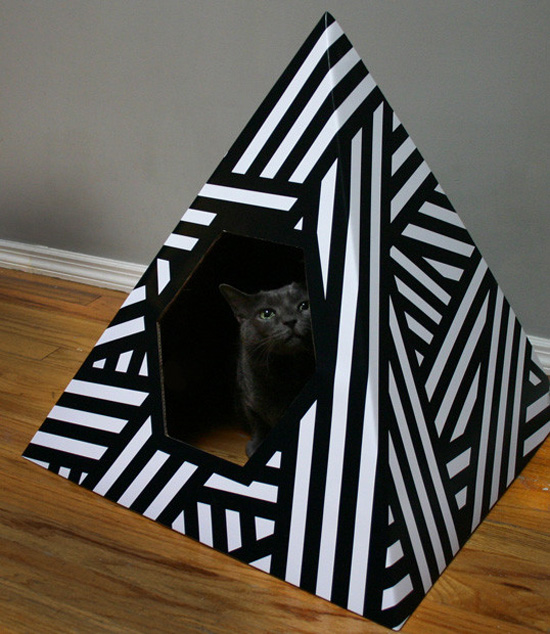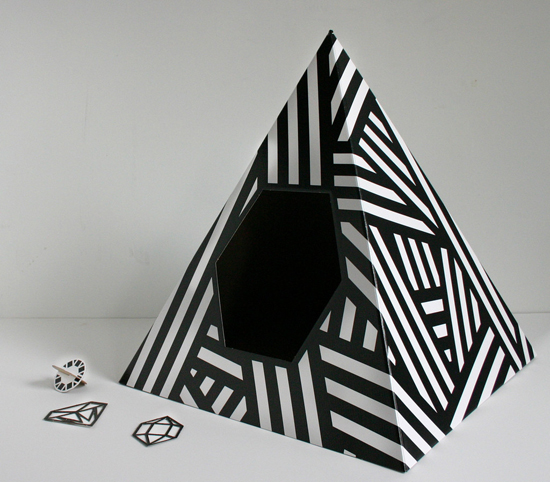 Petmate Dogloo Xt Dog House brings you an adorable igloo-shaped dog house with high winds to promote great air circulation. Winter won't be an issue as this igloo keeps your pet warm, yet it cools during summer, thank you to its structural foam construction. Your dog would love this house, it is also a great shelter when your dog loves to hide. You might want to place some treats and toys to attract your dog or cat (yes, it's a great house for cat as well), once your furry friend knows how cozy and comfortable this igloo is, you would have problem in calling them out.
The Green Pet Shop Self Cooling Pet Pad helps your pet to cool during hot days, no more over heating and dehydration. This product lasts for years, it's made of high quality, non-toxic material, you can be sure this is a great investment. This revolutionary product is self-cooling, which means it recharges automatically, weight activated, so you don't need any water, refrigeration or electricity. It keeps your hard-earned money save in your wallet.
It works by cooling itself automatically when not in use and your pet can enjoy the cool bed for around 3-4 hours of constant use. Once your furry friend steps onto the pad, its weight triggers the cooling effect. There's no hassle of filling with water, the sturdy construction ensures no mold or leaks, you can simply wipe it clean.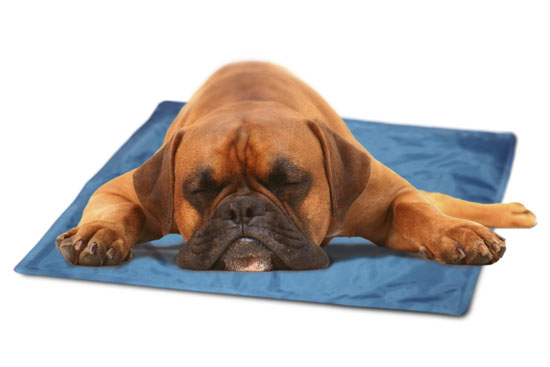 Your dog or cat will enjoy being massaged by Kong Massage Zoom Groom brush. It's one of the best grooming and shampooing brushes available. It removes loose hair easily while at the same time stimulates capillaries and natural oil production which is very effective for all dogs, cats and all coat types. It promotes healthy skin and coats, use this brush on regular basis and you will drastically reduce shedding.
Based on a customer feedback how her cat hated to be brushed but since she bought Kong Massage Zoom Groom brush, it's no longer a problem anymore. In fact, every time she takes out this brush, her cat comes running can't wait for the massage. This brush is best value for money. The silicon material makes this brush very easy to clean, simply wash it with anti-bacterial soap and hang it dry.
CLICK HERE to purchase Kong Massage Zoom Groom brush, you can also read more than 100 positive customer feedback that gives this product 5 out of 5 stars rating.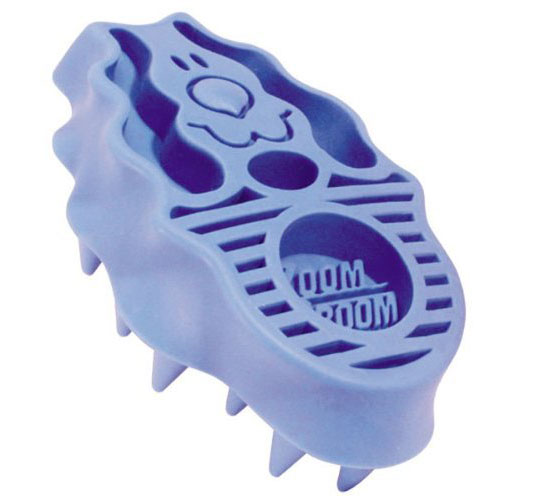 Female dogs have to go through menstrual periods twice a year or you can say estrus cycle where their bodies have to go trough menstrual periods that can result in pregnancy if the dog has mated with a male dog. In some cases, if your female dog doesn't mate with other male dog, its female hormones can mimic pregnancy which we usually call as pseudocyesis or in simple terms "false pregnancy".
So, is your dog experiencing this? In this article, we'll tell you about several false pregnancy in dogs symptoms so that you know when your dog is having it.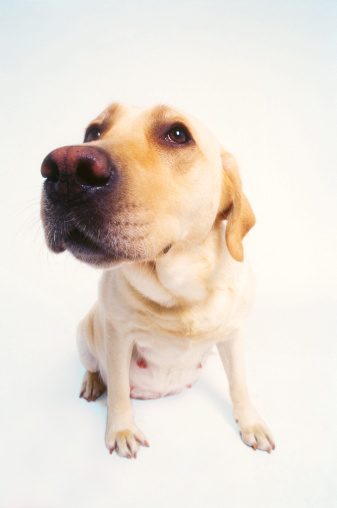 1. First symptom if your dog is experiencing false pregnancy would be your dog doesn't eat and drink as much as she should be.
2. Is your dog lactating? One of most common symptoms of false pregnancy is when your dog producing milk even when no pregnancy is present. You'll notice enlarged mammary glands and swollen teats due to her hormones.
3. You need to check her abdomen for swelling, gently, because her body will mimic everything related to pregnancy. Yes these hormones make her body to function all signs that indicate pregnancy, although your dog belly won't be as big as a female dog that is actually pregnant.
4. One of natural instincts of pregnant dog is nesting. Do you see this sign? When your dog starts to collect her blankets, toys or rug in the corner of the room, or building her own cozy spot, that mean she's read to take care her babies.
5. The other common instinct would be carrying stuffed toys or other small items as if they are puppies. Carrying stuffed toys around it's the result of her emotional stress due to false pregnancy. She's trying to use small items to replace her missing pups.
At this moment, your dog is experiencing what we call psychological distress which can affect her appetite and activity. She's no longer interested in eating her favorite food or treats, or becomes less interested in playing fetch (dog's most favorite game). If you don't plan to breed your dog, the best thing you can do to help her is to have her spayed. You need to learn to recognize false pregnancy in dogs symptoms, so that you can take immediate action to ease your dog's psychological distress.
Just like baby, puppy is also teething, this is a constant need that your puppy just can't resist. Puppies do this to ease any teething discomfort or simply to play, the problem is, they can chew things that they shouldn't such as your furniture or shoes. Nylabone Puppy Teething Rings Chew Toy is durable interlocking rings that perfect for puppy chewers. You probably think this toy is too hard for your little furry friend, well, don't get wrong, your puppy will love it. The dental nubs help clean teeth and reduce tartar at the same time satisfies puppy's natural urge to chew. Your little pal can flip this toy over and over again and having fun chewing it instead of your precious stuff.
Walk your dog and let him carry his own treats, toys and water with Kurgo Wander Pack Dog Backpack. You can take your dog with you while hiking, camping or just walking around the park, with this backpack, you give extra exercise for your dog to make him work harder, but not that much. This backpack is made from heavy-duty polyester that can withstand any rugged outdoor conditions. Your dog will feel comfortable carrying this bag, the adjustable saddle bag system ensures snug fit, however please only use this bag for dogs 30 – 85 pounds.
The reasonable price is also pretty attractive point, yeah, backpacks from other brands could come with a price tag higher than a college backpack.
Tweets by @pawfipet
Recent Searches