The Green Pet Shop Self Cooling Pet Pad helps your pet to cool during hot days, no more over heating and dehydration. This product lasts for years, it's made of high quality, non-toxic material, you can be sure this is a great investment. This revolutionary product is self-cooling, which means it recharges automatically, weight activated, so you don't need any water, refrigeration or electricity. It keeps your hard-earned money save in your wallet.
It works by cooling itself automatically when not in use and your pet can enjoy the cool bed for around 3-4 hours of constant use. Once your furry friend steps onto the pad, its weight triggers the cooling effect. There's no hassle of filling with water, the sturdy construction ensures no mold or leaks, you can simply wipe it clean.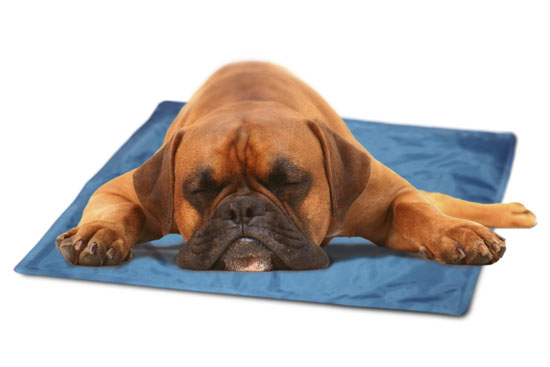 Green Pet Shop Self Cooling Pet Pad measures 19.7" x 15.7" x 0.2" (medium) and it can accommodate dogs up to 25 pounds, small and large sizes are also available. This cool pad cools and offers relief from swelling, discomfort, heat stroke, allergies or skin conditions. You can place it on the bed, the car, the floor or any outdoor places, so convenient isn't it? You'll be tempted to get one yourself.
Your dog will love it, during hot days, he or she would just stay on this bed. If at first your dog doesn't want to use Green Pet Shop Self Cooling Pet Pad, you can try to use his or her favorite toys and treats to make your dog try the pad.
Posts in this website may contain affiliate links. If you purchase a product through an affiliate link, your cost will be the same but Pawfi will automatically receive a small commission. Thank you for supporting us!
Tweets by @pawfipet
What others are searching for