Browsing articles tagged with " water dispenser"
A combination of a water dispenser and a dry pet food dispenser in one, Crown Majestic Diamond Series V2 Automatic Pet Feeder. It's a flexible feeder since it runs on electricity or batteries, your choice. If you've read our review about PetSafe food and water station system, you realize that Crown Majestic actually combines 2 dispensers in one. Suitable for both dogs and cats, this device features simple automatic program which automatically dispense ¼, ½, ¾, 1, or 2 cups of pet food, it's pretty accurate despite the size of the kibble. You setup and read the information from backlit LCD display that informs you about time and number of meals per day.
Record your voice for about 12 seconds to alert your dog or cat when the food is ready, in this way, your pet would know it's time to eat even though you're away from home.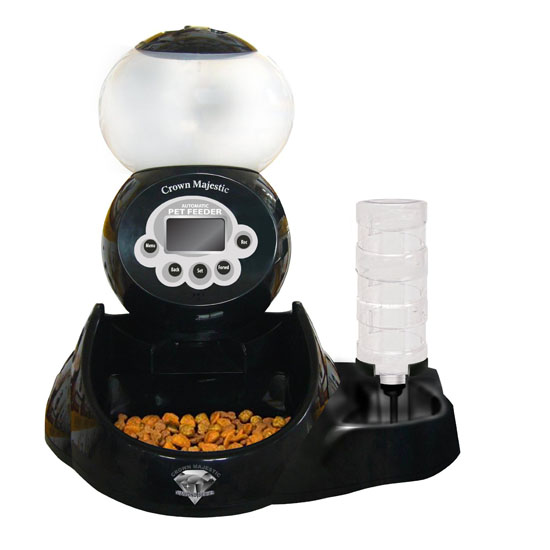 Gulpy Water Dispenser for Pet is great water bottle to carry when you are out with your best pal. Simply flip to open or close, you can provide your dog with a fresh drink of water to keep him or her hydrated. It has convenient belt clip on back so that you can carry it near you always. There are different colors available you can choose from.
The material used for this product is very decent; it's not going to be another soft plastic that your dog can easily chew. We just hope the company can release bigger bottle for dogs with bigger mouth, it could be really handy.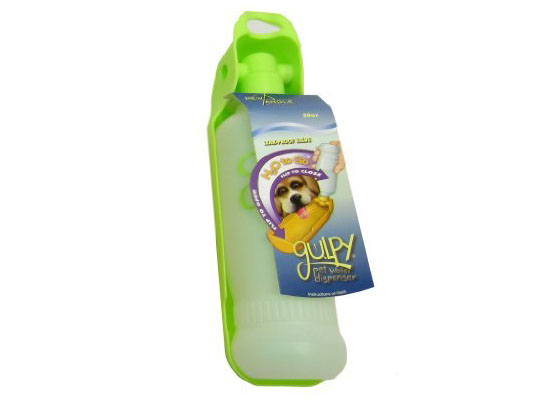 For pet owners who have multiple pets in the house, they know that food and water dispenser area can be pretty messy. If you need to use raised border to prevent any spill or crumble all over the floor, you can use Petmate Le Bistro Single Food Mat. The ribs design on the interior will keep spilled water confined in the mat, not all over your floor. We hate picking up kibble crumbs on the floor as much as you do, but if you want to prevent the mess from spreading all over the house, you have to clean them as soon as you can. This food mat is the help that you need.
Tweets by @pawfipet