Browsing articles tagged with " sleep"
Cat scratching furniture come in different variety and this one comes with a nice place for your cat to sleep on, SkratchKabin. Designed specifically for indoor use, this cat furniture offers your cat a perfect spot to satisfy its natural instinct to scratch on curved surface and a nice bed to relax. Cat scratching furniture is a great way to keep your cat away from your precious sofas and furniture, no more claw damage. The innovative design attracts your cat just as you place it on the floor, your cat will go crazy over it, even as a bed (washable KatKushion), it offers warm, insulated, and cozy room for sleeping, relaxing or maybe just stretching.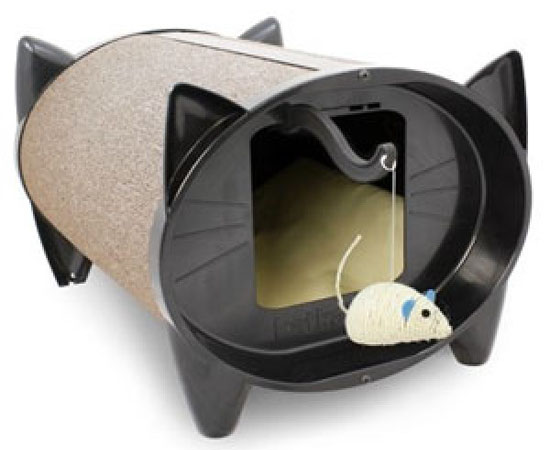 Lay EZwhelp Washable Whelping and Puppy Pad against any crate walls or box and let those cute puppies to sleep on it comfortably. This pad is especially designed to wick moisture from the top surfaces (quilted) and send into the soaker layer. It features great absorbency while minimize any leaks due to its waterproof barrier at the bottom. The laminated pad is said to be eco-friendly without sacrificing its performance, even after many normal wash cycles, you would still find this pad is highly functional. Ideally, you can use these pads for puppy training, whelping, or furniture protection, you can save a lot of money. Measured 41" x 41", you should place the brown stain-resistant top facing forward while the white textured barrier as the bottom.
A combination of a water dispenser and a dry pet food dispenser in one, Crown Majestic Diamond Series V2 Automatic Pet Feeder. It's a flexible feeder since it runs on electricity or batteries, your choice. If you've read our review about PetSafe food and water station system, you realize that Crown Majestic actually combines 2 dispensers in one. Suitable for both dogs and cats, this device features simple automatic program which automatically dispense ¼, ½, ¾, 1, or 2 cups of pet food, it's pretty accurate despite the size of the kibble. You setup and read the information from backlit LCD display that informs you about time and number of meals per day.
Record your voice for about 12 seconds to alert your dog or cat when the food is ready, in this way, your pet would know it's time to eat even though you're away from home.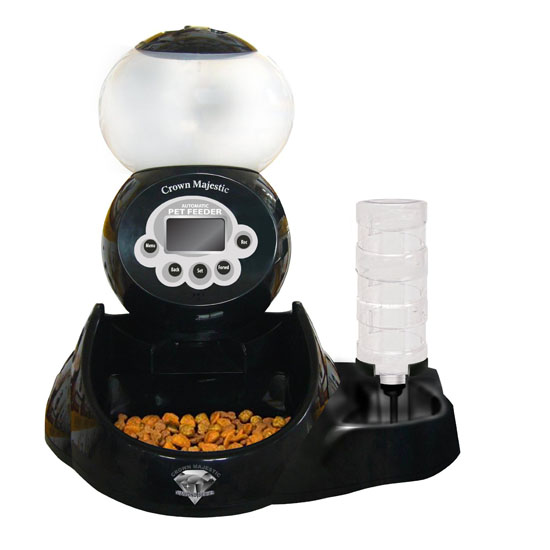 If you are looking for soft cone shaped e-collar, then checkout Comfy Cone Pet E-Collar. It's approved and tested by veterinary to be used by cats or dogs, soft and comfortable while very sturdy and protective. It's made of foam backed nylon and comes in 4 different sizes with 2 different colors: black or tan, since the material is soft, you can fold it back while your pet eating or drinking or when you need to check the wounds. There's a reflective outer edge to keep your pet visible under low light condition.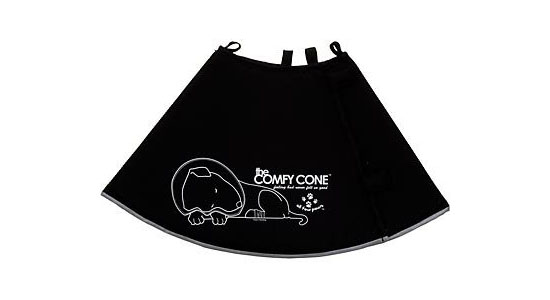 During winter, your cat won't leave Slumber Pet Thermal Cat Mat. It's a mat that will keep your cat warm and comfortable without having to spend money on electricity. It works by reflecting the cat's own body heat back to the animal, so don't be surprised when all your cats gather around and sleep on it. This mat is ideal for aging pets, kittens, animals recovering from injury, it provides soothing comfort to them. Available in gray and blue color with leopard-print motif, the pad is machine washable for added convenience. Each mat measures 22" (L) x 18.5" (W), the surface is so soft and comfortable, we pretty sure your cat would love both sides equally.
Cozy and comfy with soft micro-suede exterior, Brinkmann Pet Paw Print Pet Bed offers your pet 21-inch x 25-inch warm plush sleep area. There's cute paw print on the bed for added touch of detail. This bed is filled wit eco-first recycled fiber fill to provide ultimate comfort to your dog, we're pretty sure you want the best for your furry friend as they are part of your family.
Finding comfortable bed for your lovely furry friend can be a difficult task. Based on many customer reviews, we'd like to recommend you to check Brinkmann Pet Paw Print Pet Bed. We believe your dog will absolutely like it, the padding is soft, the walls are high, pretty good to keep your dog feel safe curling up and snuggling in. This bed is also machine washable for added convenient.
Armarkat B6802 68-Inch Cat Tree is a pretty huge so be sure you have enough space, a great cat tree to own especially when you have obese cat. Your cat can climb, scratch, exercise and sleep on this, a great way to increase your cat activities. Each tree is made from beautiful pressed wood covered with faux fleece for great appearance, your cat would enjoy hours of entertainment playing around on it. The instructions that come with this unit are really easy to understand, you can assemble all parts in less than an hour, all necessary tools are included.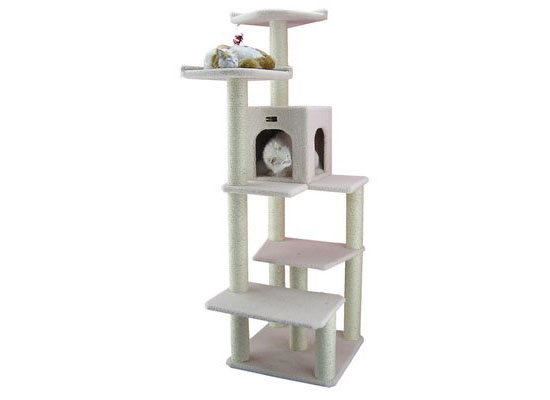 Need a great bed for your dog while camping? Checkout Coleman Bone Dog Lounger, this portable dog bed is great for traveling, the medium sized bed is ideal for dog weighing up to 50lbs while the large sized bed can accommodate up to 100lbs. The material is durable with heavy-duty polyester and strong steel frame, it's been designed for dog on-the-go, therefore, it easy to open and fold in seconds for great portability. You can setup this bed to become the spot for your dog to relax, whether you are in a camp ground, backyard or just anywhere. When it's time to clean it, simply remove the cover, it's 100-percent washable, no shrinkage and no stain.
You can choose to purchase the large size if your dogs love to sleep together in one Coleman Bone Dog Lounger. The sleeping surface is soft and comfortable, the lounger is off the ground for more support to your dog. So, no matter where you and your dog go, you can always provide familiar place for your best furry friend to lie down and relax.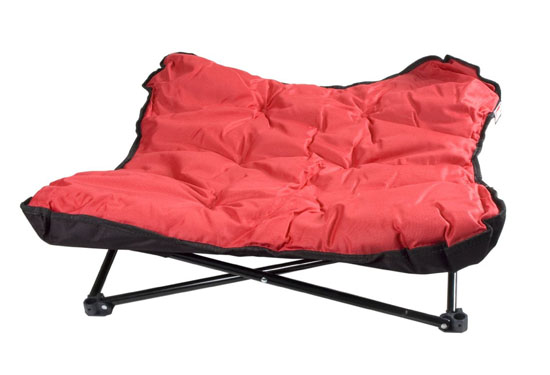 Tweets by @pawfipet