Browsing articles tagged with " modern cat furniture"
This tall cat tree would paper your cat while complementing your contemporary décor. Designed by Designer Pet Products, Sebastian 65-inch Modern Cat Tree is an absolute fun place for your cat to play, it is constructed with manufactured wood for sturdy and lost lasting use. It's a cat furniture that also wants to enhance the room, that's why it comes with multiple finishes.
This cat furniture features 5 separate levels for climbing and playing, the first tier offers sisal scratching material to satisfy your cat's instinct to scratch. The second to fourth level is covered with carpet. There's a cool cubby hole with hiding place on second level where your cat can relax and feel secure when it needs privacy. Basically, this structure can accommodate up to 4 cats, even though there's also space for decoration, we don't recommend you do that, since cat's play can be pretty rough. We do recommend that you accessorize this cat tree with colors and objects that attract your cat to play with.
Meyou Cat Beds Collection features brand new furniture for intelligent cats. Keeping good design in mind, Meyou explores different possibilities in order to design a pet furniture that participates to your exiting home decoration and at the same time offers a great shelter to your cats. For design conscious people, every piece of their home decoration is carefully chosen to ensure all of those decors blend perfectly together, so why not do the same thing for cats' beds, toys, or scratching pads?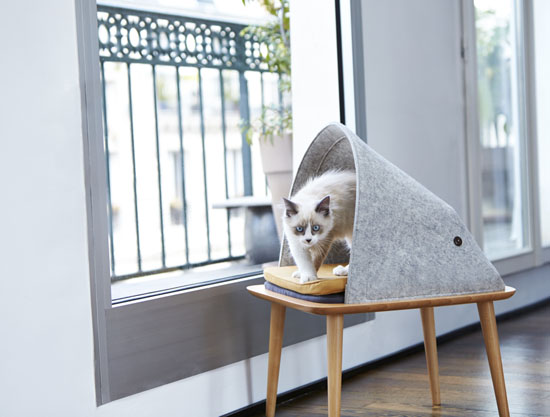 This is an interesting table designed specially to become cat furniture as well. The first version was a big hit, this time, the design team comes back with even more intuitive table design. The modular wall system of cubes can be arranged to serve as different kind of things that you need, from shelving system, room divider, or simply as a stool. This furniture design is also conveniently become the perfect spot for your cat to relax or hang out.
When you own multiple cats and they all are so much aggressive and cute as well, you might want to get Go Pet Club Cat Tree for them. You can read online there are many positive reviews about this product, we're pretty sure your cats would love to play around this tree.
When you place your order, you would appreciate the fast services from the merchant that we recommend here. Since this product comes in pieces, you need to assemble this unit before your cat can start climbing the tree, but don't worry, you can easily do this due to the guide that is given in the box. The material used making this exceptional product is very good and reliable as well. Even during colder weather, don't be surprised when your cats stop snuggling with you on your bed, they might prefer to hangout in the tree among those 3 perches or 2 condos. This condos and perches is covered with faux fur where the board material is wood, posts are covered by natural sisal rope to encourage your cats scratching. The overall dimensions are 50″W x 26″L x 72″H.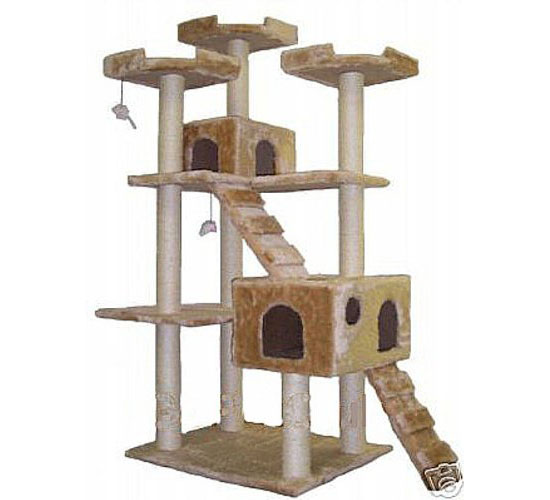 The latest design of cat scratcher from Petfusion features 3-sided area where your cat can satisfy its scratching instinct. PetFusion 3-Sided Vertical Scratcher features attractive design for cats to enjoy, it's made of eco-friendly, recycled and recyclable corrugated cardboard with non-toxic corn starch glue. Due to its structure, this board naturally attracts your cat to scratch, the curves design makes it easy to scratch as well as a comfortable place to rest and play inside the cubby hole.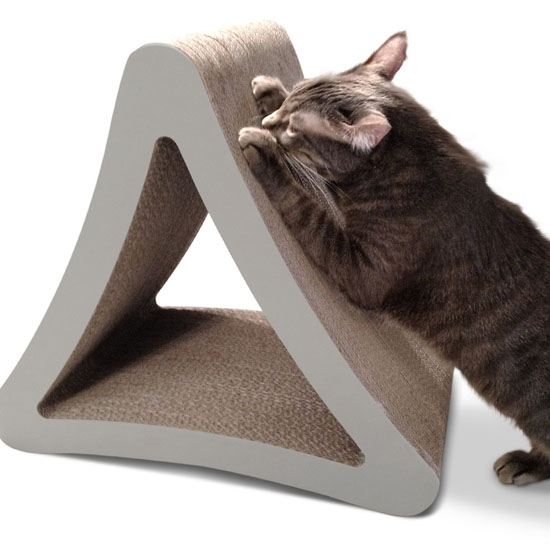 Tweets by @pawfipet
Recent Searches