Browsing articles tagged with " dogs and cats"
A combination of a water dispenser and a dry pet food dispenser in one, Crown Majestic Diamond Series V2 Automatic Pet Feeder. It's a flexible feeder since it runs on electricity or batteries, your choice. If you've read our review about PetSafe food and water station system, you realize that Crown Majestic actually combines 2 dispensers in one. Suitable for both dogs and cats, this device features simple automatic program which automatically dispense ¼, ½, ¾, 1, or 2 cups of pet food, it's pretty accurate despite the size of the kibble. You setup and read the information from backlit LCD display that informs you about time and number of meals per day.
Record your voice for about 12 seconds to alert your dog or cat when the food is ready, in this way, your pet would know it's time to eat even though you're away from home.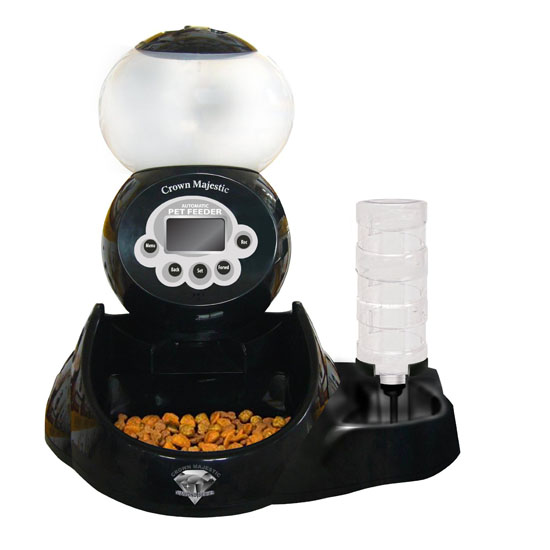 Your dog or cat will enjoy being massaged by Kong Massage Zoom Groom brush. It's one of the best grooming and shampooing brushes available. It removes loose hair easily while at the same time stimulates capillaries and natural oil production which is very effective for all dogs, cats and all coat types. It promotes healthy skin and coats, use this brush on regular basis and you will drastically reduce shedding.
Based on a customer feedback how her cat hated to be brushed but since she bought Kong Massage Zoom Groom brush, it's no longer a problem anymore. In fact, every time she takes out this brush, her cat comes running can't wait for the massage. This brush is best value for money. The silicon material makes this brush very easy to clean, simply wash it with anti-bacterial soap and hang it dry.
CLICK HERE to purchase Kong Massage Zoom Groom brush, you can also read more than 100 positive customer feedback that gives this product 5 out of 5 stars rating.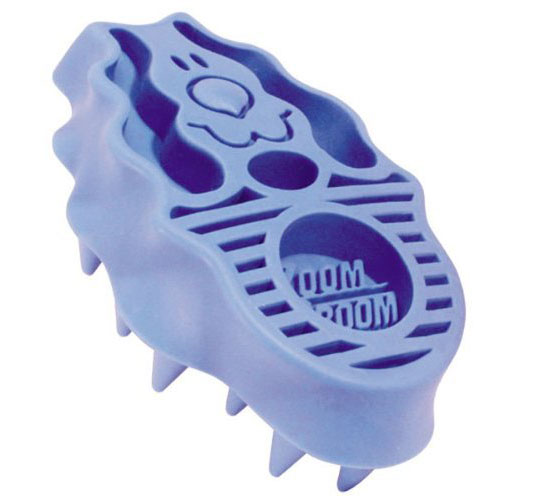 If you have read our Drinkwell 360 Pet Fountain review and want to look something simpler due to limited space, you might want to consider Drinkwell Original Pet Fountain. It provides constant stream of water for your pet to encourage him or her to drink more as you know, drinking plenty of water is one of crucial points to keep your pet's health. Somehow, pets are always attracted to water fountain, I guess the sound of trickling watering sound attracts not only birds but also dogs and cats.
Drinkwell Original Pet Fountain features:
Patented 5" free-falling stream. This is the main feature that attracts your pets in the first place.
This fountain holds up to 50-ounces of flowing water to ensure your dog or cat gets plenty of water all the time.
Charcoal filter guarantees the water to be odorless and fresh. To maintain water from bad tastes, you need to replace the filter after sometime.
CLICK HERE to checkout this pet fountain. This product is great if you plan to place it against a wall instead of in the middle of the room due to limited space.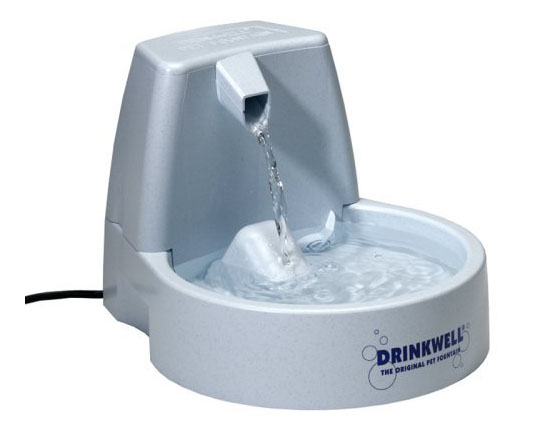 Modern Teafco Argo pet carrier has been designed to meet the strict airline regulations when it comes to safety of carrying your lovely pet on a plane. Its innovative design (smaller version of Petascope) enables you to take your small pet in it and slide the carrier underneath your seat. Each product has been carefully made from 840 denier Nylon fabric and offers water resistant exterior for comfort. The dual layer mesh windows on both sides are great ventilation and visibility of your pet. There's a large front zipper opening for quick access.
Tweets by @pawfipet