Browsing articles tagged with " pet furniture"
Hide S is a combination of modern dog bed and foot stool, but we must admit, we've seen better design from DenHaus with its combination of dog bed and end table. Hide S from Neroko offers you simple and minimalist design, aside being your favorite pet's hiding place, it also functions as footstool so that your feet can rest comfortably on it. Since this pet furniture doesn't come with replaceable top hood upholstery, you can choose to use it as a night stand just like Merry Pet Cat Washroom or a small table top. Yes, so you can see here, it's multi functional pet furniture.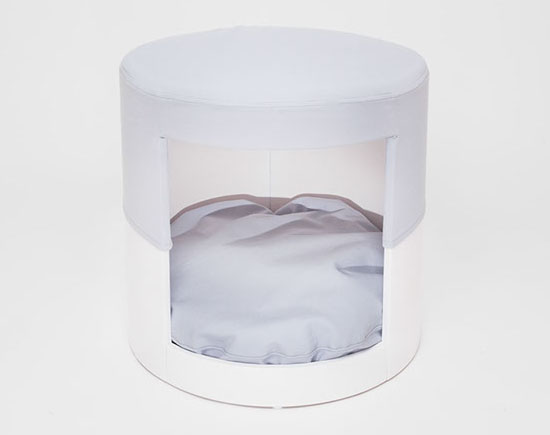 Seungji Mun has designed Dog House Sofa for pet furniture brand M.Pup. It's a unique furniture design that brings harmony between human and pet. As dog person, we really love how this company understands our need to give space for our best furry friends. This sofa is a tool to communicate and share our feelings with our pets. Made of composed solid wood, this sofa is ideal to bond with your pet while relaxing on the sofa.
Checkout Chimere Modern Pet Furniture 2012 collection by Frederic Stouls and Marc Ange. This is the first manufacturer of contemporary and modern furniture dedicated to pets. This furniture set not only offers comfort but also beyond it's functionality, it provides decorative element in our home. Impressive soft and noble materials combined with high quality manufacturing, each of these furniture pieces is not an ordinary pet furniture, it's a beautiful creation with timeless soul.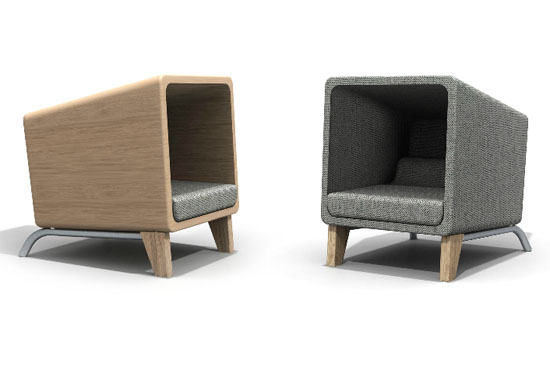 Talk about multifunctional furniture, Bloq Pet Bed also functions as side table, visually attractive and highly functional, for both of you and your pet. Place this furniture next to your bed, your best furry friend can sleep tight in it, right next to you. There's comfortable washable cushion in each Bloq that water and stain repellent. This pet furniture can be integrated easily to your existing interior décor, it has modern style and a variety of color choices in high glossy finish, or you can prefer to have natural colored pet bed.
As modern pet owner, you'll love the high quality furniture piece that Bloq Pet Bed offers. It's a product that fit your home and lifestyle.
Vurv Dog Pod is modern pet furniture that can be said as a recliner than a pet bed. Have you ever heard Eames chair? The first modern product for high-end market from Eames released in 1956. Well, Vurv Dog Pod is like the Eames chair for your best furry friend. The dimension can take up some space, but it definitely will look marvelous in any living room. Aside from its modern and stylish design, this pet furniture piece provides the sense of security for your dog or cat, a cosy little niche.
Vurv Dog Pod features removable and washable pad, in fact you can purchase a new one when it's time replace the old pad. Good news for you, Vurv ships for free to Canada and US!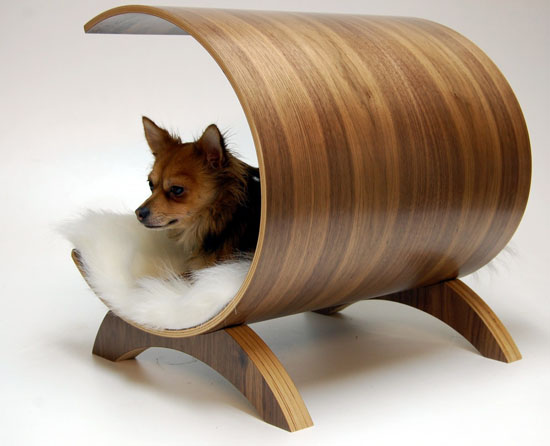 PetFusion Cat Scratcher Lounge is a modern furniture piece dedicated to make your cat happy and entertained. How? Well, this furniture is not only a lounge but also a scratching post, your feline friend will always come back for more. This furniture falls into the category of eco-friendly product as it is made of recyclable corrugated cardboard, the curved innovative design provides an easy way for your cat to scratch and take some rest comfortably. If your cat enjoys scratching as well as lounging, you should purchase this furniture piece as a gift for your best feline friend.
Merry Pet cat washroom or night stand pet house is multi-functional pet furniture that looks beautiful with any room décor. It's very practical, you can place it next to your bed or in the bathroom or in the kitchen near the cat's water bowl. Each product has been designed with clean lines, elegant look wainscoting paneling details, a stainless steel door knob and a towel bar attached on the side.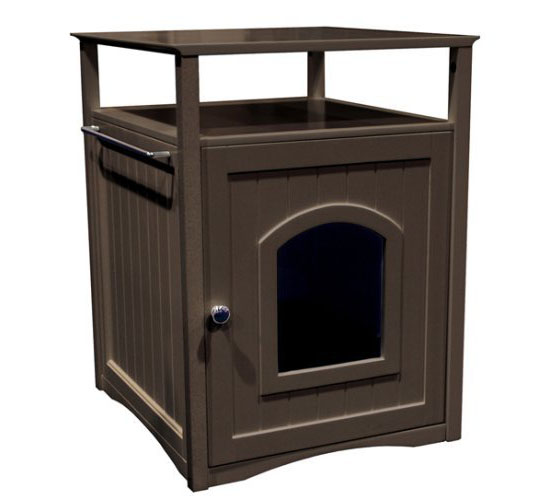 Tweets by @pawfipet