Browsing articles tagged with " cats"
If you prefer smaller animals instead of dogs or cats, you might go with rabbits or guinea pigs. We'd like to recommend Midwest Interactive Guinea Habitat Plus to keep your small furry friends safe. This spacious 8-square feet of living space is recommended by many breeders and veterinarians, the dividing panel allows you to separate between play area and care area. The lock-in-place doors also function as ramps for passage in or out and between habitats, you can configure this cage as you like with unlimited expandability. For easy access, this unit features full removable wire mesh top, cleaning should be easy, right?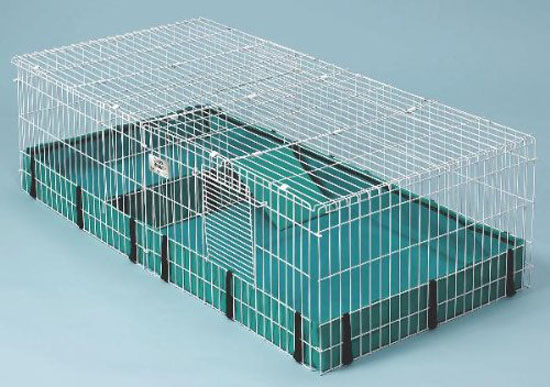 It's an ideal cage for average everyday guinea pig pet owner, your pet would have enough room to move around, eat, and exercise. It would probably take about less than 15 minutes to set this cage up, very sturdy. You can also add fleece or thick towel to cover this cage, it helps protect guinea pigs sensitive feet. Please pay attention to the dimensions (47"x24"x14") as this unit is pretty large (but not really that high), make sure you have the space for it. Midwest Interactive Guinea Habitat Plus is certainly a product that's designed by keeping guinea pigs in mind.
Merrick Before Grain #1 Chicken Dry Cat Food is one of not so many cat food which all ingredients are from USA, the company processes everything from their own facilities in Texas. It's a great cat food to choose when you plan to transition from raw food, it's easy on your cat's stomach, also the price is a lot cheaper when you buy in bulk. Usually when you choose grain free cat food, it is offered with much expensive price, this doesn't happen with Merrick.
Cats love this food, all ingredients are certified as human food grade. If you have cat with sensitive stomach foods, you might want to try this product. Most cats that have sensitive stomach usually prefers raw meat, especially when the cats have a corn allergy, you can choose to make their food by yourself, but not all of us have the time for that. This cat food is a great replacement, you'll find your cat happy and healthy, have shiny coat and better life quality. That statement is based on great reviews from many cat owners who have successfully changed from raw meat to this dry cat food, it is more convenient for owners and healthy for cats.
Cat scratching furniture come in different variety and this one comes with a nice place for your cat to sleep on, SkratchKabin. Designed specifically for indoor use, this cat furniture offers your cat a perfect spot to satisfy its natural instinct to scratch on curved surface and a nice bed to relax. Cat scratching furniture is a great way to keep your cat away from your precious sofas and furniture, no more claw damage. The innovative design attracts your cat just as you place it on the floor, your cat will go crazy over it, even as a bed (washable KatKushion), it offers warm, insulated, and cozy room for sleeping, relaxing or maybe just stretching.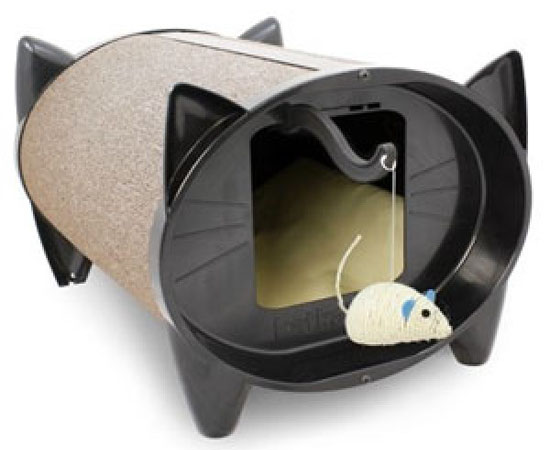 Similar to other Drinkwell pet fountains, Drinkwell Pagoda Ceramic Fountain offers plenty of water to your lovely pets. Just like its name suggests, it's a ceramic fountain for pet lovers that don't like using plastic as their pet's water bowl. Each fountain holds up to 70-ounces of filtered water to provide your dogs or cats with clean and fresh water to maintain their health. Yes, drinking plenty of water can keep your pets hydrated, which is an important parts to keep them healthy. The ceramic design makes this fountain easy to clean and looks gorgeous in any home. Pets are attracted to the sound of trickling water, those free-falling streams would encourage your dogs or cats to drink even more.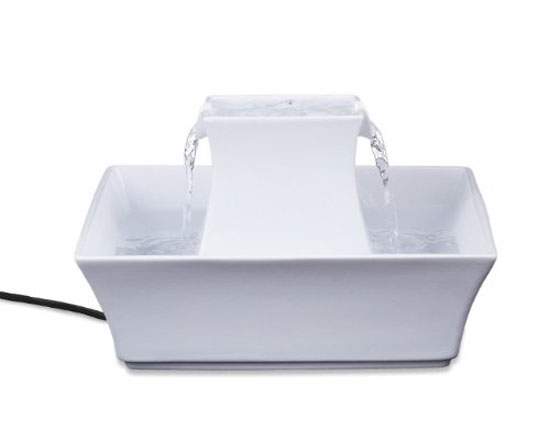 You can keep large pet away from certain areas while smaller pet to pass through when you install Carlson 0930PW Extra-Wide Walk-Thru Gate with Pet Door. It's a handy walk-thru gate to keep children away from dangerous areas such as kitchen, but there's a small gate to let your little pet to walk through. This gate is convenient way to protect both your home and pet, since it's made of steel, you can be sure this gate is chew-proof. Installation is easy, this safety gate features a pressure-mount system it is also ideal for extra-wide openings when needed.
The gate features one-touch release lever-style handle design to enable you passing through with only one hand, just in case you are carrying things. The small 10" x 7" pet door lets small dog or cat pass through while everyone else stays put. The durability and strength of Carlson 0930PW Extra-Wide Walk-Thru Gate is unquestionable, it keeps your pet safely contained in certain area in your house, and avoid any mess.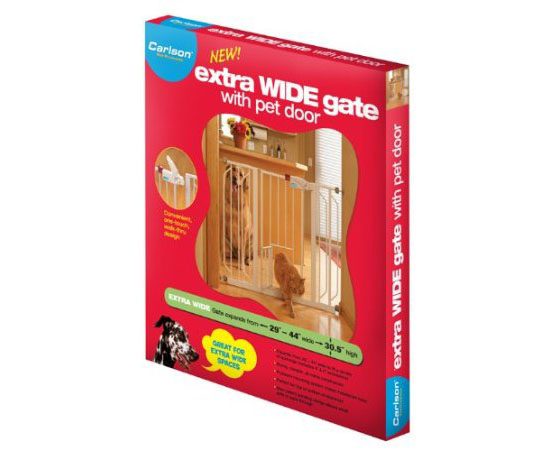 Designed by Tiziana Agnello, Energy Pyramid Cat House provides eco-friendly house for your feline friend. It could be the center of your cat universe, it's a four sided pyramid shaped play house that comes with 3 unique diamond cutout toys. As we all know, cats are attracted to cardboard, this product provides your cat a place to take a nap as well as scratch surface that they just can't resist.
Aside from cats, this pyramid is also a great place for rabbits, ferrets, or other small animals including dogs. Made in Brooklyn with love, each cat house is printed with soy based inks, acrylic coated, thus making cleaning is as simple as wipe it.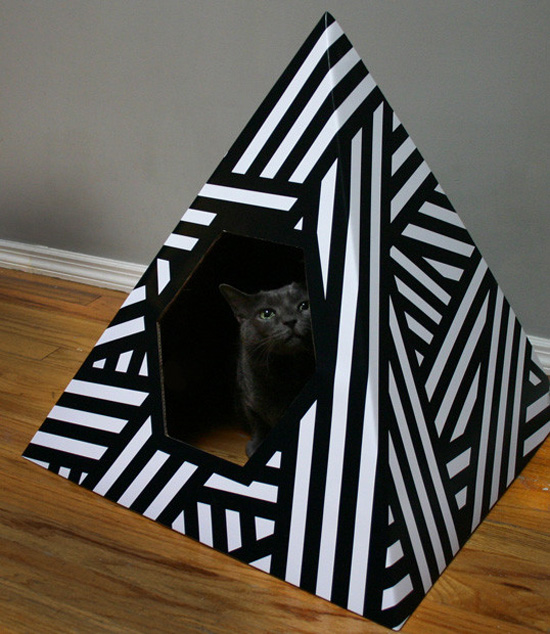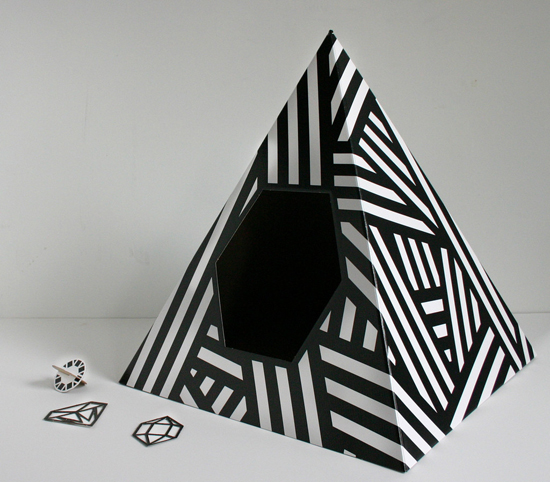 If you are looking for soft cone shaped e-collar, then checkout Comfy Cone Pet E-Collar. It's approved and tested by veterinary to be used by cats or dogs, soft and comfortable while very sturdy and protective. It's made of foam backed nylon and comes in 4 different sizes with 2 different colors: black or tan, since the material is soft, you can fold it back while your pet eating or drinking or when you need to check the wounds. There's a reflective outer edge to keep your pet visible under low light condition.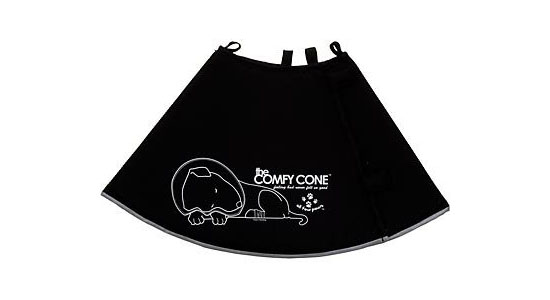 If you own multiple cats because you rescue foster cats or just love having cats around you, Kitty Kan 5-Pack Disposable Enclosed Litter Box. It's a temporary litter box that you can use when you have guests coming with a cat, so convenient, isn't it? There are no trays to disinfect or clean in your bathroom. It utilizes all natural 99% dust free clay litter, it's healthier and safer. Inside, your cat would feel comfortable as there are 4 vents for great air flow. Easy to set up as easy to dispose, all you need is less than a minute.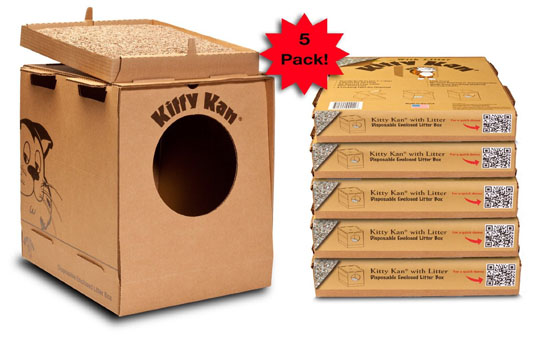 Drinkwell Platinum Pet Fountain Starter Set features innovative and patented watering system. It provides your dog or cat with 5-inch free falling water stream, very attractive to keep them drinking and hydrated while you are away. Since this unit is a starter set, you will also get a cleaning kit and a package of filters, the fountain itself can hold up to 168 ounces of water. Cats usually jump on the sink or toilet to drink some water, using this unit, it won't happen again, the sound of trickling water attracts pets to drink from this fountain. In order to ensure the freshness of water, this fountain features replaceable charcoal filter.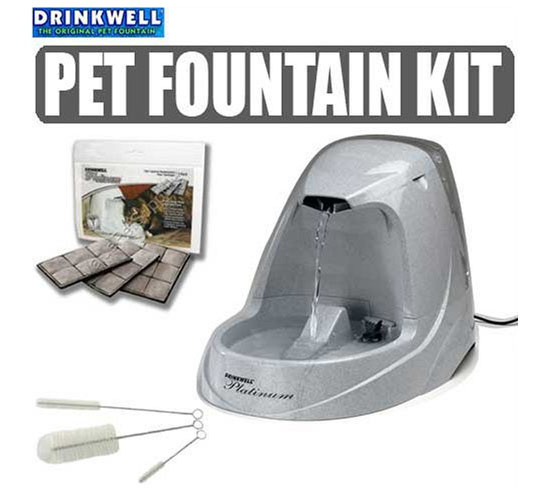 Keep your floor clean from your cat food crumbs using Cats Rule Lilypad Splash and Crumb Catcher Mat. It's a special designed lid that prevents any moisture or crumbs get on the floor. Measures 12" x 14" x 1", this mat is durable and very easy clean. Simply place your cat bowl over it, all those crumbs will fall on the mat instead of your floor, in this way, once your cat is finish, you can easily clean the mess.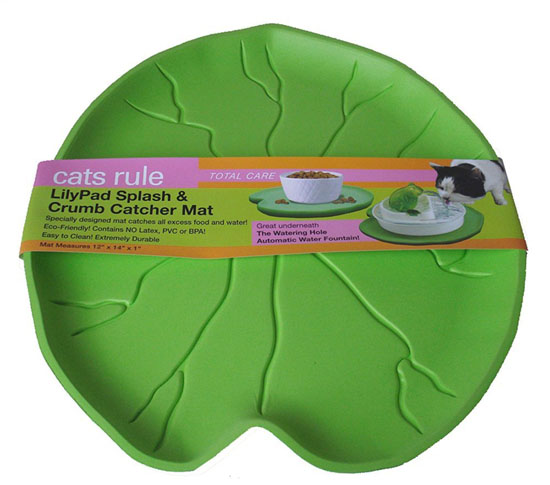 Tweets by @pawfipet