Browsing articles tagged with " polyester"
Dogbed Sleepy Deluxe Plaid is a modern dog bed from Cloud7, perfect for any modern homes. The duvet cover is made from organic natural cotton canvas, while the mattress cover is made from organic white cotton batiste, and the mattress is filled with latex and polyester flakes mix. We really love the genuine leather handles, a nice touch to complement the overall look. There are many gorgeous products for your furry friends here, and all of them feature modern and stylish look.
Need a great bed for your dog while camping? Checkout Coleman Bone Dog Lounger, this portable dog bed is great for traveling, the medium sized bed is ideal for dog weighing up to 50lbs while the large sized bed can accommodate up to 100lbs. The material is durable with heavy-duty polyester and strong steel frame, it's been designed for dog on-the-go, therefore, it easy to open and fold in seconds for great portability. You can setup this bed to become the spot for your dog to relax, whether you are in a camp ground, backyard or just anywhere. When it's time to clean it, simply remove the cover, it's 100-percent washable, no shrinkage and no stain.
You can choose to purchase the large size if your dogs love to sleep together in one Coleman Bone Dog Lounger. The sleeping surface is soft and comfortable, the lounger is off the ground for more support to your dog. So, no matter where you and your dog go, you can always provide familiar place for your best furry friend to lie down and relax.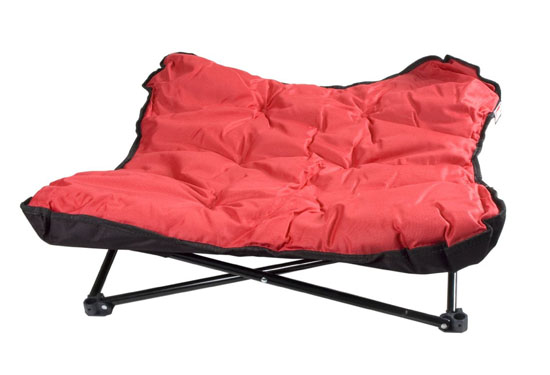 Tweets by @pawfipet