Browsing articles tagged with " measures"
Measures 7" x 5" x 10", this Exotic Environments Forgotten Ruins Aquarium Ornament would look great in your aquarium. Amazing hand painted details would look really awesome if you have similar themed to décor your fish tank or terrariums. This unit is a solid one piece construction, your betta fish can swim around through holes or just hide. It's a great addition to any fish tank, we highly recommend this aquarium ornament to you.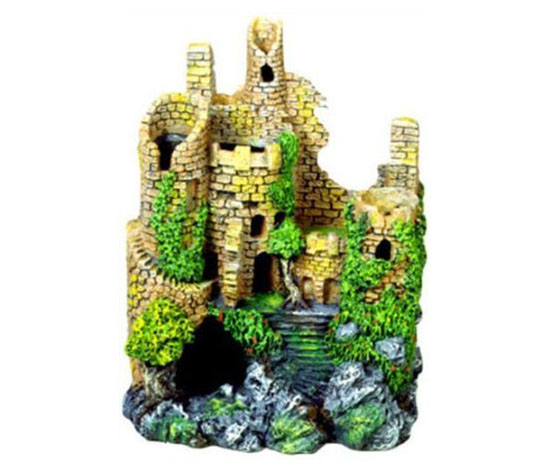 Scented bag helps to hide the smell of your dog's poop, that's why we'd like to recommend Earth Rated 120 Lavender Scented Dog Waste Poop Bags that you can use together with Earth Rated Green Dispenser. Each plastic bag measures 9-inch x 13-inch, big enough so that your sleeve doesn't have to make any unwanted contact, the company claims it's big enough for a Great Dane's pile. Compared to other poop bag, this product is thicker and tougher, and the scented lavender aroma helps with nasty poop smell. The company claims that their product is the leader in terms of affordability and quality, it's an eco-friendly product that degrades into natural CO2 and H2O in 24 months.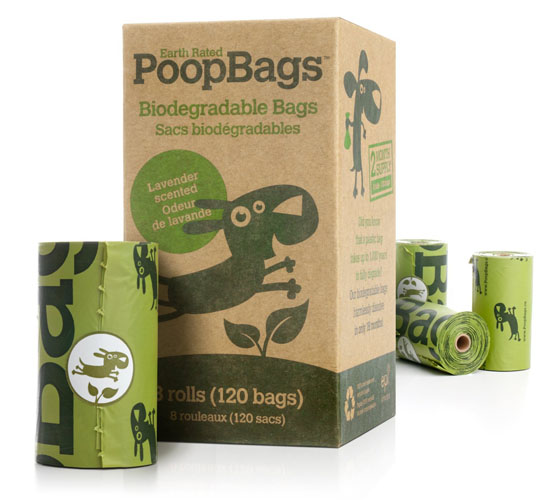 There's our beautiful feline friend, relaxing inside her own castle, yes The Refined Feline Catemporary Cat Castle looks awesomely great in the room. If you are a design-conscious cat owner, then you would love to own this cardboard tower, treat your cat like a princess as she's been really good to us, agree?
This cool heavy duty cardboard cat tower comes with glossy full color print, multiple levels for your cat to climb and perch. Measures 24″ x 60″ x 24″, don't be so surprised when you often find your cat hanging out in the tower.
Where to buy The Refined Feline Catemporary Cat Castle?
– PetShopUSA
– Amazon
Super Pet Guinea Pig Igloo Hide-Out is a perfect house for your guinea pig, it encourages this animal natural nesting instincts. The plastic construction is pretty durable, watch as your pet plays inside, a perfect hide-away for ferrets, dwarf rabbits, guinea pigs or any other small animals. The material makes it pretty easy to clean and resistant to odors or stains, the igloo design makes it really cool. It's been designed with fresh air vents to make sure your pet keeps getting great circulation of air when nesting, you can also add small bed inside to keep your pet cozy and comfy. Super Pet Guinea Pig Igloo Hide-Out measures 10.5 x 12 x 6.25 inches, enough for your pet to crawl inside.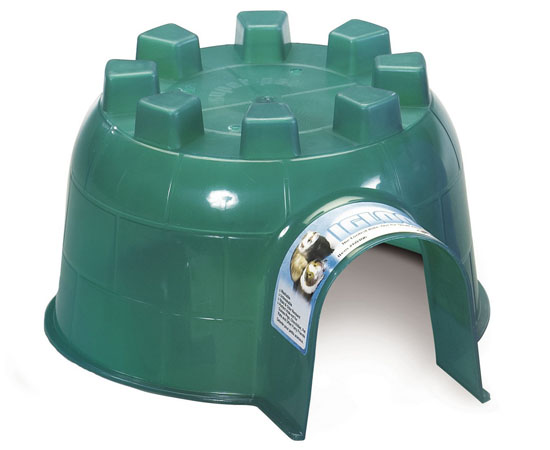 Trimming small pet's nails can be difficult without the proper tool, that's why Super Pet Small Animal Pro-Nail Trimmer is a big help. This trimmer offers an easy way to cut nails of your guinea pigs or ferrets, no more breaking and snagging, nice little tool. Please don't cut your pet's nails using scissors, we can assure you that it's a very bad idea. Measures 2-1/2-Inch long, 3-1/4-inch wide, 6-1/4-inch high, this trimmer can be too small if you have big hands, perhaps you can ask your friend who has small fingers to finish the job.
Super Pet Small Animal Pro-Nail Trimmer delivers smooth nails and no sharp edges, if you own small animals as your pets, then you should have this tool in the house.
Petego Messenger Pooch Pouch is soft and comfortable carrier to take your pet anywhere close next to you. The official website says that this shoulder bag is specifically designed for small pet with weight less than 13 lbs, but based on several comments, it is recommended to use this bag for dog under 5lbs. In this way, your pet still can have pretty spacious room to move.
There's Emanuele Bianchi signature checkered stitching on this soft and durable microfiber suede. Available in only 1 color, mocha, your little furry friend will rest comfortably in it, in fact, your friend might fall asleep too!
Fresh Patch is a solution for dogs who don't like using synthetic grass. The natural scent of living grass is certainly more inviting to dogs and puppies, we're pretty sure they will use this product instantly. Since Fresh Patch uses only real grass, it's important to replace it on weekly basis, order a new one, and throw away the old one.
Tweets by @pawfipet