Browsing articles tagged with " aquarium"
BiOrb 15L Flow Aquarium is beautiful and modern aquarium to set up and own. It uses low voltage (only 2 volts), all acrylic material that makes it light weight and safe. If you want to install compact stylish aquarium, then you should check this one out, everything you need is included in the box including the built-in LED light and biOrb filtration. It's the perfect tank for small fish or shrimps, you can place it on your desk or small space, it creates calm and soothing atmosphere in any room.
BiOrb 15L Flow Aquarium is a great alternative to tiny bowl, place some betta fish in it, you can also add plants and accessories to create beautiful appearance and playground for the fish. It acts as beautiful décor in any room as well.
Measures 7" x 5" x 10", this Exotic Environments Forgotten Ruins Aquarium Ornament would look great in your aquarium. Amazing hand painted details would look really awesome if you have similar themed to décor your fish tank or terrariums. This unit is a solid one piece construction, your betta fish can swim around through holes or just hide. It's a great addition to any fish tank, we highly recommend this aquarium ornament to you.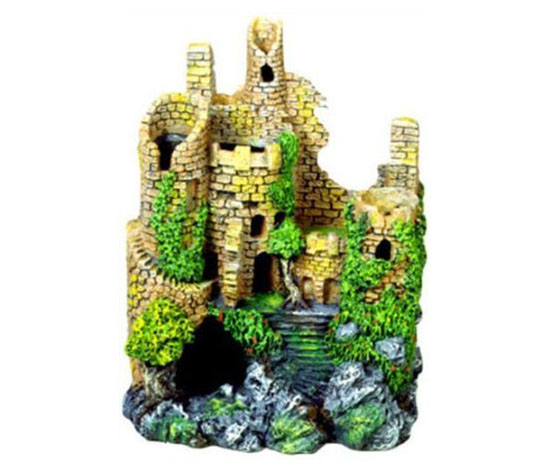 You can create basking area in your aquarium with Tetra Decorative ReptoFilter. It's also a great addition to hide the aquarium filter away as your amphibians friends usually love to explore dark areas such as filter housings which could cause them trouble. This product is an innovative combination of filtration and decoration, so if you own frogs, newts or turtle tanks, you would want to purchase ReptoFilter to complete your aquarium décor with beautiful waterfall.
This reptile filter is equipped with three-stage whisper filtration that uses replaceable bio bags to keep your water clean and odorless. We love the large intake holes that prevent clogging while the locking cover helps keep animals away from the filtration area.
Tetra Decorative ReptoFilter dimensions are 8.8" x 12.8" x 10.6", you can place it inside your standard aquarium or bigger, up to 55-gallons aquarium. Your amphibian pets would love to play in it or simply climb out the water just to hangout. To replace the filter cartridges, all you need to do is just lift the top of the rock, there's no reason to tear apart this decoration. The height dimension is tall enough to allow you to maintain adequate water level in the aquarium to keep your amphibians healthy.
Where to buy Tetra Decorative ReptoFilter for Aquariums?
– EntirelyPets
– Amazon
Floating turtle log from Zoo Med would be a nice addition to your aquarium if you have aquatic turtles as pets. Actually, it's a good accessory for frogs, newts, or fish as it provides security and comfort, a place where they can hide for awhile. This log won't roll over because it has bottom-weighted design. Since it floats on the surface, your turtles can bask on top of it or choose to hide submerged inside.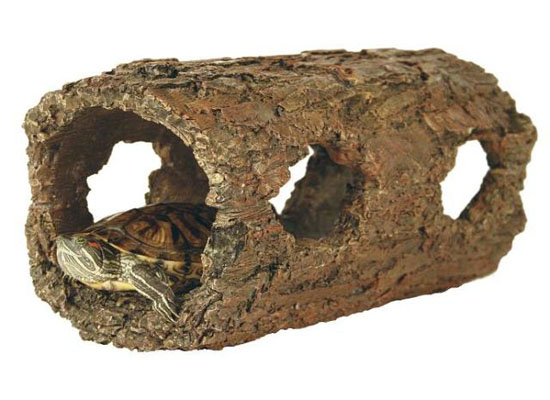 Create erupting volcano effect in your aquarium with the help from Hydor H2Show Volcano Kit. This volcano emits bright red LED and bursts red bubbles from the top of the ornament. Don't worry about the equipment because this hand-painted ornament literally hides everything from plain view.
Hydor volcano kit is simple to assemble and install. Each unit includes the volcano ornament, bubble maker, and a red LED spotlight. When combined together, you'll get beautiful transparent bubble flows where the volcano emits the light from the red LED which adds cool effect of overflowing lava. This unit is ideally used in freshwater aquarium from 13 to 52 gallons.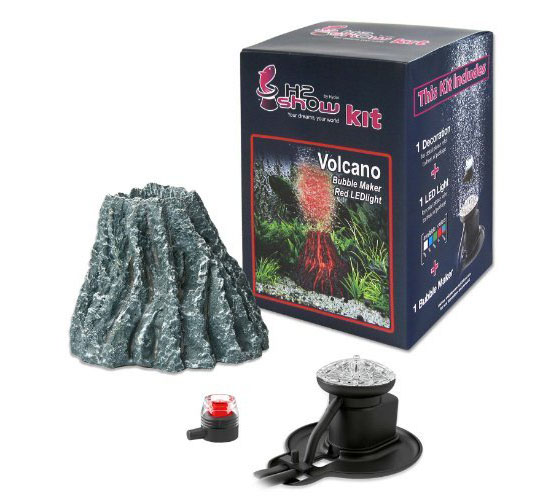 Tweets by @pawfipet