The taste of sweet potato from Natural Balance Dry Dog Food With Sweet Potato and Venison Formula makes feeding process easy. The sweet potatoes formula offers premium quality of carbohydrates that is rich in potassium and highly digestible energy source while the premium protein is sourced from fresh venison. Just like high quality pet food, this product doesn't use artificial colors, flavors, or preservatives.
The ingredients of this dog food have been specially formulated for dogs to prevent any allergic reactions. There are many dogs that have to deal with yeast infections or itchy allergies and all those vet visits seem just a waste of your hard earned money, nothing cures your best furry friend, even though you've tried changing shampoos, antibiotics, medications, and many more. There are times, all these symptoms are caused by your dog's food, yes, even though your dog has been on it since puppy. Many dog owners that switch the old food into this product admitted that they started to see improvements in just 2-4 weeks, no more scratching, skin irritation, or yeast infection. However, each case is different, you need to give this product a try for at least 2 months to see any changes.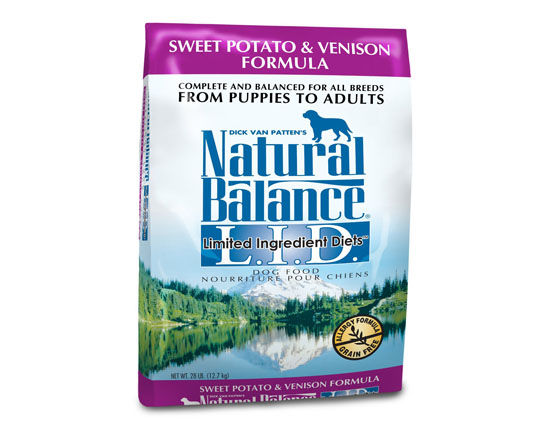 Natural Balance Dry Dog Food With Sweet Potato and Venison Formula provides you with food intake guidelines, but you need to adjust it based on your dog's age, weight, breed, climate, temperature, or activity level. Each dog is different, you might want to consult to your vet for specific recommendations. Switching your dog's food can be tricky, some dogs love this formula right away, some just need some time. We highly recommend that you change it gradually, replace the current food with increasing portion of new one, in this way, you give your dog a chance to adapt to its new diet.
You need to make sure that your dog has access to fresh water at all times, because when your dog eats dry dog food, they tend to drink a lot more, it's very important to keep your dog hydrated.
Posts in this website may contain affiliate links. If you purchase a product through an affiliate link, your cost will be the same but Pawfi will automatically receive a small commission. Thank you for supporting us!
Tweets by @pawfipet
What others are searching for