It is cat's natural instinct to dig and deposit in sand, CatGenie 120 Automatic Cat Litter Box uses litter-like washable granules in order to satisfy this particular cat's instinct. This cat litter box will automatically flush the waste away and clean itself, which mean, no more touch and smell the litter again. Many veterinarians have recommended this unit to their clients especially because it's been designed with biodegradable and recyclable SaniSolution cartridge, making this product eco-friendly.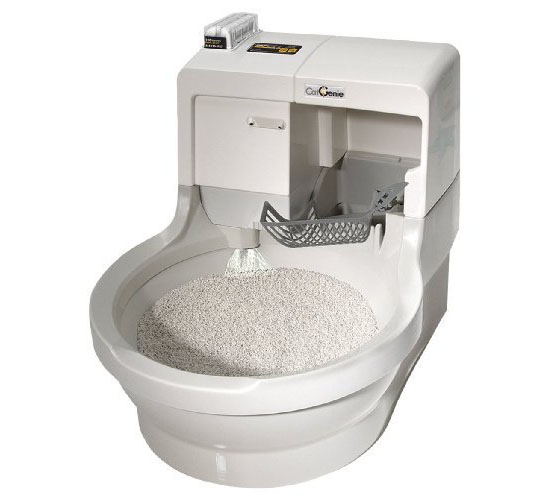 All you need to do is to hook up this device to a cold water outlet and plug in the electrical cord. The number 120 means that this litter box can work up to 120 washes to clean your cat's waste.
How does CatGenie 120 Automatic Cat Litter Box work? Well, after the cat does its business, the liquid drains away from the Granules and leave only solid waste. The GenieHand will scoop out the waste and turn it into liquid for easy and safe removal, you don't have to dispose anything. The next step would be cleaning this unit, fresh water will fill the basin while the GenieHand scrubs and scours the box and granules. The SaniSolution will decontaminate everything while the waste and dirty water are drained away. With the help from hot-air blower, the granules and the box will be completely dry.
If you are a CatGenie owner from previous design, we can tell you that this one has improved Hopper that will decrease the chance of clogging. The claw design that holds everything together has also been improved. A customer mentions about how good this unit works, however, there are times when CatGenie 120 Automatic Cat Litter Box will miss a few remains (very rare), this means it has reached the drying cycle.
The price might be a bit steep, but please consider this, you don't have to purchase litter since CatGenie granules are washable and recyclable, they are sanitized by CatGenie everytime you run it. For the SaniSolution cartridge, it lasts for about 2-3 months, but it also depends on how often you run the unit. There are 3 flexible options you can choose when it comes to cleaning modes : on timer, manually, or cat-activated.
CatGenie 120 Automatic Cat Litter Box could be one of the best cat litter box products out there, it's super efficient, self-cleaning, and recommended by many people who hate throwing their cat's waste manually.
Posts in this website may contain affiliate links. If you purchase a product through an affiliate link, your cost will be the same but Pawfi will automatically receive a small commission. Thank you for supporting us!
Tweets by @pawfipet
What others are searching for