Browsing articles in "Houses, Beds, and Furniture"
Spoil your cat with Amazon Cat Gym. It provides your cat with a taste of the wild through this unique cat tree. This unit features 2 bedroom areas, one for cat that loves sleeping high up, and another for a cat that prefers to be closer to the ground. There's another platform up high designed for your cats to hang out on, you would love that realistic looking leaves, they've been added for greater visual effects.
Scratching post is an essential equipment for cats and anyone who owns a cat would know that. Cats love scratching, if you don't want to sacrifice your furniture, you better get one of these posts to give your cat a place to satisfy its natural instinct. Aside function as scratching post, Amazon Cat Gym also functions as cat houses, the bedroom offers comfortable enclosure for your cat to snuggle up and take naps in.
Look at this gorgeous cat furniture, Penn Plax Cat-Life 39-inch Level Climber Cat Tree that features 3 perches where your cat can jump and climb around. The top perch has the shape of a bowl covered with rattan wicker material, a perfect spot for your cat to relax and sleep, the second perch is covered with soft carpet where your cat can sit and watch you, the last one is durable rattan wicker, wide enough to support your cat. This unit is a stylish scratching post for your feline friend, as you already know, scratching is cat's instinct. In order to avoid your furniture become their "posts", you might want to get this tree to accommodate your cat's need to scratch.
The modern appearance would add a nice touch to your existing home décor. At first, your cat might feel hesitate to use this tree, but you can teach your cat to do it. Those little swatting toys which are included within the purchase might help to entice your cat to use the tree. This product dimensions are 39-inch (H) x 17.75-inch (W) x 17.75-inch (D) with overall product weight of 27lbs.
We have found cute Beaded Wooden Cat House for your feline friend, it's a handmade item, fully carpeted with unique beaded doorway. This modern cat house keeps your cat warm and comfortable, a perfect sanctuary for your furry friend to hide, play, and sleep. Those colorful beads would attract your cat to play with them, don't worry, the beaded doorway is perfectly safe and secure to satisfy your cat's curiosity.
Each unit has been carefully handcrafted with high quality materials to ensure it lasts for years, it can handle cat rough play. Just in case you need more details, the materials are plywood, new carpet, food grade nontoxic silicone beads for the doorway, pine corner molding, brass discs, rubber floor protectors, sterling silver crimp tubes and covers. It uses non toxic glue only to ensure the safety of your cat.
Pets love hiding, The Missy Cave from PUP and Kit will let your little furry friend hide in style. It's a modern pet cave for small cat or dog, the unique geometric shape is for pet owners where they can place this pet furniture in the living room proudly. It's a little table/small pet house that can be a focal point in any room, so yeah, both of you can enjoy this piece of furniture. Inside this cave, there's a cushion made with Sunbrella fabric or a modern canvas print, stuffed with a polyfiber fill. Your dog or cat would love to hide and take their own time inside this cave.
Constructed with wood veneered plywood and sealed with eco-friendly lacquer, you can be sure that this furniture is safe for your pet. You can also request custom finishes to match your existing interior décor.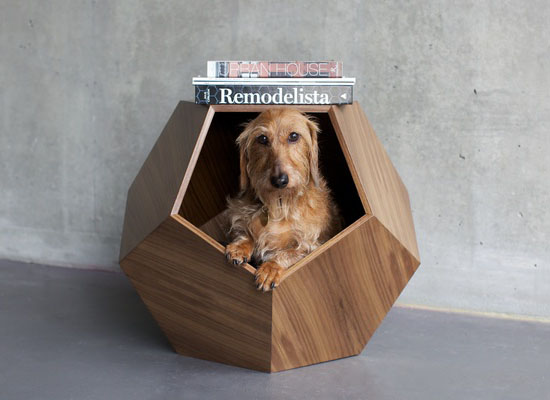 Fabbricabois has designed unique origami coffee table called Nidin. It's not only a contemporary coffee table, it doubles as pet furniture where dog or cat can enjoy snuggle in the triangle space at the bottom. This table demonstrates a pragmatic geometric composition, a beautiful interpretation of Japanese origami that consists of an arrangement of complementary and clean lines. This design offers multi-function furniture, you can use it as magazine rack, pet house, and a coffee table. Each unit comes with a cushion soft made out of washable textile designed in Italy. It measures 47cm (H) x 98cm (W) x 63cm (D), and since it is shipped in kit, you have to assemble it.
Check out this cool modern pet furniture from Korean design studio called POTE. BBung-a House Original looks like fishbones, it's made out of plywood where your dog or cat can hide and relax during the day. The unique shape is inspired by the structure of fishbones, one of the furniture even has the color of a clown fish, perhaps they accept customization request as well. Due to its structure, this pet house looks like having a nice air circulation, your dog or cat might enjoy laying on its comfy bed inside. The lightweight material allows you to easily pick this unit and move it from one room to another.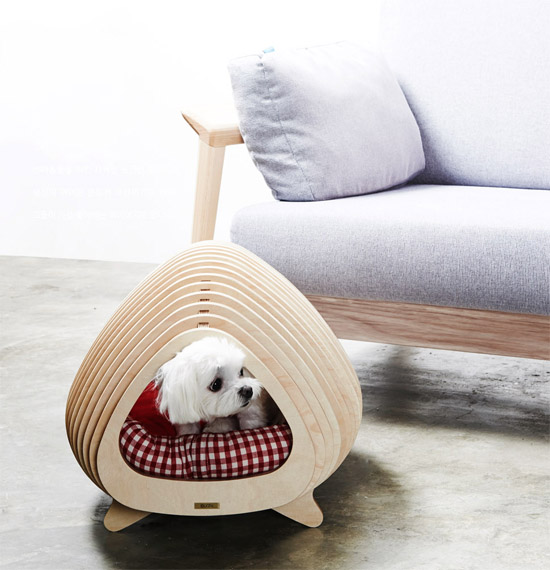 When you own multiple cats and they all are so much aggressive and cute as well, you might want to get Go Pet Club Cat Tree for them. You can read online there are many positive reviews about this product, we're pretty sure your cats would love to play around this tree.
When you place your order, you would appreciate the fast services from the merchant that we recommend here. Since this product comes in pieces, you need to assemble this unit before your cat can start climbing the tree, but don't worry, you can easily do this due to the guide that is given in the box. The material used making this exceptional product is very good and reliable as well. Even during colder weather, don't be surprised when your cats stop snuggling with you on your bed, they might prefer to hangout in the tree among those 3 perches or 2 condos. This condos and perches is covered with faux fur where the board material is wood, posts are covered by natural sisal rope to encourage your cats scratching. The overall dimensions are 50″W x 26″L x 72″H.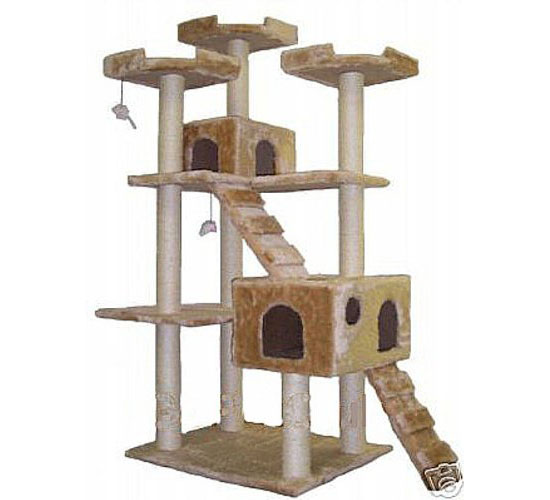 We saw this unique, modern cat bed from Lord Paw. It looks like a circle cage with a comfy faux fur bed. The wooden legs complete the overall appearance, making this cat house blends with any modern décor. Unfortunately there's no details on the website, is it for sale or not, well, you're going have to contact the designer if you want to get one of these beauty. This cat bed offers a comfy place for your cat to relax while giving a sense of privacy due to the use of steel wire that frames the bed.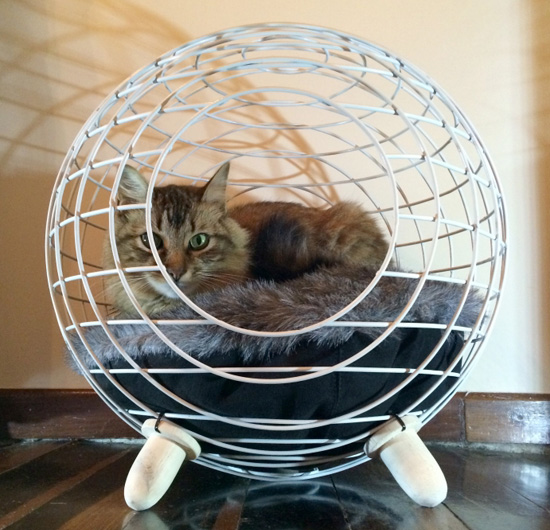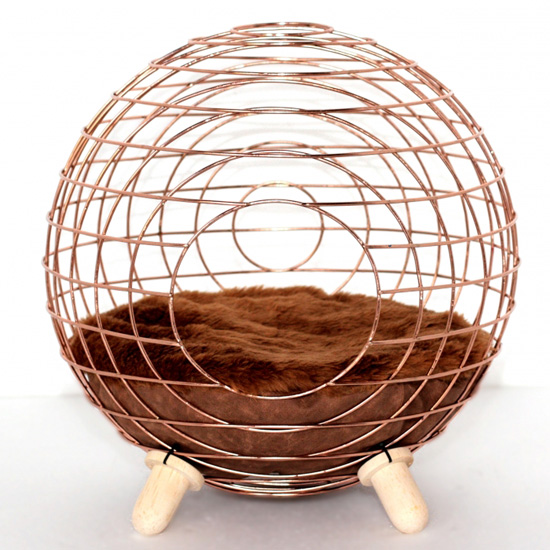 K&H Manufacturing Outdoor Kitty A-Frame Cat House is a nice large kitty house for your multiple cats. Just in case you have many stray cats that sometime stay at your porch, you might want to offer them a nice shelter for the night, in fact, there are 2 versions of this house: heated and unheated. In colder weather, you can use the heated version to keep them warm and dry at night.
Kitty A-Frame is made out of durable 600 denier nylon, to make it water resistant, it is also completed with vinyl backing fabric. The innovative overhang roof design allows cats to stay warm and dry, each tent like house is spacious enough to house 4 cats.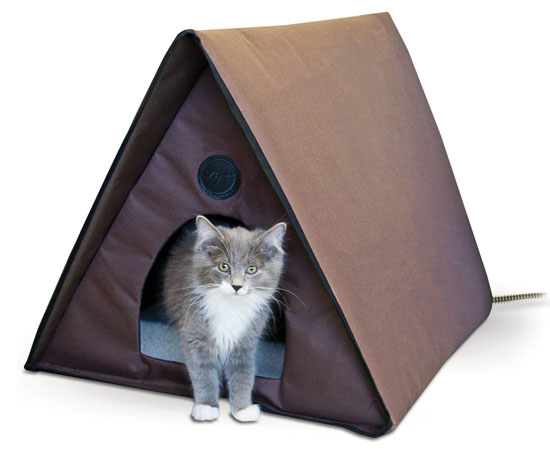 The latest design of cat scratcher from Petfusion features 3-sided area where your cat can satisfy its scratching instinct. PetFusion 3-Sided Vertical Scratcher features attractive design for cats to enjoy, it's made of eco-friendly, recycled and recyclable corrugated cardboard with non-toxic corn starch glue. Due to its structure, this board naturally attracts your cat to scratch, the curves design makes it easy to scratch as well as a comfortable place to rest and play inside the cubby hole.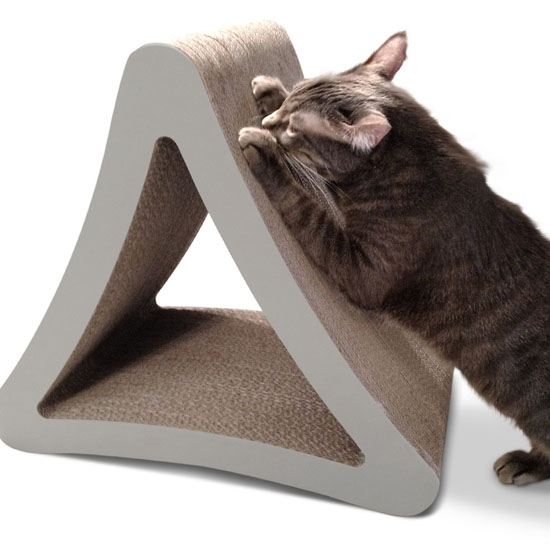 Tweets by @pawfipet