Browsing articles tagged with " modern cat house"
Tula Round and Rope Grey is like a magnet to your cat. It's a modern scratching cat house, which is aesthetically pleasing to the eyes. Each piece is crafted from natural materials, the design would blend perfectly into your modern interior or houses or apartments. It's a modern cat house where your feline friend can scratch and play at will. Made of cardboard, felt, and jute rope, all these materials are loved by cats. The result is a special piece of pet furniture that all cats adore.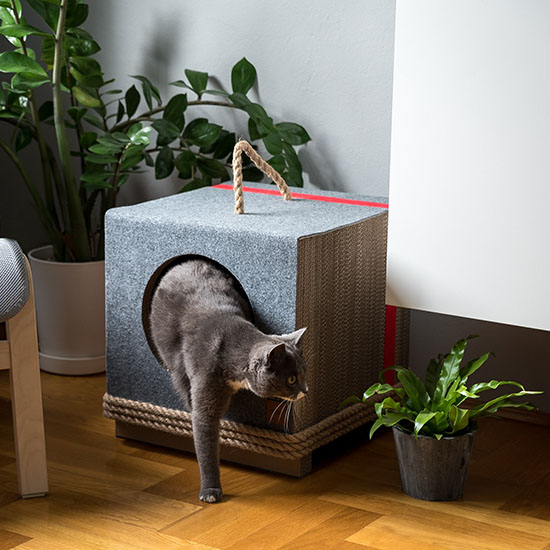 For the love of cats, a couple of architects have designed modular cardboard cat house. It's a project specially dedicated for cats, the focus was to enrich the living space of our beloved feline friends, making homes suitable for cats and humans. As humans, we need a warm and safe environment to live in, this concept goes for cats as well, or any pets. After these architects live with their cats, they understand the importance of safety and space for cats, they are much more comfortable when relaxing in a small and narrow space. The result is a set of mini-building made of cardboard for cats.
Do you know that IKEA has LURVIG collection dedicated for pets? At this moment the products are just for dogs and cats, but who knows what they might add in the future. Designed by Inma Bermudez, LURVIG Cat House on legs offers a modern cat house that blends with modern and contemporary décor. Its size is dimensioned to fit KALLAX shelf unit. You can place this cat house on its legs or when you need the space, you can hang it on the wall or slide the house into KALLAX shelf unit.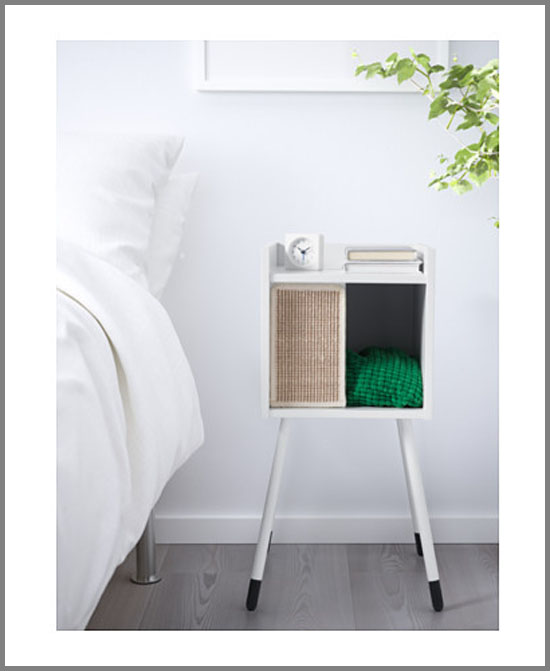 Even pets can have modern house these days, thanks to designers that love pets, we now have many choices. Catissa Geobed features geometric wooden furniture that can offer your cat a private space, even though it is designed as a cat house, it can also accommodate small dog. It is pretty similar to HomeMade Modern EP13 Geometric Dog House, it offers a cozy space for your pet and looks good in any room, it is easy to assemble as well. Each unit is made with natural birch plywood and finished with water based varnish, sheepskin. There are 3 color options: black, white, and natural.
Cat Study House TheGiant is a unique cat house constructed with bamboo and canvas cloth. This structure offers a private space for your feline friend, an ordinary bamboo structure connected by acrylic and copper joints. The canvas cloth is washable, making it easy to clean. You can use this cool tent not only for cats but also dogs, it's a nice space for your pet to rest. Due to the material, this pet house is very light, making it easy to carry around wherever you go.
Spoil your cat with Amazon Cat Gym. It provides your cat with a taste of the wild through this unique cat tree. This unit features 2 bedroom areas, one for cat that loves sleeping high up, and another for a cat that prefers to be closer to the ground. There's another platform up high designed for your cats to hang out on, you would love that realistic looking leaves, they've been added for greater visual effects.
Scratching post is an essential equipment for cats and anyone who owns a cat would know that. Cats love scratching, if you don't want to sacrifice your furniture, you better get one of these posts to give your cat a place to satisfy its natural instinct. Aside function as scratching post, Amazon Cat Gym also functions as cat houses, the bedroom offers comfortable enclosure for your cat to snuggle up and take naps in.
We have found cute Beaded Wooden Cat House for your feline friend, it's a handmade item, fully carpeted with unique beaded doorway. This modern cat house keeps your cat warm and comfortable, a perfect sanctuary for your furry friend to hide, play, and sleep. Those colorful beads would attract your cat to play with them, don't worry, the beaded doorway is perfectly safe and secure to satisfy your cat's curiosity.
Each unit has been carefully handcrafted with high quality materials to ensure it lasts for years, it can handle cat rough play. Just in case you need more details, the materials are plywood, new carpet, food grade nontoxic silicone beads for the doorway, pine corner molding, brass discs, rubber floor protectors, sterling silver crimp tubes and covers. It uses non toxic glue only to ensure the safety of your cat.
Pets love hiding, The Missy Cave from PUP and Kit will let your little furry friend hide in style. It's a modern pet cave for small cat or dog, the unique geometric shape is for pet owners where they can place this pet furniture in the living room proudly. It's a little table/small pet house that can be a focal point in any room, so yeah, both of you can enjoy this piece of furniture. Inside this cave, there's a cushion made with Sunbrella fabric or a modern canvas print, stuffed with a polyfiber fill. Your dog or cat would love to hide and take their own time inside this cave.
Constructed with wood veneered plywood and sealed with eco-friendly lacquer, you can be sure that this furniture is safe for your pet. You can also request custom finishes to match your existing interior décor.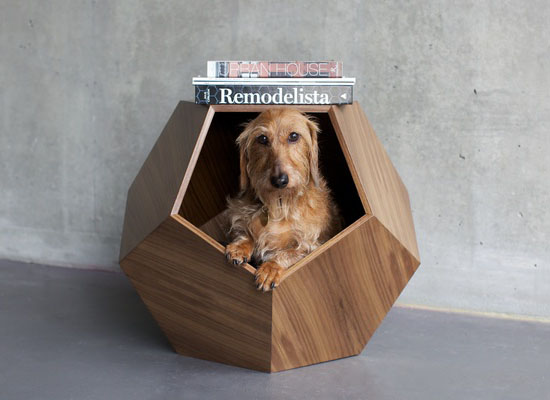 Check out this cool modern pet furniture from Korean design studio called POTE. BBung-a House Original looks like fishbones, it's made out of plywood where your dog or cat can hide and relax during the day. The unique shape is inspired by the structure of fishbones, one of the furniture even has the color of a clown fish, perhaps they accept customization request as well. Due to its structure, this pet house looks like having a nice air circulation, your dog or cat might enjoy laying on its comfy bed inside. The lightweight material allows you to easily pick this unit and move it from one room to another.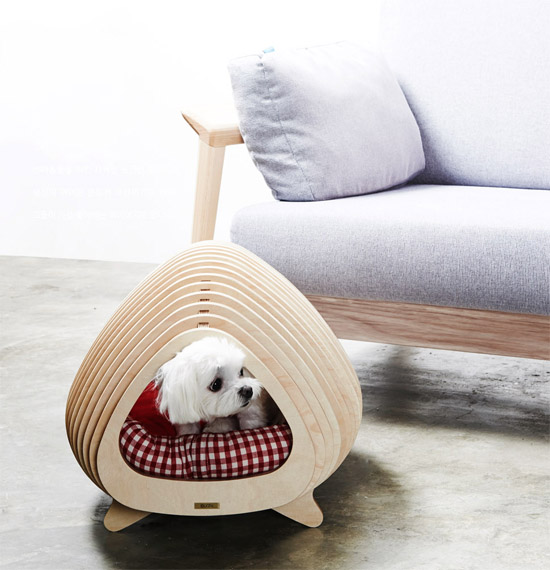 K&H Manufacturing Outdoor Kitty A-Frame Cat House is a nice large kitty house for your multiple cats. Just in case you have many stray cats that sometime stay at your porch, you might want to offer them a nice shelter for the night, in fact, there are 2 versions of this house: heated and unheated. In colder weather, you can use the heated version to keep them warm and dry at night.
Kitty A-Frame is made out of durable 600 denier nylon, to make it water resistant, it is also completed with vinyl backing fabric. The innovative overhang roof design allows cats to stay warm and dry, each tent like house is spacious enough to house 4 cats.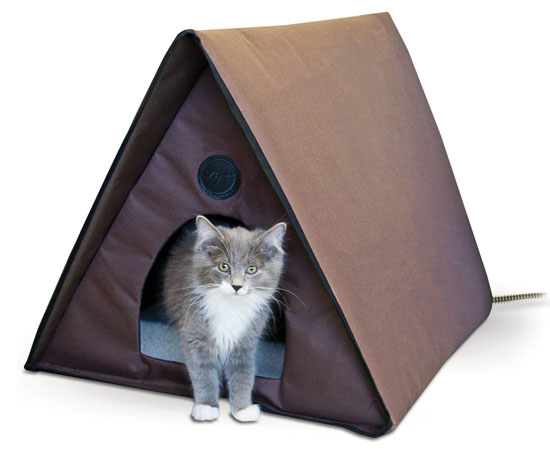 Tweets by @pawfipet