Browsing articles tagged with " food bowl"
A combination of a water dispenser and a dry pet food dispenser in one, Crown Majestic Diamond Series V2 Automatic Pet Feeder. It's a flexible feeder since it runs on electricity or batteries, your choice. If you've read our review about PetSafe food and water station system, you realize that Crown Majestic actually combines 2 dispensers in one. Suitable for both dogs and cats, this device features simple automatic program which automatically dispense ¼, ½, ¾, 1, or 2 cups of pet food, it's pretty accurate despite the size of the kibble. You setup and read the information from backlit LCD display that informs you about time and number of meals per day.
Record your voice for about 12 seconds to alert your dog or cat when the food is ready, in this way, your pet would know it's time to eat even though you're away from home.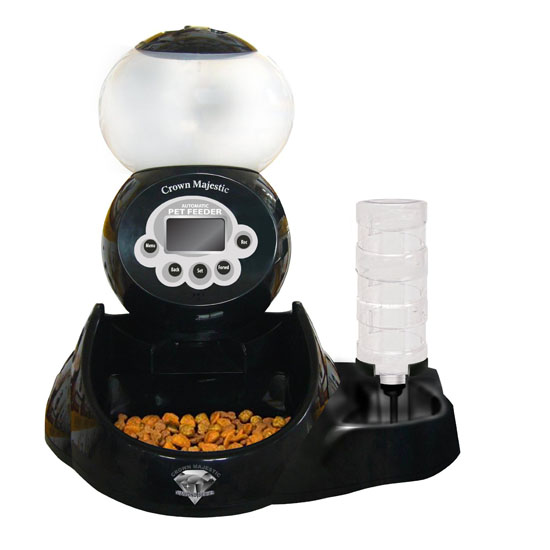 If you wonder why Indipets stainless steel slow eating dish bowl has weird design, well some big dogs can eat extremely fast as if it was their last meal. Eating too fast might increase the risk of bloat which could be life threatening. Sometimes when your dog eats too fast, there's possibility that the dog swallows so much air that they vomit. Taking care your pet also means that you need to take care the way they eat. Previously we have featured metal brake-fast dog food bowl to help your dog slowing down when eating, this bowl has been designed to intentionally slide on the floor to further slow down your dog. If you prefer to find dog bowl with rubber base, then you should purchase Indipets stainless steel slow eating dish bowl.
This product is the metal version of Brake-Fast dog food bowl as some dog owners are worried that their dogs might eat out of plastic. If you want our dog to slow down the eating process, you might want to get this bowl as it helps reduce the risk of bloat caused by eating too fast. The bowl has been designed to intentionally slide on the floor, because it will further slowing the eating process, however the metal version would be a bit heavier than the plastic, so it might stay in place. If your dog or cat normally takes a minute to eat, using this bowl, the dog or cat might need a few minutes to finish.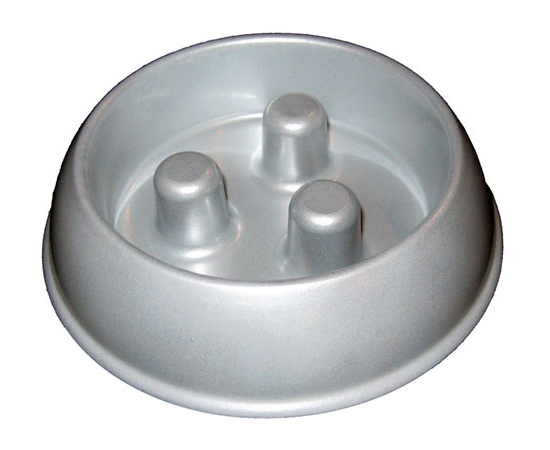 This Big Pooch Dog Dish is one of Wetnoz luxury pet products. We know that your dog doesn't care what his food bowl look like just as long as you fill it with his favorite food, it'll put a big grin on his face. However, if you are design conscious person, how the dog bowl look like is matter to you. We're sure Big Pooch Dog Dish will fit any modern décor perfectly.
There are 3 choices of sizes to suit your dog where each one is made from premium-grade stainless steel. The black non-skid rubber feet and easy-grip rubber handles give great accent to the stainless steel design.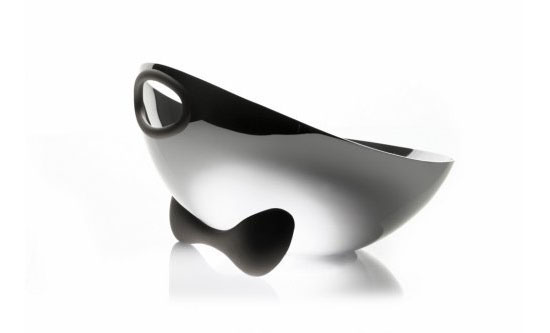 Sleepypod Yummy Travel Bowls offers 3-in-1 modern pet product to serve your pet with their food and water while on-the-go without mixing or spillage the contents. This product consists of water bowl at the base, a food bowl, and a lid to seal Yummy Travel Bowls, thus, making it spill-proof. Each product from Sleepypod has been created with innovative and high functionality in mind, including this product. Made from baby safe, FDA food grade, BPA-free silicone (freezer, dishwasher, and microwave safe), this is certainly a great product to complement your modern on-the-go lifestyles.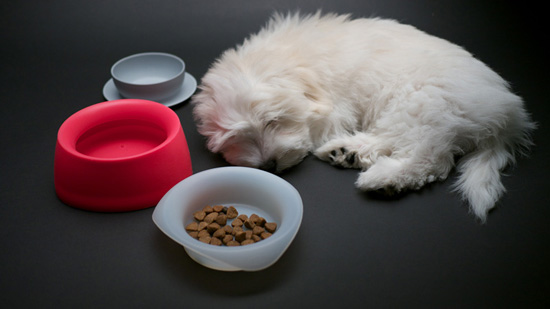 Tweets by @pawfipet