Browsing articles tagged with " avian friends"
Duncraft 74405 Songbird One Way Mirror Window Bird Feeder is a lovely feeder where you can enjoy up close and personal view without disturbing your avian friends. Even when your cat is joining you to view the bird from inches away, this one-way mirror bird feeder still gives great privacy to the bird, it won't be scared off. The 2 heavy duty suction cups stick securely on any window while holding up to 1-pound seed. Aside from being easy to clean, the transparent plastic makes the seed levels visible at all times. If you want to attract wide variety of birds, you can use multiple seeds for this feeder.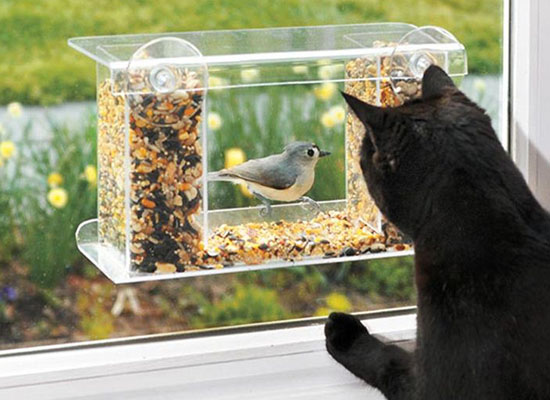 Wild birds enjoy drinking and bathing in every pools of water, you can watch them in the morning whether it's public fountain, water treatment reservoir, or any pothole. If you want to enjoy these birds company from your porch or backyard, you can install API 645 Bird Bath Bowl with tilt-to-clean deck rail mounting bracket. It's practical birdbath which the basin is constructed in plastic with rim that is especially designed for natural talon gripping. You can mount the basin using a screw lamp bracket that fits deck railing, you don't need any extra tool for installation, so simple and easy.
Made in USA, First Nature Lantern Style Bird Bath and Waterer (3039) is an easy to clean birdbath and waterer that holds 100-ounces of water. It supplies all those wild birds with fresh water through its four pools. You can choose to hang this birdbath with included s-hook or mount it on 4×4 post (chain is not included), because every house backyard is different, therefore having this flexible option is a nice feature. Every week, you need to disassemble this birdbath for cleaning and refilling, simply remove the water reservoir, use soapy water and rinse, then fill it again with fresh cool water. Seriously, if your goal is to attract wild birds, then you should always provide clean, fresh water, otherwise your avian friends will not be interested to hangout at your house.
Smart Solar Birdbath Fountain offers a great way to make your birds happy without need of spending extra cash. It is solar powered birdbath with fountain that sprays nice streams of water in every direction. The birds will be singing happily while taking a bath in your lovely garden. Each unit is made from durable fiberglass and resin with beautiful natural weathered stone finish. You can enjoy the gathering of robins, hummingbirds, orioles, chickadees or any other avian friends in your garden as they'd love bathing in this self-contained fountain, no plugs and no cords needed, just as long the sun shines, this birdbath flows.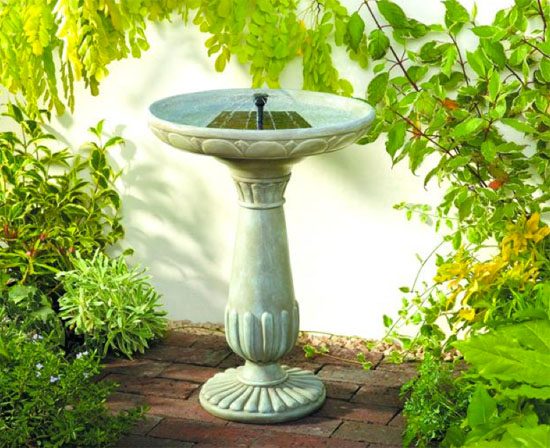 Allied Plastic Heated Pet Bowl is an ordinary 1-quart heated bowl yet it can keep your pet drinking water ice-free in winter. Based on this unit size, it should be enough for small to medium dogs or cats. The built-in thermostat will keep the water warm while the cord chew protector to make sure your pet and you won't be in danger from chewed or frayed cord.
If you love the company from small songbirds, try to install Duncraft Classic Window Pane Feeder at your house. It is a durable 7-inch long transparent plastic feeder. It's meant for small birds, since other larger birds such as cardinals won't fit in it, but they might stick around to collect what's dropped on the ground. This window bird feeder offers unique experience, watching birds eating only from inches away at the comfort of your home.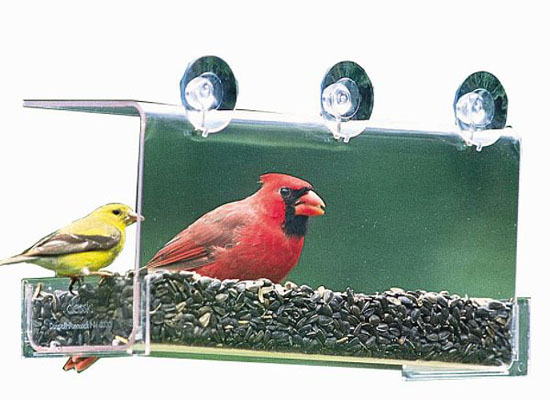 Square Playtop cage is constructed of durable wrought iron with white powder coated finish. It's a beautiful cage with .75" bar spacing that makes it a perfect cage for small birds such as lovebirds, cockatiels, small parrots, parakeets. This cage features 2 wooden perches as the perfect spot for your birds to hang out while the top cage can be opened to create a play area.
Tweets by @pawfipet