Search results for "small toys"
Designed by Tiziana Agnello, Energy Pyramid Cat House provides eco-friendly house for your feline friend. It could be the center of your cat universe, it's a four sided pyramid shaped play house that comes with 3 unique diamond cutout toys. As we all know, cats are attracted to cardboard, this product provides your cat a place to take a nap as well as scratch surface that they just can't resist.
Aside from cats, this pyramid is also a great place for rabbits, ferrets, or other small animals including dogs. Made in Brooklyn with love, each cat house is printed with soy based inks, acrylic coated, thus making cleaning is as simple as wipe it.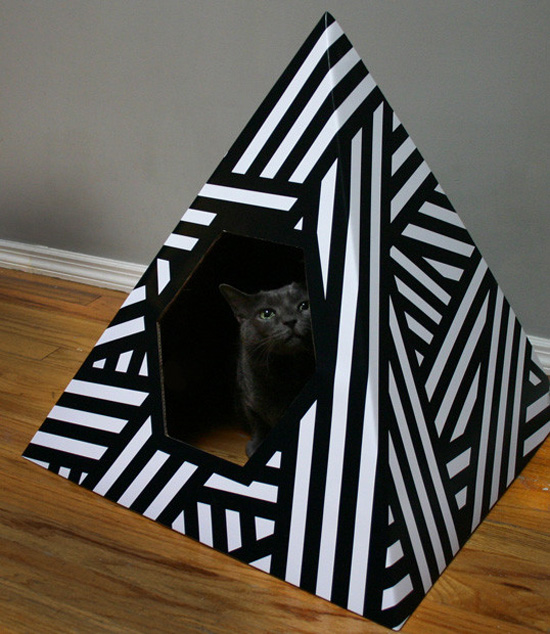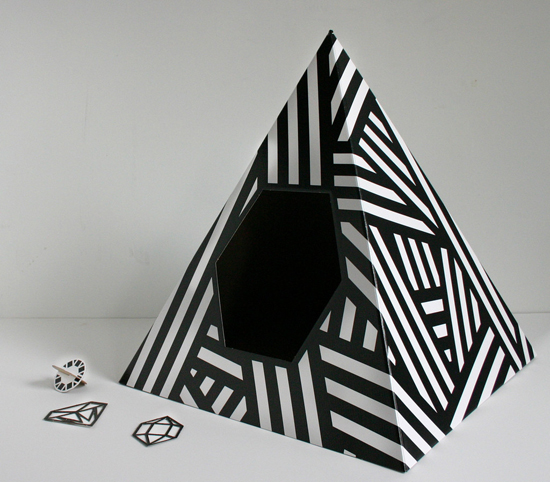 Petstages Just For Fun little squeak dog toy is an innovative plush toy for every small dog. It's a plush toy with no stuffing which means safer plush toy to play with, the unique multiple plush textures will keep your dog's interest while the two squeak chambers will entertain the dog. Watch as your little dog tries to tear this toy apart (when you have multiple dogs, you can be sure there will be a tug of war in the house), don't worry, even when your dog is able to tear it apart, there won't be any stuffing all over your house.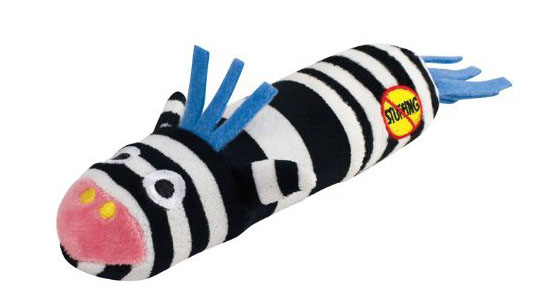 Super Pet My First Home Deluxe Multi-Level Pet Home provides creative and spacious environment for your small furry friends. It's safe and has multi-level environment where your small pets can exercise and play, an ideal home especially for ferrets. This unit comes in parts, however, it's easy to assemble, just snap-together all the parts to create 1 great multi-level home.
Havana Flight Cage offers high quality cage with such an affordable price. With dimensions of 31"W x 22"D x 35"H, you can place multiple medium-sized birds where they still have plenty of space to stretch up. This bird cage is very well constructed, although there are many complains about bad instruction guide, but in the end, you'll get a sturdy and durable bird cage.
Training your dog requires treats and toys, PupGym Dog Treat Pouch and Training Bag is a nice pocket bag to keep those treats and small toys. It features high quality material to keep all dog training essentials. The front large zippered pockets can hold your phone, keys, or a tennis ball, you can easily pull it to secure all items inside in one step. Inside this pouch, the inner lining is made of a light blue color, a nice color to help you locate treats or accessories much easier, it can also be pulled out fully for easy cleaning.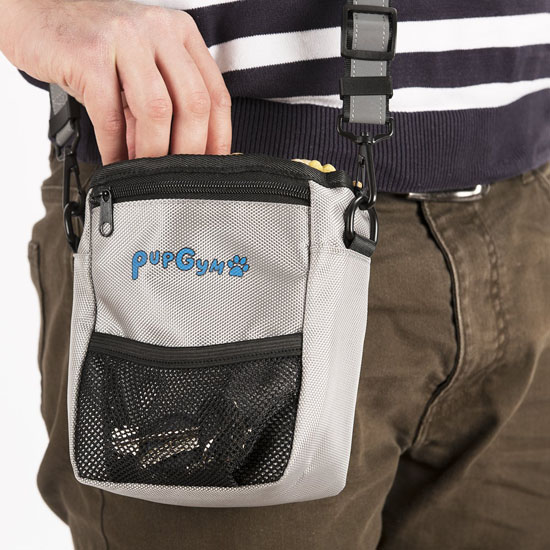 Living World Deluxe Pet Habitat is a spacious and comfortable habitat for your small pets. This hybrid cage features an upper wire frame with plastic bottom safe, a good ventilation to ensure your pet gets good air circulation. It is an ideal place to house your rabbits, ferrets, guinea pigs, or chinchillas, with those small toys such as access ramp, balcony, or other additional toys you can purchase separately to make your furry pals happy.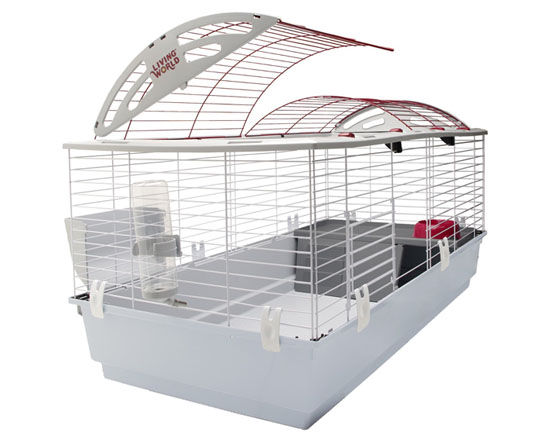 It doesn't look like plastic cheap looking cage, the wire has been elegantly styled with an arcing red wire top and white wire sides, a nice color combination. Aside from open top, there's also wire door at the front for additional accessibility. We really love that little balcony that has an access ramp, very cute, also there's a hideaway space under it where your pet can enjoy some privacy and quiet time. Every cage comes with a tip-proof food dish and a drop-proof water bottle. This unit is available in large and x-large size options so of course you can expect to get a lot of space for your pets, they will be able to stand and stretch conveniently.
where to buy Living World Deluxe Pet Habitat?
– EntirelyPets
– ThatPetPlace
– Sears
– Amazon
Let's have picnic with your pet, checkout IRIS Pet Carrier with picnic basket design, it seems this is the perfect carrier to take with you. This adorable pet carrier is designed with comfortable ventilation to ensure your pet will get plenty of holes on all sides for peeking out. The top open design allows for easy access to your pet, as you prepare the dishes, your little furry friend can pop his or her head out to checkout on you. Measures 12.25" x 13" x 19.25", this carrier can accommodate a big cat and still offer spacious room.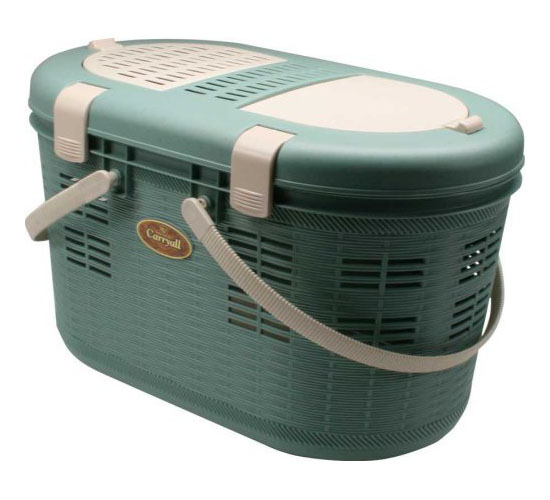 Take your dog out on a great outdoor adventure with you. Don't forget to put Durango Vest on your dog to keep your furry friend safe during outdoor activity. This puffy sleeveless coat boats stylish color combination, comfortable and warm fleece interior and water-resistant exterior. The cool smart patch pockets have been designed to enable you to carry some dog treats or other small toys for your best pal.
Durango Vest from Trixie and Peanut is lightweight, it has sewn-in leash hole and available in 2 model: Telluride (combination of pastel blue, cream and pea green) and Breckenridge (combination of apple red, grey, silver and black). Keep you dog stylish and safe during any outdoor activities with this vest.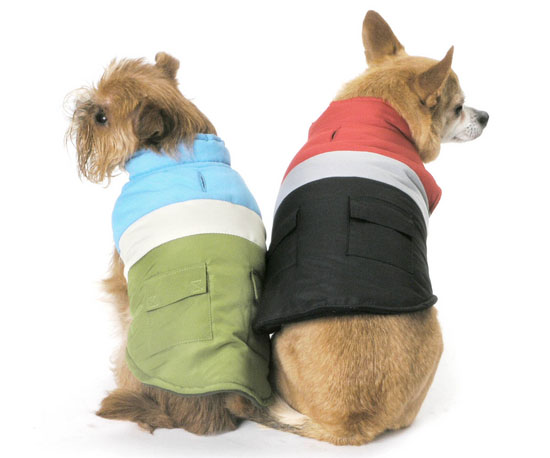 From : Trixie+Peanut
Kong Fuzzy Frog Squeaker Toy offers quality plush toy for your dog. Claiming to be "indestructible" might not be appropriate because there's going to be a dog out there, somewhere that can destroy that claim. However, we can assure you that the quality from this company is much better than most dog toys on the market. This plush toy squeaks when your dog bites it, it also comes with a free replacement squeaker just in case your dog manages to destroy it, you still have an extra.
We recommend that you purchase small instead of x-small size, even though your dog might be petite in size, many customer reviews mention that the x-small frog is actually really, really small (preferable for puppies). Your dog might be better play with the small size.
This is latest model of OxGord Pet Double Foldable Stroller (2016), a perfect carriage for dogs or cats. OxGord is a trusted brand named and has been rated as great company by many customers when it comes to pet supplies. Take your pet outside, even when they might not be able to walk due to old age or in recovery, they can still enjoy outdoor environment. Don't leave your dog at home, this stroller is perfect to carry up to 2 dogs or cats, it is safe, durable, and comfortable for both you and your pet. I usually use my stroller to take my small dog to the local market, it's a nice way to keep the dog safe as well as prevent other people getting annoyed, most people don't like dogs here.
We recommend this stroller because of its sturdy quality, it features multiple mesh windows for great breathability while protecting your pet from insects. You can see from the image, inside, it's pretty spacious, you can also keep some toys and snacks for your dog, the undercarriage is also pretty large that you can keep your groceries there. This unit can accommodate a maximum weight of 55lb.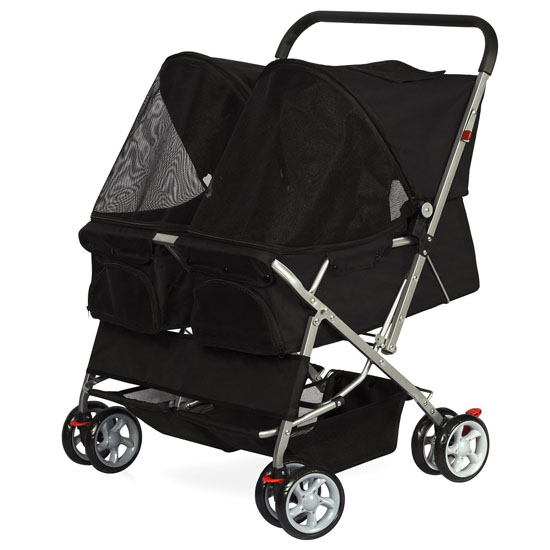 Tweets by @pawfipet