Browsing articles tagged with " cat nip"
Kitty Tube Fully Insulated Outdoor Cat House is newly improved insulated cat house that provides your cat everything he or she needs, safety, comfort, and warmth. Its innovative door design protects your feline friend from predators, the pillow inside the house gives a cozy and comfy base for your cat to relax. It's an ideal outdoor cat house for any weather, it cools in the summer and warm in winter, in fact, it can accommodate 2-3 medium sized cats.
What's new in this version? Well, you can see some improvements such as built-in lifting handles that you can use to adjust the ventilation, open it during summer or close it during winter to retain heat, better quality for the exterior, increased R-value insulation, including fully insulated floor at the bottom of custom pet fluffy pillow. The company even claims the shell is guaranteed to never chip, crack or fade, for life!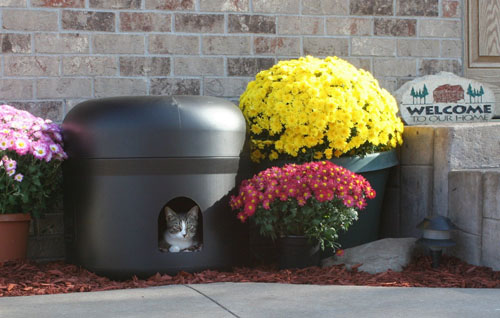 Kitty Cactus Scratch Post with Pom Pom is a great scratching post instead of your precious furniture. Entice your cat with cat nip, this durable and attractive scratch post can handle a rough play, both of you and your cat will love it. It satisfies your cat natural instinct to scratch, available in a wide variety of styles and sizes to fit your cat's height and your budget as well. This model measures 10-1/2-inch width by 11-inch depth by 16-inch height, it's ideal to keep your kitty active for hours, a great way to make your cat exercise. The post is covered with long lasting carpet and with its durable construction, it lasts for years.
Where to buy Kitty Cactus Scratch Post with Pom Pom?
– GRPet
– Amazon
– Newegg
Tweets by @pawfipet