Browsing articles in "Houses, Beds, and Furniture"
Look at this, a beautiful handmade pet house made of woven grass. Ethically made by artisans in Ghana, this retreat hut would draw people attention in your living room. A cozy pet house that provides your feline friend a bit of privacy, yes, cat might not really understand the meaning of personal space but from time to time, they need to get away from it all. Each of these cute straw huts is handmade from locally sourced elephant grass which then colored with organic dyes. It's perfect for cat or small dog such as Frenchies or Boston terriers, there's still room for a blanket or a pillow for extra comfort.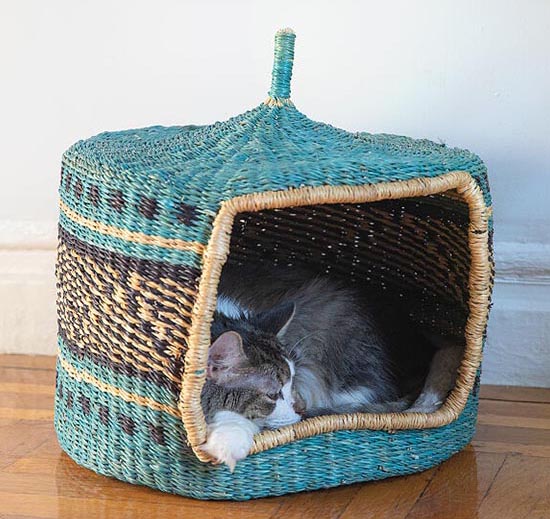 Tula Round and Rope Grey is like a magnet to your cat. It's a modern scratching cat house, which is aesthetically pleasing to the eyes. Each piece is crafted from natural materials, the design would blend perfectly into your modern interior or houses or apartments. It's a modern cat house where your feline friend can scratch and play at will. Made of cardboard, felt, and jute rope, all these materials are loved by cats. The result is a special piece of pet furniture that all cats adore.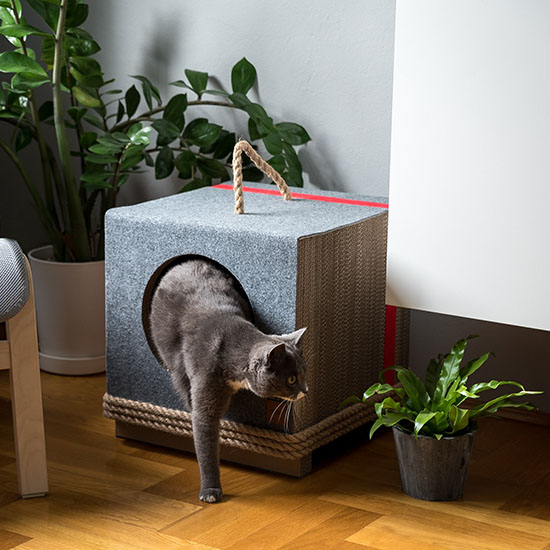 Dorayaki is a popular Japanese snack that any Japanese children loves, it's one of most delicious snacks there is. And it looks like the design has inspired the creator of Dorayaki Cat House. Featuring cute appearance of Dorayaki, it looks just like that popular disc-shaped sweet, but the delicious filling part would be your own cat, peeking through that opening. All cats would love hiding inside their new home, it's cozy and as appealing as those Japanese dorayakis!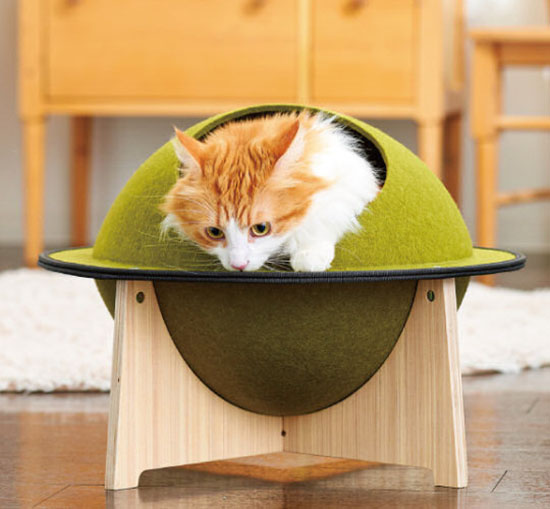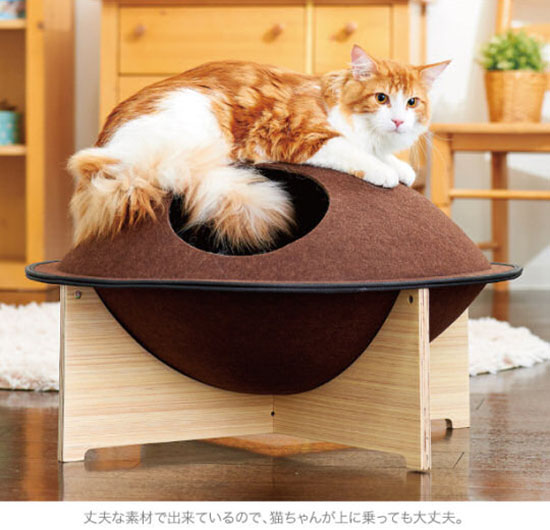 Combining technology with modern product, Gizelle Lifestyle Cat Litter Box offers a modern pet product that fits nicely into your modern lifestyle environment. It features soft and high-end looks with its contemporary styling, pet product isn't just for pet, it also aims to satisfy design-conscious pet owners without sacrificing its main function. At first glance, it might look like a nice portable speaker, but it's actually a littler box.
What a cool cat house! This floating, indoor pet house would be a fun home for your cat. Handmade in Ukraine, this round cat house offers stylish piece of furniture that would add cozy touch to your existing décor. Made of birch wood and acrylic glass, this little cat house is pretty easy to install, it will take advantage of your empty wall instead of sacrificing your floor space. It has a large entrance on the side, you can purchase the steps to help your cat to reach this house. The doorway is large enough for a cat to enter with no problem.
Lion + Wolf presents you with colorful, modern dog bed that would bright up the room. It's not another boring pet bed, they have cool collection of beds not just for dogs and cats but also for design conscious pet owners. The creative and colorful prints feature geometric patterns with bright colors, instead of making a mess in your décor, these pet beds would complement your space while meeting your pet's everyday life. Handmade in USA, these pet beds would be a cozy and comfy place for your dog or cat to relax yet stylish enough to display in your home.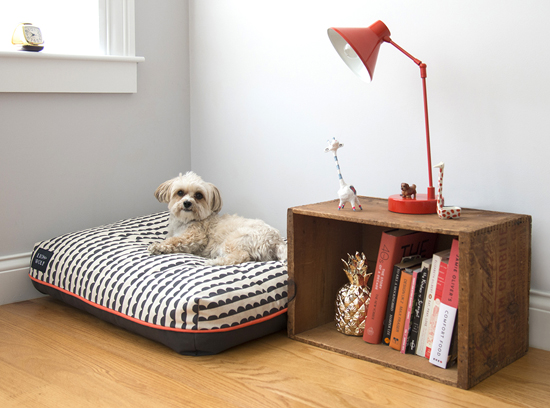 The joy of countdown to midnight during New Year's Eve might not be fun for our dogs. Those fireworks create loud noise that can be painful for pets, making owners very worry. Ford wants to create a useful product that answer to that issue, Ford Noise-Canceling Kennel. It's a specially designed pet house that uses the same technology of cars and headphones, it protects sensitive dog's ears and keep owners relax and enjoy the fireworks.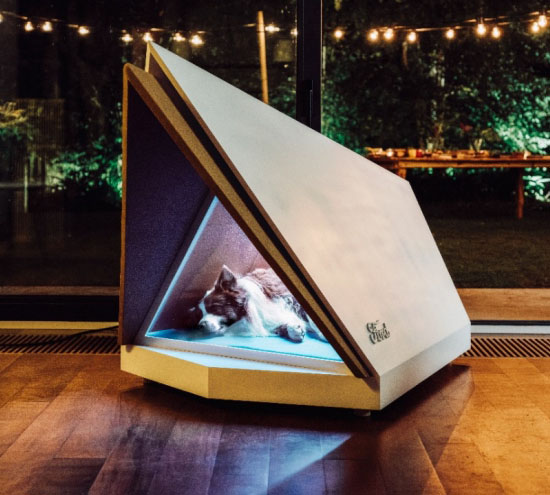 One of fundamental pet trainings is crate training, it's a method to train your pet that they do have a special space to sleep, relax, or feel safe. It takes advantage of dog's natural instinct as a den animal. Unfortunately most crates nowadays are made of metal, heavy, hard to collapse, and look like a jail. PAWD offers something much better, a modern home for your pet, it is light weight, easy to collapse, and safe.
You can train your pet to make PAWD as their cozy space, the design also integrates beautifully with your modern home.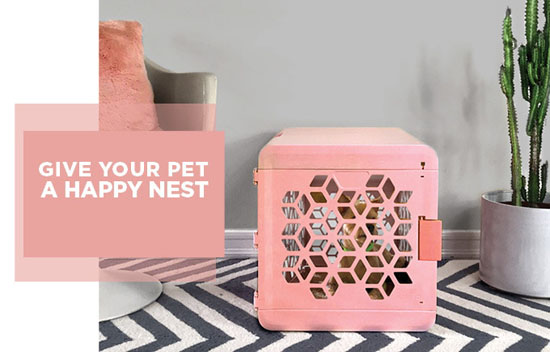 For the love of cats, a couple of architects have designed modular cardboard cat house. It's a project specially dedicated for cats, the focus was to enrich the living space of our beloved feline friends, making homes suitable for cats and humans. As humans, we need a warm and safe environment to live in, this concept goes for cats as well, or any pets. After these architects live with their cats, they understand the importance of safety and space for cats, they are much more comfortable when relaxing in a small and narrow space. The result is a set of mini-building made of cardboard for cats.
As a cat activity center, CatastrophiCreations Cat Mod Climb Track is beautifully hand crafted to provide your cat with strong play structure. It helps to bring out acrobat in your cat, it's also a perfect way to avoid furniture scratching behavior. Highly functional, this activity center is captivating, durable, and relocatable. Each component is carefully designed and handcrafted to evoke cat's natural instincts, it is also space conscious, it's like a mini jungle gym for your feline friend.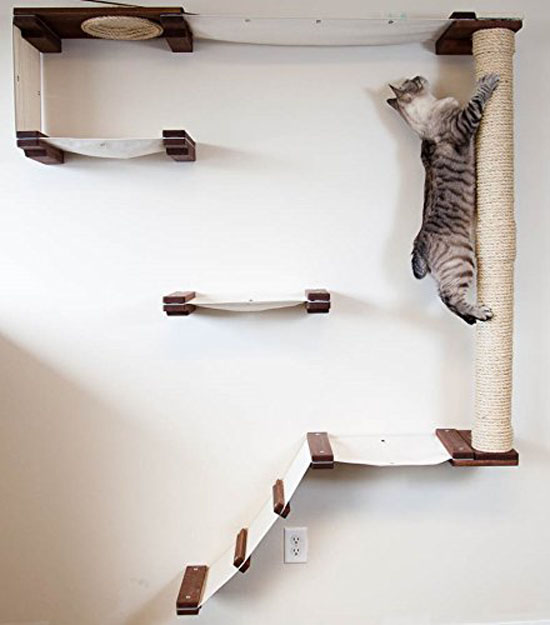 Tweets by @pawfipet