Browsing articles in "Aquariums and Accessories"
Is your kid ready for an aquarium? Well, Top Fin Led Aquarium Starter Kit offers everything you need for a fish-keeping beginner. An aquarium with LED light, it has everything you need to create a healthy and beautiful environment, the light is good enough to illuminate the underwater landscape.
This starter kit has everything you need to set up an aquarium: the black trim fish tank, led lights, power filter with cartridge, nylon net, water heater, water test vial, and thermometer. But there are some things that still need to get: fish that are compatible with this tank, one pound of gravel per gallon of tank, and simple decoration that functions as a shelter for territorial fish.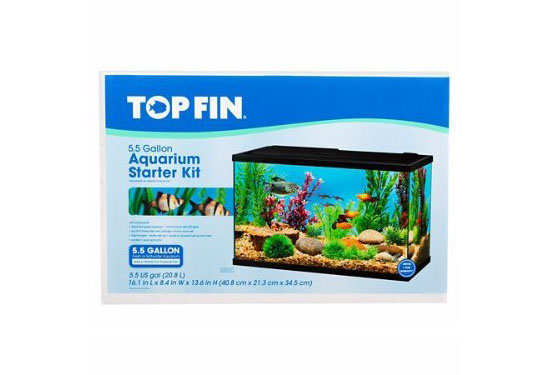 As someone looking for an aquarium starter kit for your children or even for you to bring something fresh in your small office or home, you can consider Fluval Spec III Aquarium Kit. It's an ideal first aquarium for beginner, featuring 2.6 gallon Nano aquarium, it's a contemporary looking fish tank designed for small space such as desktops and countertops.
A nice etched-glass tank with aluminum trim, this aquarium certainly combines style and functionality into a compact package. It comes with powerful 31 LED lighting system that stands above the aquarium for beautiful illumination of the plants and décor.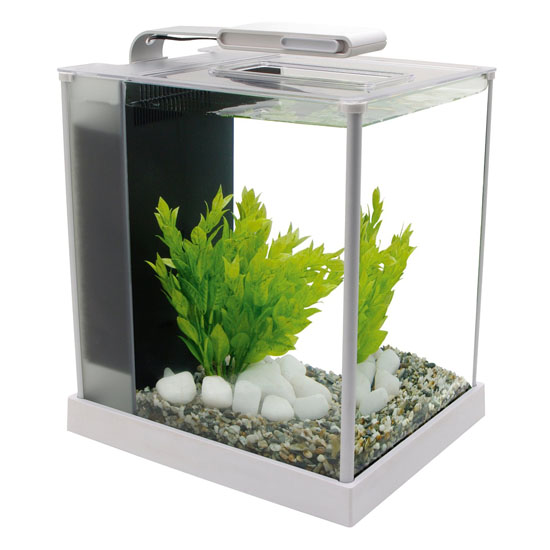 Back to the Roots Water Garden is the new version of AquaFarm. Now, it includes silent, submersible water pump, and the same 360-degree view. This 3-gallon fish tank is a perfect starter kit when your children are interested in fish keeping hobby, it's a self-cleaning fish tank that grows food while the fish waste feeds the plants, and plants clean the water. The smart cycle allows this aquarium to be maintenance free.
Designed and manufactured in USA, this aquarium works based on the science of aquaponics, the fish waste would naturally fertilizes the plants above, and, in turn, those plants clean the water for the fish. It's a closed-loop ecosystem that combines traditional aquaculture with hydroponics, nice isn't it? This is an ideal fish tank to pet small fish as well as grow organic herbs. This starter kit consists of 3-gallon tank, water pump, all-natural aquatic supplies, organic seeds, 5 grow pots, fish food, and a coupon for a Betta fish.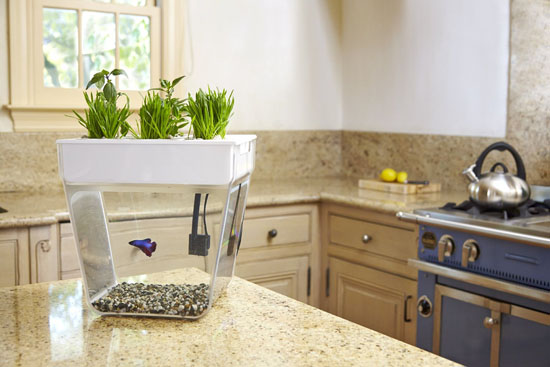 This is a 2-in-1 aquarium, Back to the Roots AquaFarm combines 3-gallon fish tank with a vegetable/herb grow bed in one closed loop system that fits on any kitchen counter. This is the new model that comes with silent, submersible water pump with 360-degree view.
This fish tank uses aquaponics system, an ancient sustainable method of farming developed by the Aztecs. It's really effective since it uses 90% less water compared to traditional farming methods and at the same time, it combines aquaculture with hydroponics. Back to the Roots Aqua Farm is the table-top version of that system, the water pump with inner tube will pump any fish waste into a grow tray that contains the plants. The plant roots acts as a natural biofilter where beneficial bacteria breaks down harmful ammonia in the waste into nitrites which can be absorbed as food by the plants. Any clean water left is circulated back into the tank. It is a smart system, isn't it?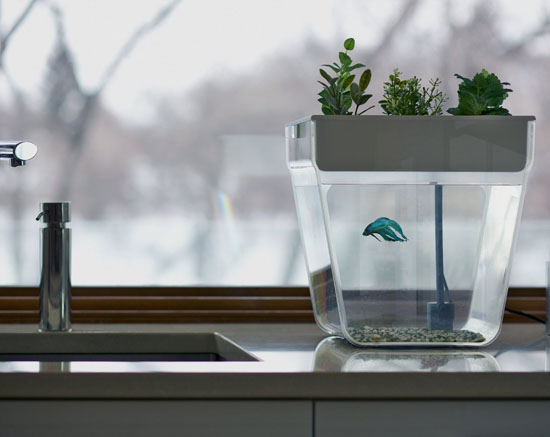 A wavemaker pump that works pretty quiet, this is what you'll get from Jebao WP-10 Wavemaker with Controller. It's a high performance, powerful, yet it doesn't require much energy to run thanks to its low voltage and safe power supply. You can create gentle back and forth motion for your fish tank, or whatever the wave speed you might want with its adjustable speed controller, it can create various size of waves. This unit offers you 3 modes cycles: H for high and constant non-variable flow of 1,000 gph, L for low and constant non-variable flow of 530 gph, and W1/2/3 for short pulses that create soft, gentle waves.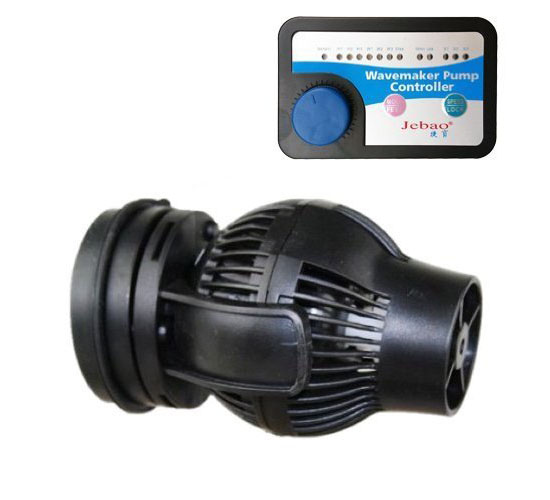 A small habitat for shrimp, algae, or any micro organism, this is what EcoSphere Closed Aquatic Ecosystem's all about. It's a hand blown glass that acts as self-sustaining and self-container miniature world, a great learning tool that provides insights about life on earth. The original product from this company is the world's first enclosed ecosystem, so please be careful with other inferior and lower quality imitations. Just like we said earlier, this eco system is self-sustaining, therefore, you don't need to feed the life within, all you need to do is to provide a source of indirect natural or light and sit back, relax, enjoy the aesthetic blend of art and science, beauty and balance.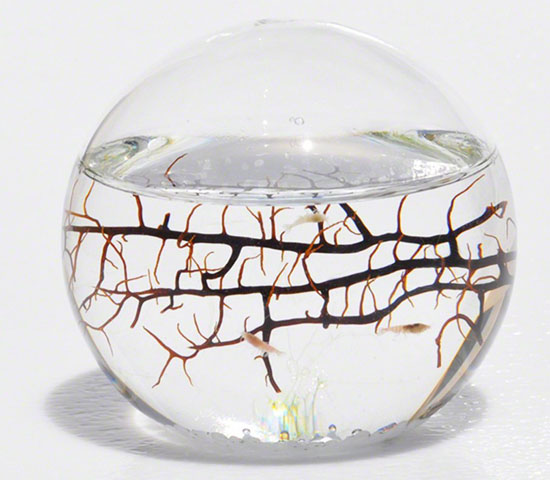 BiOrb 15L Flow Aquarium is beautiful and modern aquarium to set up and own. It uses low voltage (only 2 volts), all acrylic material that makes it light weight and safe. If you want to install compact stylish aquarium, then you should check this one out, everything you need is included in the box including the built-in LED light and biOrb filtration. It's the perfect tank for small fish or shrimps, you can place it on your desk or small space, it creates calm and soothing atmosphere in any room.
BiOrb 15L Flow Aquarium is a great alternative to tiny bowl, place some betta fish in it, you can also add plants and accessories to create beautiful appearance and playground for the fish. It acts as beautiful décor in any room as well.
If you only want to purchase attractive fish tank, checkout Aquarius Aq15005 Aquarius 5 Rounded 5-Gallon Aquarium Kit. It's a beautiful aquarium made of shatter-proof acrylic that features full hood, LED lighting, and Mini Max internal power filter. A complete kit to start your aquarist hobby. There are 3 variations to choose to illuminate your fish: moonlight blue, daylight white and both white/blue combo, the acrylic construction provides you with crystal clear view of your aquatic friends. Some people say that the geometric shape of this aquarium makes it hard to see what's happening at the hard curve on the corners, however the flat front offers great view of what's inside.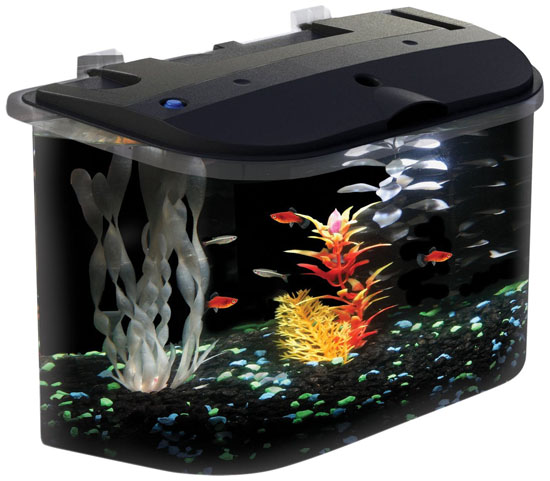 The lid is pretty easy to lift up or remove, just incase you want to add water or do water changes. Once you turn the light on, this aquarium would look awesome especially when you choose to use both white and blue light. The water flow of its submerged filter is pretty strong, perfect for betta fish. You might want to add a heater if you plan to keep tropical fish. Overall, Aquarius Aq15005 Aquarius 5 Rounded 5-Gallon Aquarium Kit looks good on your office desk or home, a nice gift for your kids as well if they want to keep fish.
Measures 7" x 5" x 10", this Exotic Environments Forgotten Ruins Aquarium Ornament would look great in your aquarium. Amazing hand painted details would look really awesome if you have similar themed to décor your fish tank or terrariums. This unit is a solid one piece construction, your betta fish can swim around through holes or just hide. It's a great addition to any fish tank, we highly recommend this aquarium ornament to you.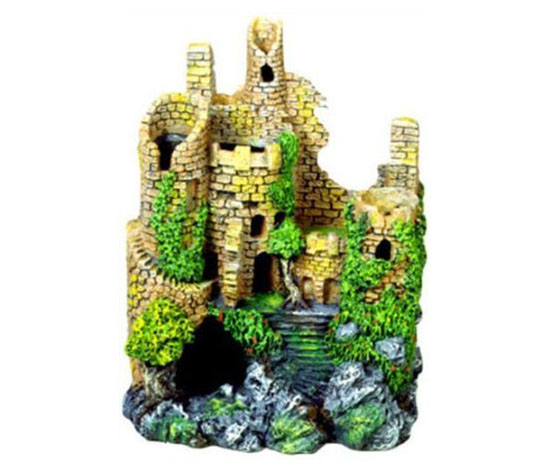 If you need a quiet air pump for use in your 10-gallon aquarium, try Tetra 77851 Whisper Air Pump. It's a reliable pump at cheap price that provides great bubble power. Most comments say this tool is efficient and easy to use without any annoying buzz or humm. It is recommended that you also purchase check valve in order to prevent water from siphoning back, you know, just in case there's power outage. The bubbles produced from this pump are pretty powerful.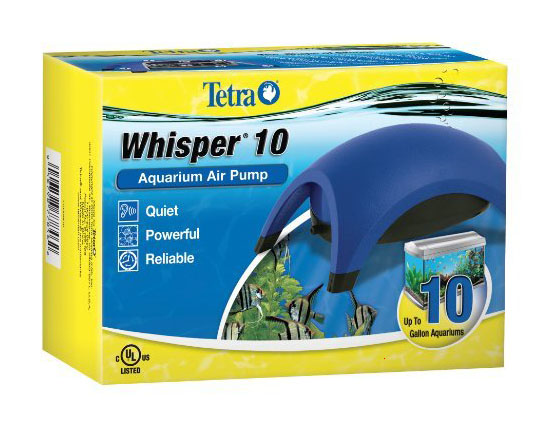 Tweets by @pawfipet