Browsing articles in "Food and Treats"
Making your own dog treats is the perfect way to ensure your dog only gets the best ingredients. Bow Wow Bistro Gourmet Dog Treat Maker can help you with that, it features non-stick coated baking plates with latching handle, and non-skid rubber feet. It's a nice way to keep on making treats without having to use the oven, it's more efficient and energy saver this way, you can even get bone-shaped dough cutter within each purchase.
Test your recipe and bake the first batch of bones, you'll notice they will be crunchy and your dog would love it. You'll get to make 10 small bones within each cooking batch, it's up to you how many treats you want to make. Just in case you've never made dog treats before, simply follow the included recipe, don't add more liquid than instructed, you don't want the dog biscuits end up a bit soft. There are many free recipes on the internet, you can try to google them to find grain-free recipe if your dog had allergy. One of great recipe books we'd like to recommend is Three Dog Bakery Cookbook, it helps you to bake all natural treats for your dog.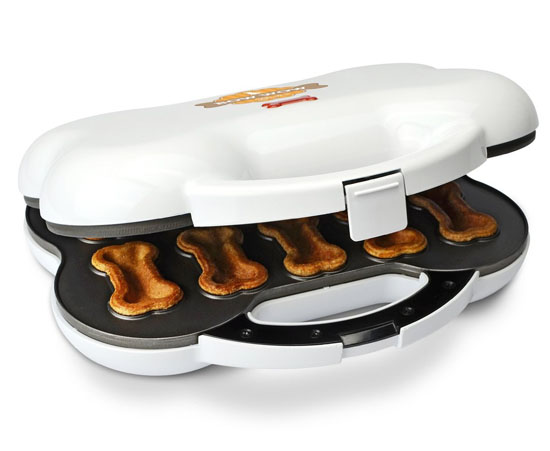 Keep your dog's teeth healthy by giving them Paragon Whimzees Toothbrush Star Dental Treat. It's available in different sizes for different size of dogs, a nice flavorful dog treat in the shape of toothbrush, pretty cool, your dog would love it. Each treat is potato based with no wheat and gluten free, totally edible to help control plaque. The texture is nice and chewy, dogs love it, aside from reducing plaque on the dog's teeth, the treat also freshen your dog's breath.
Just because dog can't use toothbrush doesn't mean dental health is not important for them. Whimzees dental treat makes it easy for you to maintain dog's teeth, it is low fat with high fiber, highly digestible, in fact, your dog's poop might become regular with good, solid shape. We've read many customer reviews that this treat can do great for dog's digestive systems.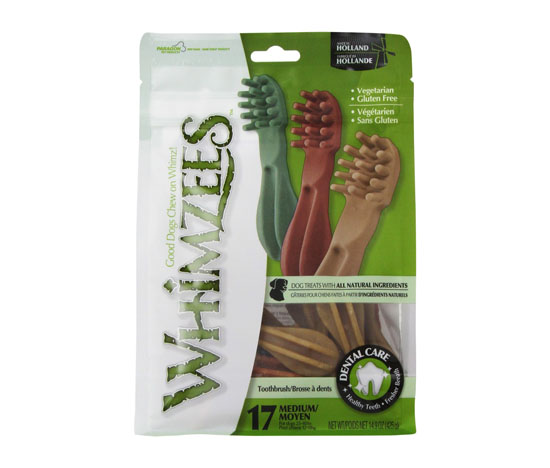 As a dog owner who wants to teach your dog cool tricks, you need delicious treats and this Vaun Duffy Dog Treat Training Bag. It's a small bag with mesh pouch, perfect to carry treats around as well as a ball or dog toys. Take your dog to the park for a good training, you can carry your dog necessities inside the bag, for example there's poop waste bag dispenser on the back of this bag for easy clean up, the main pouch can be used to hold up to 2 cups of kibble.
This bag has been created for dog owner convenience, the front mesh pocket can be used to hold a tennis ball while the front zipper pocket can be used to keep your phone, clicker, whistle, and also money. This is a perfect training bag for any dog lover.
Merrick Jr. Texas Taffy Dog Treats are famous for its delicious taste as well as its healthy ingredients. Boasting 10-12" for each piece, this beef jerky won't stick to your dog's teeth, yes, every dog would love this tasty treat, it would be easier to teach your dog some cool tricks this way. We've read there are many dogs would instantly bark, jump, and wag its tail when they know it's time for treats, these are statements from real dog owners. Each treat consists of 83% crude protein, 2.7% crude fat, 1.2% crude fiber, and 9.3% moisture. Even picky eater dog loves it, it's so chewy that a small dog usually consumes it in about 30 to 45 minutes, try it, we believe your dog would love this 100% natural beef jerky.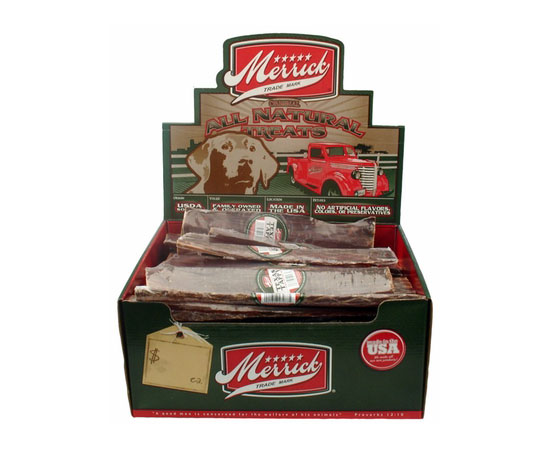 Glyco-Flex III Canine (bite sized chews) maintain your dog's healthy joint, each bite provides your dog with higher levels of glucosamine, MSM, manganese, and DMG, all these ingredients have been formulated to support your dog's comprehensive joint health throughout his life. This product represents the third stage of life stages joint health program, the company knows the health of a geriatric dog in need of serious joint support, by giving extra glucosamine and MSM, it makes sure this product can keep up with those needs.
Dogs age just like humans, they tend to have problem in their joints, especially with age related weight, it usually increases pressure on each joint. It's important to maintain the fluid that surrounds these joints or synovial joints, because it acts as nourishment for the cartilage. Loose cartilage means that the bone can rub on other bone, creating uncomfortable or painful friction.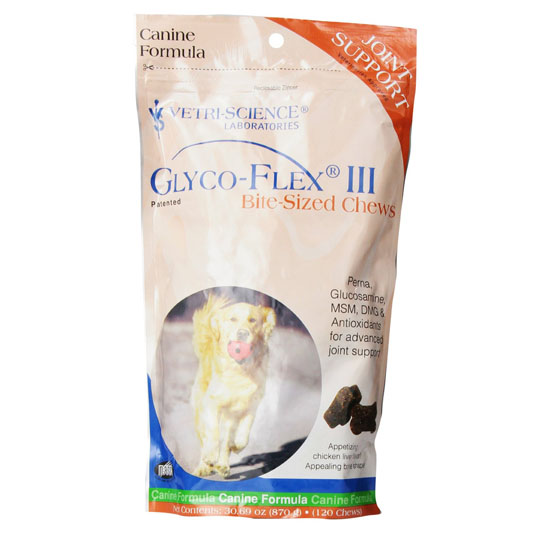 The taste of sweet potato from Natural Balance Dry Dog Food With Sweet Potato and Venison Formula makes feeding process easy. The sweet potatoes formula offers premium quality of carbohydrates that is rich in potassium and highly digestible energy source while the premium protein is sourced from fresh venison. Just like high quality pet food, this product doesn't use artificial colors, flavors, or preservatives.
The ingredients of this dog food have been specially formulated for dogs to prevent any allergic reactions. There are many dogs that have to deal with yeast infections or itchy allergies and all those vet visits seem just a waste of your hard earned money, nothing cures your best furry friend, even though you've tried changing shampoos, antibiotics, medications, and many more. There are times, all these symptoms are caused by your dog's food, yes, even though your dog has been on it since puppy. Many dog owners that switch the old food into this product admitted that they started to see improvements in just 2-4 weeks, no more scratching, skin irritation, or yeast infection. However, each case is different, you need to give this product a try for at least 2 months to see any changes.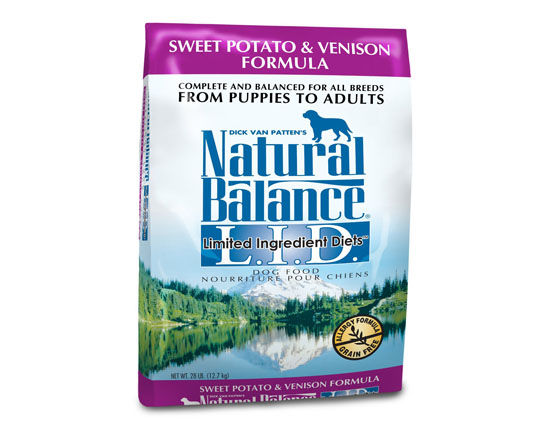 If you need to find a dog food with medium protein level, then take a look at Wellness CORE Original Formula Dry Dog Food. It features 100% grain-free with 54% more protein compared to Wellness Super5Mix Complete Health Recipes. This company understands that not all grain-free pet foods are created equal, not to mention high level of protein in Fido's food can cause higher levels of calcium and phosphorus. This increasing mineral levels that can interfere how body absorb other trace minerals such as zinc and iron, resulting in slow or poor growth rates, low read blood cell levels, and skin irritations.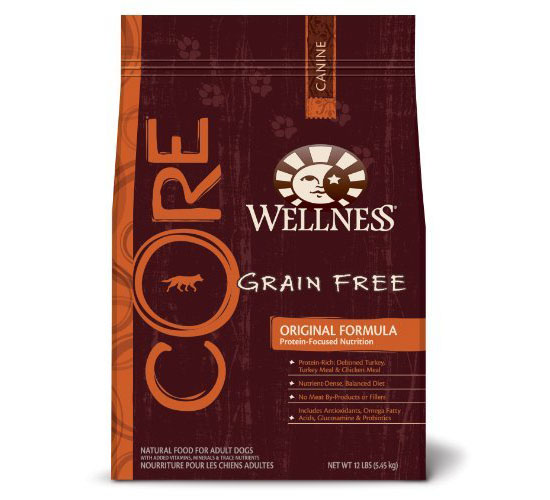 Snack time or giving reward to your furry pal? Try this Supreme Best Bully Sticks. It's all natural beef treats which are fully digestible. Each stick is 12-inch long which is ideally for small to medium breeds of dogs, but larger dogs love these treats as well, except that they can finish it pretty quick. Chewing this snack promotes dental and gum health, since chewing action and saliva generation are required to eat this snack. It is made from free-ranging Brazilian cattle, a great alternative to rawhide.
The big dogs will definitely enjoy Chunky Chews 8-inch Beef Braided Rawhide Ring, it's 100-percent premium rawhide. Each Chunky Chews is made for big and aggressive chewers, you can tell from the thick braided design and its weight (3x heavier than other rawhides bones in the same size), it's designed to last for awhile and at the same time promoting healthy teeth and gums. The ring features patented miracle-marinade no-run formula to provide your dog with rich flavor all the way through and off your carpets and furniture. The company uses only the highest quality ingredients, grass fed free-range beef hides, no hormone or antibiotic.
This dog treat also maintains your dog healthy skin and coat, thanks to Conjugated Linoleic Acid (CLA) and Omega 6 fatty acid in it. This product is locally farmed, produced, and packaged in one dedicated factory, all the processes are never salted, they are all traced and controlled to ensure safety and quality of your dog.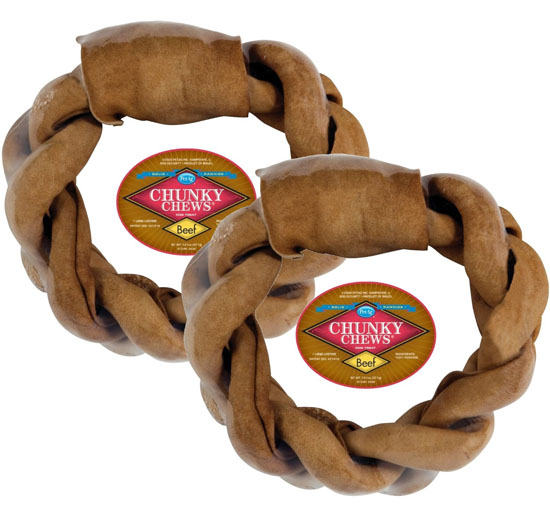 You can bake custom dog treat for your dog using this cool Bake-A-Bone The Original Dog Treat Maker. It comes with healthy recipes, all natural without any preservative, including organic and gluten free recipes. You can bake your own recipe to ensure your dog only gets the best, healthy ingredients. It bakes all those treats in minutes, perfect for dogs of any size, from small, medium, to large. You can also mix bacon, peanut butter, chicken, or organic ingredients in it, decorate your treats with fun. The bones are pretty soft, so your dog won't have any problem in chewing one, in fact, they just can't get enough of these delicious treats.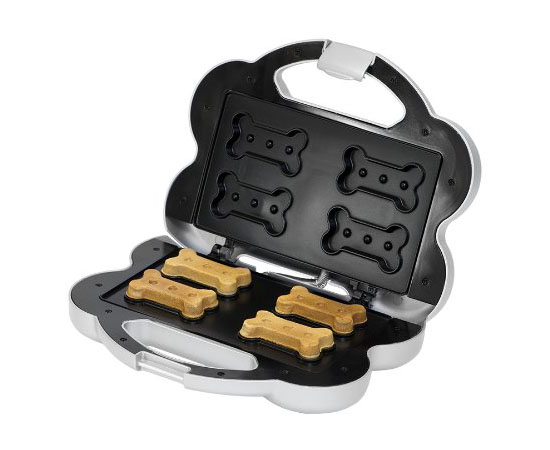 Tweets by @pawfipet