Browsing articles from "February, 2018"
For the love of cats, a couple of architects have designed modular cardboard cat house. It's a project specially dedicated for cats, the focus was to enrich the living space of our beloved feline friends, making homes suitable for cats and humans. As humans, we need a warm and safe environment to live in, this concept goes for cats as well, or any pets. After these architects live with their cats, they understand the importance of safety and space for cats, they are much more comfortable when relaxing in a small and narrow space. The result is a set of mini-building made of cardboard for cats.
In an attempt to increase bird population in the cities and villages, Klaas Kulken has designed Terracotta Roof with integrated birdhouse. This design came to real after consultation with Vogelbescherming Nederland (Dutch organization concerning the protection of birds), basically it merges basic terracotta roof tile with archetypal shape of a house. It looks pretty cool, doesn't it? There are some birdhouses above your head and it blends perfectly with the roof.
Cute Cat and clean house with Modkat Flip Litter Box. The design of this litter box provides you with easy access for both scooping and cleaning. Inside the box is pretty spacious to satisfy your cat's need, there are three lid positions that you can choose to give your feline friend its privacy: fully open, half-open, or completely closed. Upon opening this box, you'll find reusable tarp liner for mess-free litter solution, the liner is designed to work with Flip's hook. These liners are rip-resistant and pretty easy to clean, it means that you can use each liner up to 3 months but it also depends on how many cats use this litter box and how ferociously they scratch.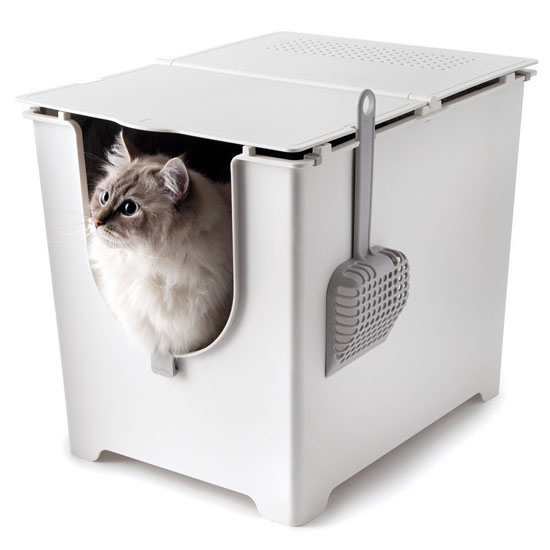 Tweets by @pawfipet