Browsing articles in "Houses"
Bird lovers, here's a cool bird feeder that would decorate your backyard as well as invite all birds to come and hang out. Prairie Style 3D Wooden Lantern Bird Feeder is one of cool handmade bird feeders on the market.
This can also be a unique gift idea, the timeless design comes with DIY project, building this product would be enjoyable for all ages. This bird feeder is actually a wooden 3D puzzle kit where you need to assemble to use it, there's a mason jar with bird seeds located down at the center. The wood material comes natural and unfinished, you can choose to paint it or stain it however you like.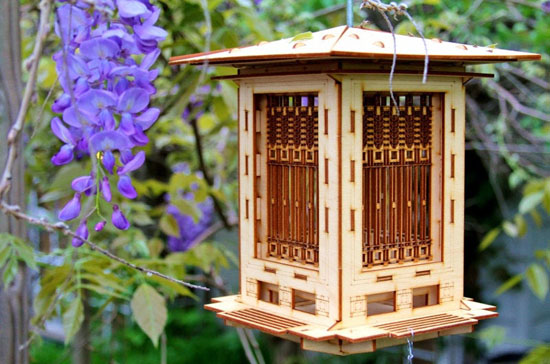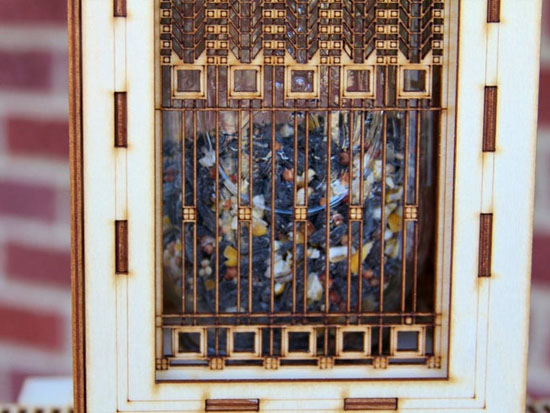 Love hearing the sound of bird chirping? You can bring that spirit next to you with this cute Vintage Camper Bird House. The colorful wooden house invites feathered friends to nest, play, and eat while that cool retro design is for you to enjoy. The design idea came from old photographs of a trailer, it would look pretty cool if there's a birdhouse with simple construction but amazing details that resemble an old trailer.
This birdhouse would be a great home for a small bird family, there are little windows to peak in yet still offer new hatchlings security. This kit is about 1:20 scale of a real trailer.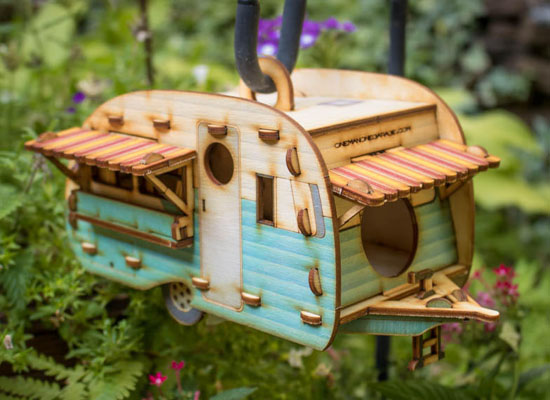 Handmade in Philippines by Filipino artisans, Wicker Bird Bungalow offers a unique, natural bird house. Each piece uses local materials to create a cozy space for our avian friends to hangout or even lay eggs. This little bungalow is a perfect space for little birdie to enjoy a tropical vacation, it's like a little paradise for them
Filipino artisans craft each house from local materials, creating a cozy space for our feathered friends. This piece uses locally sourced wicker, rope, and twigs. You can hang one or few of these bird houses in your backyard, but we recommend that you hang it near your bird feeder or bird bath pool, soon they'll notice that you also have a cool bungalow for them to be safe during the rain or simply to relax.
In an attempt to increase bird population in the cities and villages, Klaas Kulken has designed Terracotta Roof with integrated birdhouse. This design came to real after consultation with Vogelbescherming Nederland (Dutch organization concerning the protection of birds), basically it merges basic terracotta roof tile with archetypal shape of a house. It looks pretty cool, doesn't it? There are some birdhouses above your head and it blends perfectly with the roof.
Love wild birds? So are we. Listening those birds chirping in the morning gives us peaceful feeling. Zingz and Thingz Seaside Station Freestanding Birdhouse is a beautiful addition to any backyard or garden, it won't function just as a birdhouse but also a modern decoration. You can place it near bird feeder so that those birds can hangout while having their breakfast, or better, one of those bird might make a nest inside to lay its eggs. Made of wood, this birdhouse is a lifeguard station completed with all the trimmings, you can also see the details are amazing. It weights just about 1.8lbs with dimensions of 11.25-inch (H) x 7.5-inch (W) x 8.75-inch (D).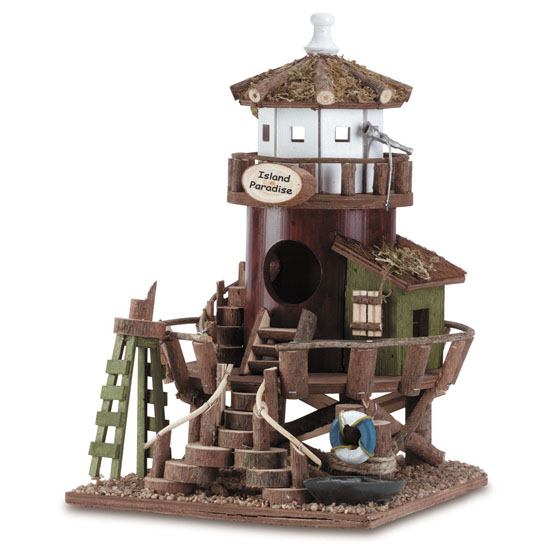 This modern birdhouse comes from the same designer of Rocking 2-gether Chair, yes, Paul Kweton has done it again. It's a birdhouse made of repetitive lasercut plywood ribs with clear coat finish. The sophisticated form will make your home even more beautiful, you'll get a lot of complements from your guests, just don't forget to clean it after a week. We're not sure if this birdhouse is for sale, but you can contact Paul to get further details, even the lasercut template is available on request.
Hinika has a beautiful and decorative birdhouse called Tree Ring Birdhouse. It's a stylish decoration for your garden as well as great shelter for small wild birds. If you love hearing birds chirping, you might want to provide those avian friends a place they can call home or at least something to give them protection from bad weather. The unique shape mimics rings which are usually found on the knots of tree, the intention here is to make them feel like home. Egg shape creates a comfortable space, it drains water away.
Each birdhouse is constructed of natural teak wood, designed to fit into a natural habitat yet you'll be proud to have it displayed in your garden for all your guests to see. The hole might look small, but actually it's large enough for small birds to enter and keeping predator out.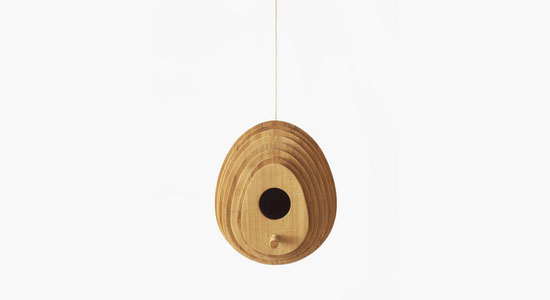 Checkout Chimere Modern Pet Furniture 2012 collection by Frederic Stouls and Marc Ange. This is the first manufacturer of contemporary and modern furniture dedicated to pets. This furniture set not only offers comfort but also beyond it's functionality, it provides decorative element in our home. Impressive soft and noble materials combined with high quality manufacturing, each of these furniture pieces is not an ordinary pet furniture, it's a beautiful creation with timeless soul.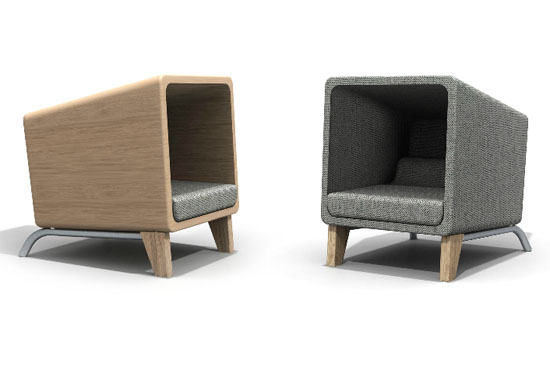 An elegant and luxurious Cui Birdhouse will stand out in its natural environment. It is made in white glass combined with rope to boast modern form associated to these kind of objects. Although it is undeniably good, we are worried if the wind during the storm might drop this birdhouse and break it.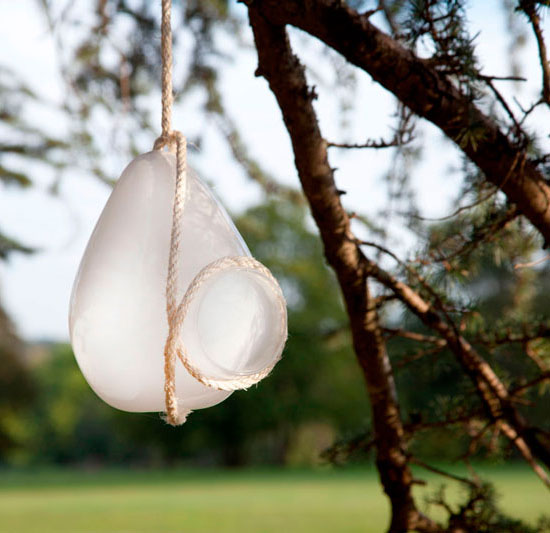 Tweety Tower is your modern birdhouse that can accommodate multiple birds. Beautifully crafted from utreated pine plywood, you can enjoy the chattering sound from different birds that nest in it. This is the mini version of high rise building for birds made by USUALS design team.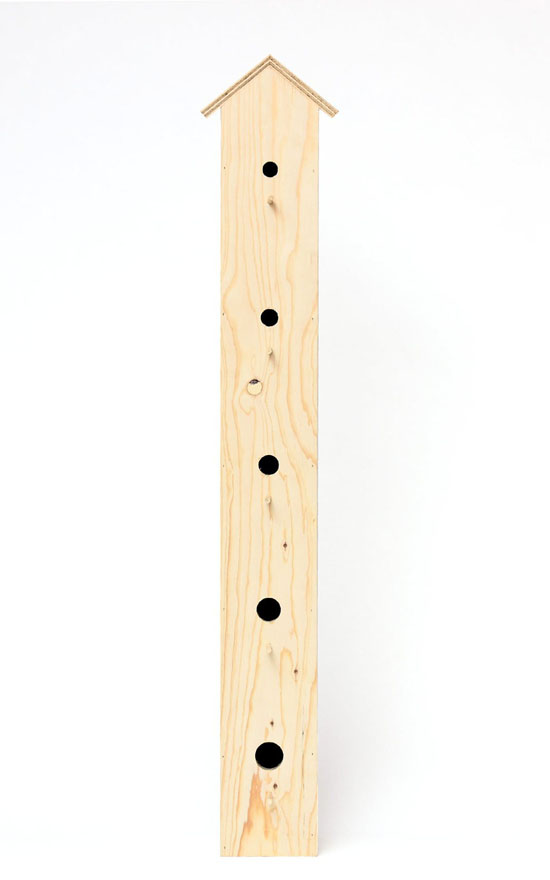 Tweets by @pawfipet