Browsing articles from "March, 2015"
Dear dog lovers, you'll happy to know that Samsung is actually making a concept smart house for dogs. Apparently Samsung understands the love bond between a dog and its owner that they would even think to create the prototype of a dream dog house. It's a $30,000 futuristic dog house that offers any dog a luxurious living, it's pretty hi-tech kennel.
Designed by 12 designers for over 6 weeks, yeah, that's how serious Samsung is, this doghouse is equipped with entertainment wall, with auto snack dispenser, hot tub spa, and a treadmill. It looks like a great start for Samsung to reach out dog market after their great success in human market.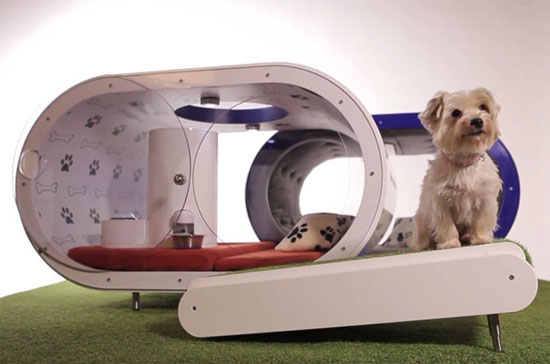 Pets love hiding, The Missy Cave from PUP and Kit will let your little furry friend hide in style. It's a modern pet cave for small cat or dog, the unique geometric shape is for pet owners where they can place this pet furniture in the living room proudly. It's a little table/small pet house that can be a focal point in any room, so yeah, both of you can enjoy this piece of furniture. Inside this cave, there's a cushion made with Sunbrella fabric or a modern canvas print, stuffed with a polyfiber fill. Your dog or cat would love to hide and take their own time inside this cave.
Constructed with wood veneered plywood and sealed with eco-friendly lacquer, you can be sure that this furniture is safe for your pet. You can also request custom finishes to match your existing interior décor.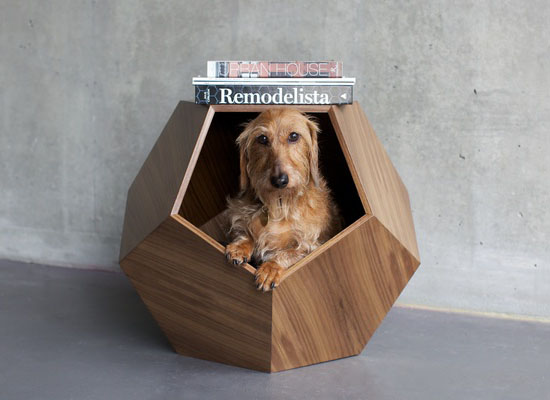 Gift your cat this cool Extreme Cat Tunnel, your feline friend would be entertained for months. Yes, we know that cat chutes and tunnels are not new, they are available in different pet shops, but this one uses Velcro tape where you can attach and customize wherever you want. This means, you can also be creative to construct this cat tunnel to whatever shape you like, create a cool maze for your cat to enjoy.
Each set comes with 3 tunnel sections, there are straps that can be used to tie 2 tunnel sections with entrances to your furniture, in this way, you can create multi-storey enclosures. The entrance size is about 7-inch x 5.5-inch while the tunnel section is about 3ft. long when stretched out. Unfortunately the instructions are in Japanese, but don't worry about it, it's pretty easy to use.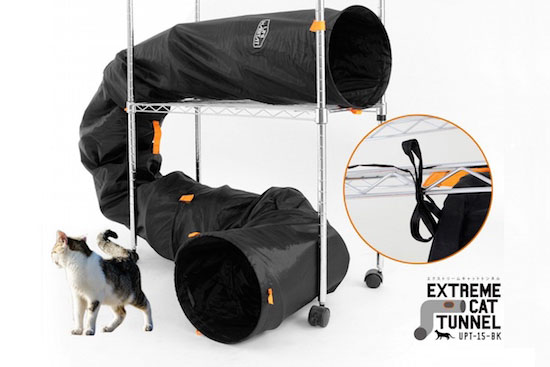 Most often than not, senior dogs, especially large breeds, would suffer from arthritis, especially overweight dogs. It would be a sad thing to see our lovely furry friend has to deal with the pain, they are no longer running around or get excited when it's time for a walk. It's really important to maintain healthy hip and joint at early stage, one of great supplements in the market is MangaNaturals Hip and Joint Support for Dogs. It contains 120 chewable tablets with advanced formula such as Glucosamine, Chondroitin and MSM.
In order to delight your dog, these supplements feature beef flavor, your dog would love it. Due to joint cartilage that deteriorates, it is unable to retrain water, thus, resulting in a loss of lubrication between joints. When the cartilage can't hold much water, the body attempts to produce more synovial fluid that results in the swelling of the joints. The formula inside these supplements would provide building blocks that support healthy joint and connective tissue functions.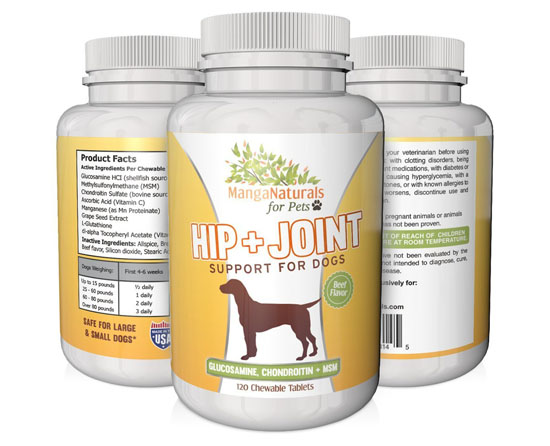 This is a 2-in-1 aquarium, Back to the Roots AquaFarm combines 3-gallon fish tank with a vegetable/herb grow bed in one closed loop system that fits on any kitchen counter. This is the new model that comes with silent, submersible water pump with 360-degree view.
This fish tank uses aquaponics system, an ancient sustainable method of farming developed by the Aztecs. It's really effective since it uses 90% less water compared to traditional farming methods and at the same time, it combines aquaculture with hydroponics. Back to the Roots Aqua Farm is the table-top version of that system, the water pump with inner tube will pump any fish waste into a grow tray that contains the plants. The plant roots acts as a natural biofilter where beneficial bacteria breaks down harmful ammonia in the waste into nitrites which can be absorbed as food by the plants. Any clean water left is circulated back into the tank. It is a smart system, isn't it?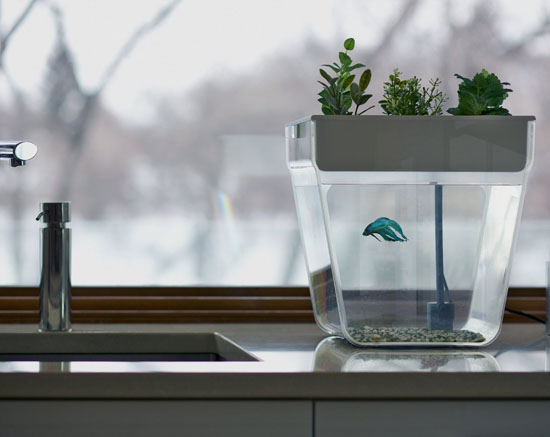 Tweets by @pawfipet