Browsing articles in "Cages and Carriers"
Sleepypod Air In-Cabin Pet Carrier just like its name suggest, this product offers airline approved pet carrier that is adaptable to various under seat storage requirements, because different airlines usually have different seat arrangement. However, this carrier will always provide maximum comfort for your furry pal.
Constantly checking if your pet carrier will fit under a plan seat is an obsolete, the patent pending folding system of this carrier allows your pet to travel in largest space possible yet when the airplane is in the air, it still fits under an airline seat. When the captain announces that you can recline your seat, you can rotate this unit so it is located between your feet and expand the both ends, so that your little furry friend can stretch out comfortably during the flight. Both ends have been designed to expand when there's nothing blocking them, but once compressed, they remain in flexed position with airline seat frame serves as their barrier.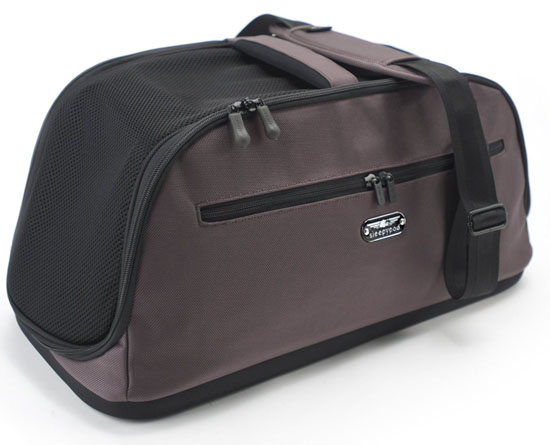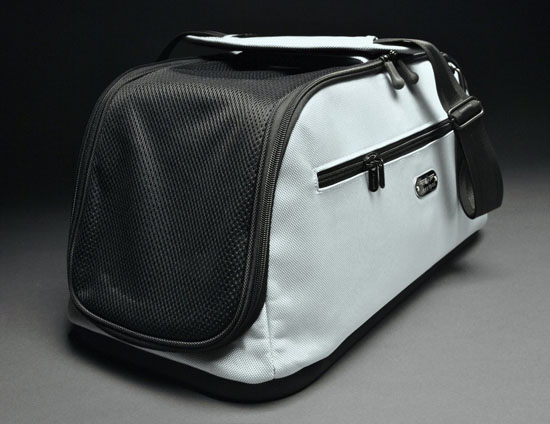 This bag is certainly a nice help for a short trip, such as going to the vet, travel by car or plane. Perfect for both dog or cat, SturdiBag Pet carrier features patented, award winning flex-height design. Although the company mentions "large", this bag actually pretty compact, ideally for small to medium sized breed. Light and durable, it can safely carry your pet up to 40 pounds, so if you have Jack Russel Terriers or Cavalier King Charles Spaniels, or any other small breed, you'll be just fine with this bag. The size is also perfect when you travel with your pet by plane, it is simply one of best in-cabin pet carriers. The egg crate style interior provides comfort to your pet.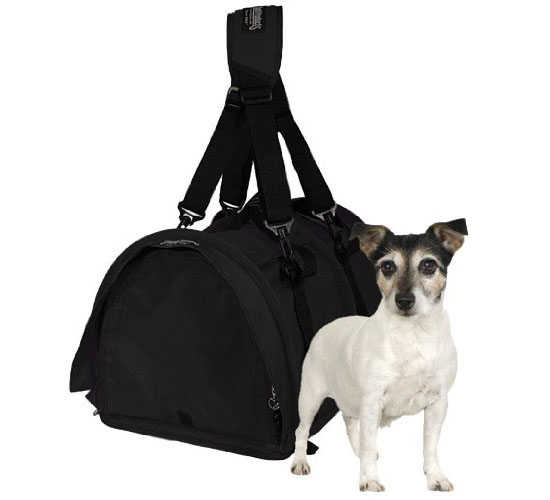 If you usually take your pet on your driving vacation, you might want to consider purchasing Petmate Two Door Top Load Pet Kennel. It features 2-door construction (front and top) for easy access, carry handle and a water cup. This 24-inch carrier is very ideal for small pets, the combination of steel and plastic materials are very durable, safe and comfortable. You can always checkout your pet through the ventilation with clear visibility. If you want something secure, solid and comfortable, then this carrier fits all those requirements.
Petmate Two Door Top Load Pet Kennel comes in 3 pieces: top, bottom and front door with secure latch. Due to its innovative design, you can setup this pet kennel without any tool, simply tighten the fasteners all together. We really love the top door design, it allows you to have easy access to your dog or cat. For added comfort, you can also insert a soft padded liner such as Midwest Paw Print Reversible Fleece Stuffed Bed.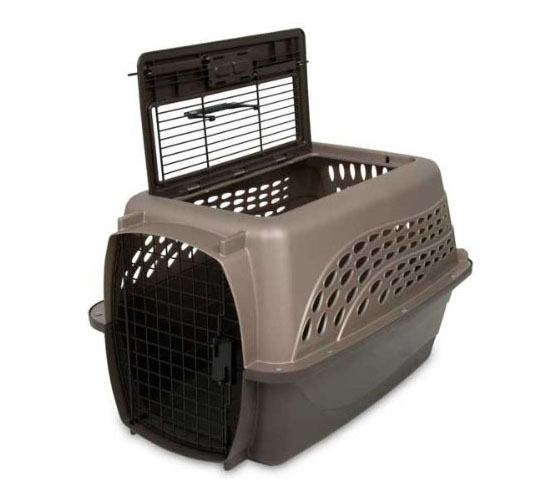 Not only Bergan Comfort Carrier Soft-Sided Pet Carrier looks good, but it also feels good. If you plan to travel with your pet, you might be interested to know that this carrier comes with fleece travel bed to keep your cat or dog comfortable inside. The padded shoulder strap is easy on shoulder, from puppy to adult dog or kitten to adult cat, you can choose the right size to accommodate your pet weight (small or large). The problem with buying pet carrier only is to find the right size, there we suggest that you measure your pet's height and length and compare it with the dimension of the carrier. You can click here to checkout each size dimension.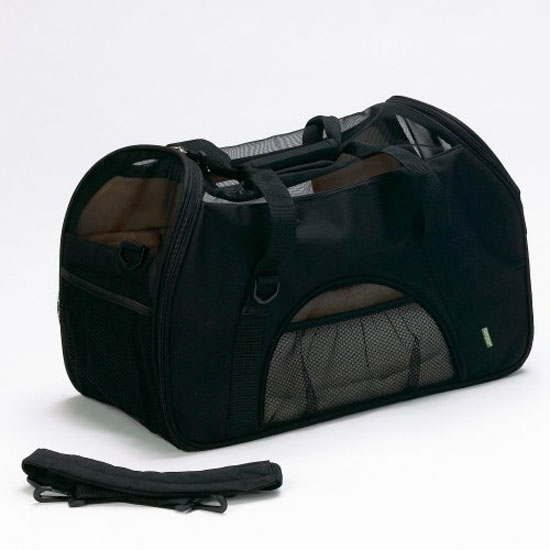 Let's have picnic with your pet, checkout IRIS Pet Carrier with picnic basket design, it seems this is the perfect carrier to take with you. This adorable pet carrier is designed with comfortable ventilation to ensure your pet will get plenty of holes on all sides for peeking out. The top open design allows for easy access to your pet, as you prepare the dishes, your little furry friend can pop his or her head out to checkout on you. Measures 12.25" x 13" x 19.25", this carrier can accommodate a big cat and still offer spacious room.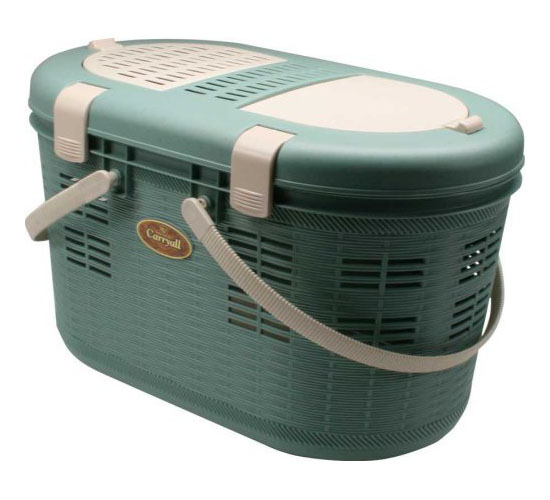 Keep your pet safe indoor or outdoor using IRIS Plastic Pet Pen (CI-604). It's a safe enclosure for your pets constructed from commercial-grade plastic, perfect way to let your dog play under the sun or just temporarily keep your dog in certain area of the house. This pet arrives in parts but it's really easy to assemble, you'll be glad to have this pen. There are 2 models: 4-panel and 8-panel, if your pet is small, we consider the 4-interlocking panels would be sufficient as it provides 36 x 36 inches space for your little furry friend to rest and play. Double steel door latch ensures your pet safe inside. For outdoor use, the panel connectors that look like spikes can be used to keep the pen secure on the ground.
Designed by Emanuele Bianchi, Petego Jet Set Pet Carrier is your best friend if you need to carry your best pal on an airplane. A stylish and versatile pet carrier that you can carry over your shoulder (carry your dog or cat while cycling), fix to your car seat (it comes with special straps design), as a backpack or just by hand. No matter how you carry it, your pet will feel comfortable in it. Together on-the-go, both of you and your pet will be happy to have this pet carrier.
Petego Jet Set Pet Carrier design has taken special attention to in-vehicle safety, it boasts claw-proof mesh windows on either side and doors along with a safety leash to secure your pet safely. Both ends have zippered soft nylon mesh openings for great access to your pet. There are available travel accessories that you can purchase separately as complement to this airline-approved carrier.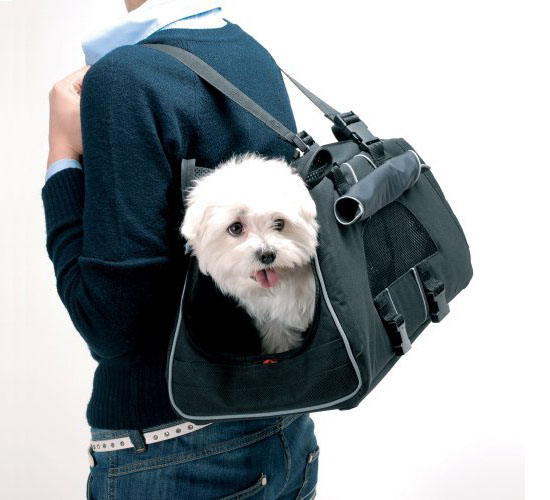 Modern Teafco Argo pet carrier has been designed to meet the strict airline regulations when it comes to safety of carrying your lovely pet on a plane. Its innovative design (smaller version of Petascope) enables you to take your small pet in it and slide the carrier underneath your seat. Each product has been carefully made from 840 denier Nylon fabric and offers water resistant exterior for comfort. The dual layer mesh windows on both sides are great ventilation and visibility of your pet. There's a large front zipper opening for quick access.
Modern pet owners who travel a lot with their pet should have Sleepypod Atom modern pet carrier. It's been designed for everyday living and features consistent innovative design which Sleepypod has been very well known of. The inspiration of this pet carrier came from the existing multiple-award winning Sleepypod Air design which then applied to the smaller-sized Sleepypod Atom. Everything about this bag meets major airline carry-on pet regulations.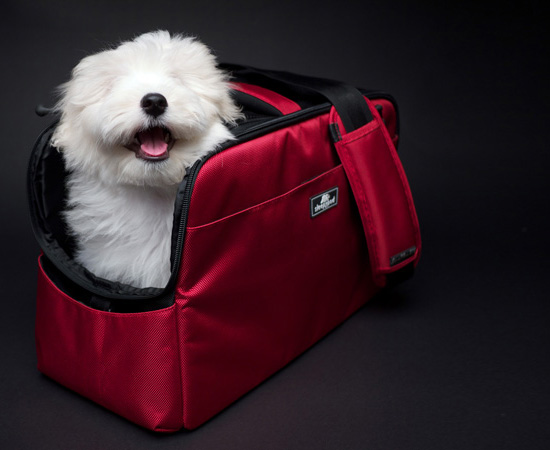 Precision Pet Soft Side Play Pen provides safety while still gives the freedom for your pet to move around. You know that pets are not supposed to be restricted no matter what. Walking, running, playing are great activities to keep your pet happy and healthy. However, most owners don't feel comfortable to let their pets run around during trip or in unfamiliar places. This is where a playpen comes in handy.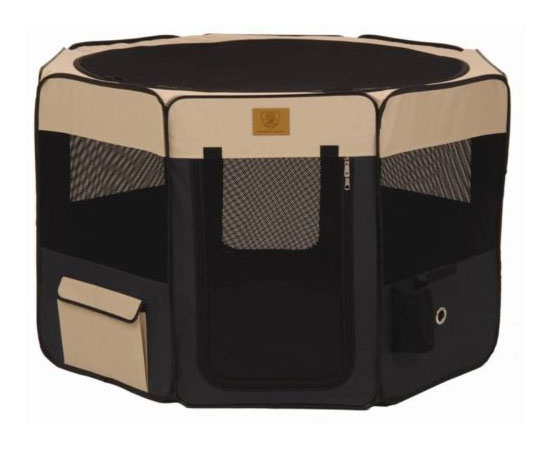 Tweets by @pawfipet