Browsing articles in "Feeding and Watering"
Colorful Carnival Hummingbird Feeder comes in two forms: round and tall, both features cool colors to invite one of nature's cool creatures, hummingbirds. Each feeder is handmade, created from recycled glass, so it's a nice product if you are green conscious person. The carnival of colors would add art to any outdoor space, you can install it on your yard, front porch, or deck to bring the environment to life. Once those hummingbirds come around it, their energy and beauty would also live up any space.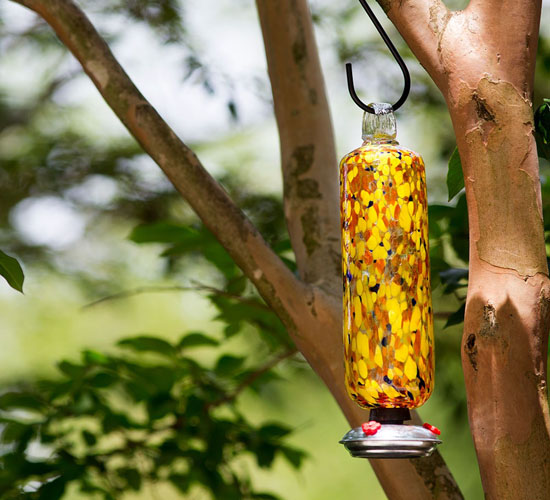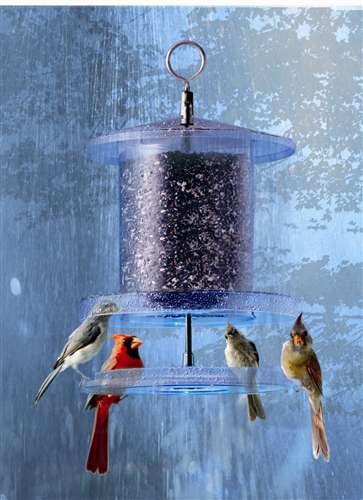 Watching birds in the morning is refreshing, we really love hearing them chirping while eating and hangout with friends. Birdsong essentials All Weather Feeder is a 6-quart feeder that keeps the seeds dry through all seasons. When you love birds as much as we do, you should consider having this unit on your backyard or front porch.
Hate wet seeds? So do birds. That's why this feeder features covered feeding port, in this way, the seeds stay dry from rain and keep away snow. You don't need to worry about cleaning out wet and moldy seed. The circular perch design allows you to view birds while they are eating, even when you are on the far side, that perch also catches spilled seeds. It's easy to clean, so you can be sure it won't clog up with ice or snow in winter. This model has 2 options: 4Qt capacity and 6Qt capacity.
Duncraft 74405 Songbird One Way Mirror Window Bird Feeder is a lovely feeder where you can enjoy up close and personal view without disturbing your avian friends. Even when your cat is joining you to view the bird from inches away, this one-way mirror bird feeder still gives great privacy to the bird, it won't be scared off. The 2 heavy duty suction cups stick securely on any window while holding up to 1-pound seed. Aside from being easy to clean, the transparent plastic makes the seed levels visible at all times. If you want to attract wide variety of birds, you can use multiple seeds for this feeder.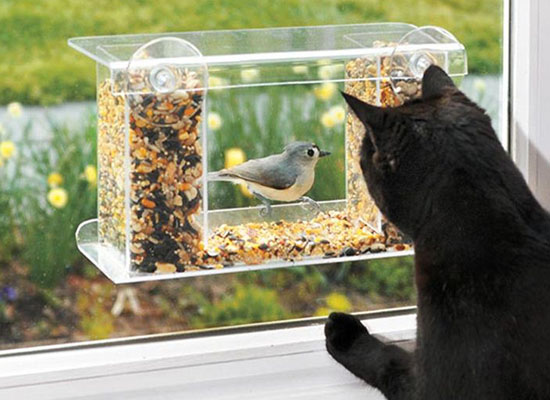 Beautifully designed, Avant Garden Looking Glass Hummingbird Feeder (8110-3) would look good in your garden. All customers are very pleased when this unit arrives, well even guests would comment on how beautiful your feeder is. It's made of durable, tempered tinted glass nectar container, there are 4 copper flower feeding ports which act as beautiful accessories to an already gorgeous feeder. This feeder can hold nectar up to 32oz, enough for all hummingbirds that will become your loyal visitors every morning. The transparent container allows you to easily check the nectar level, you can unscrew the feeder base easily and quickly for filling or cleaning.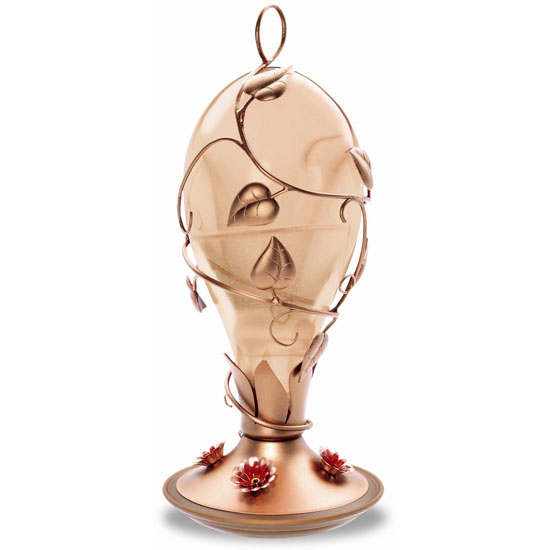 Made in USA, First Nature Lantern Style Bird Bath and Waterer (3039) is an easy to clean birdbath and waterer that holds 100-ounces of water. It supplies all those wild birds with fresh water through its four pools. You can choose to hang this birdbath with included s-hook or mount it on 4×4 post (chain is not included), because every house backyard is different, therefore having this flexible option is a nice feature. Every week, you need to disassemble this birdbath for cleaning and refilling, simply remove the water reservoir, use soapy water and rinse, then fill it again with fresh cool water. Seriously, if your goal is to attract wild birds, then you should always provide clean, fresh water, otherwise your avian friends will not be interested to hangout at your house.
As you can expect from all Umbra products, modern and stylish. Umbra Bird Cafe Hanging Bird Feeder comes in stylish and modern design, even wild birds deserve to dine in style. Similar to FishHotel aquarium, this bird feeder also features condo-like structure with multiple asymmetrical windows, sleek and nice. Birds will love the generous divided feeding tray while you'll love the easy-fill removable lid. You can hang this feeder with its sturdy steel airline cable, the content is clearly visible through the clear plastic windows. The seed flows continuously through the holes at the bottom into the wrap-around tray, in this way, birds can perch on and feast, you can easily checkout at a glance if this feeder needs a refill or not.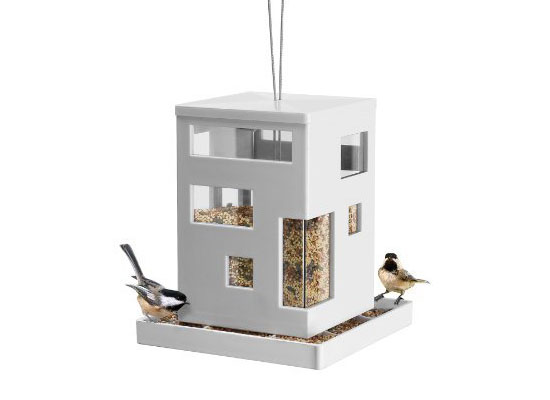 Provide fresh water for all those wild birds that chirp making beautiful sound every moning with First Nature Globe Style Bird Bath and Waterer (3004). We can say that this product features water tank that holds up to 100 ounces of water which are enough for your feathered friends to drink or even bathing. You can hang this bird bath since it comes with s-hook, pretty easy to disassembly for cleaning or refilling. Many customers love the fact that this product is made in USA since they have more faith in the product's quality.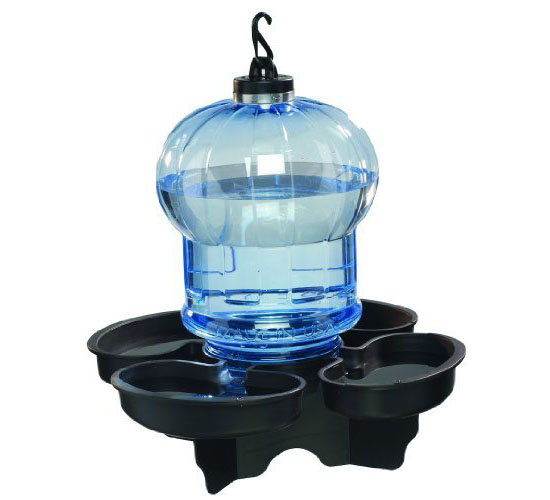 With attractive rustic brown finish, Birdscapes 366 Tall Tulip Garden Lantern bird feeder offers you a beautiful outdoor décoration. This bird feeder can hold up to 6 lbs. of seed and with the Sure-Lock cap system, no squirrels will be able to steal the seed. The transparent body enables you to easily checkout the seed levels and ensures to keep this feeder full for those birds. Yes, I love waking up in the morning and hearing chirping of birds. Please remember to clean this feeder once for every 2 weeks, use mild soap and water solution because dirty feeder keeps birds away.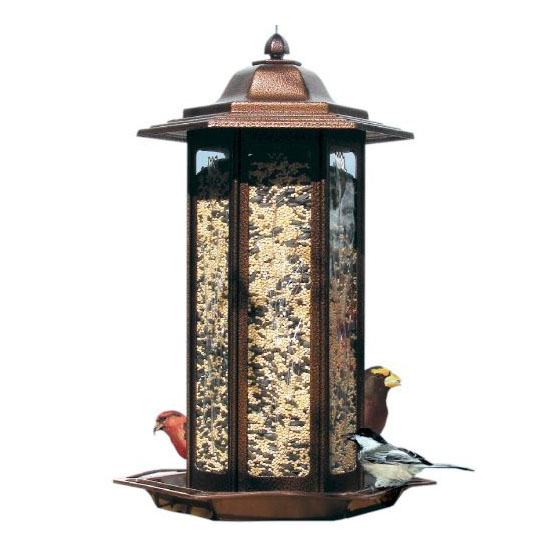 If you are a bird lover and have empty patio that needs a beautiful decoration, then why not get a Perky Pet Antique Bottle Hummingbird Feeder (8108-2)? It features vintage design, different, and unique. This bird feeder will not only become an eye grabber but also a perfect feeder for hummingbirds. It has beautiful four decorative flower feeding ports made of metal, not plastic. The elegant sea green bottle is made of recycled glass with brushed silver accents to enhance beautiful vintage look, again it's no cheap plastic looking feeder. Based on many happy customers, birds are comfortable enough to perch and take some rest on while feeding.
You can keep 10 ounces of hummingbird nectar in this feeder, there's metal hanger on top to offer ease of hanging.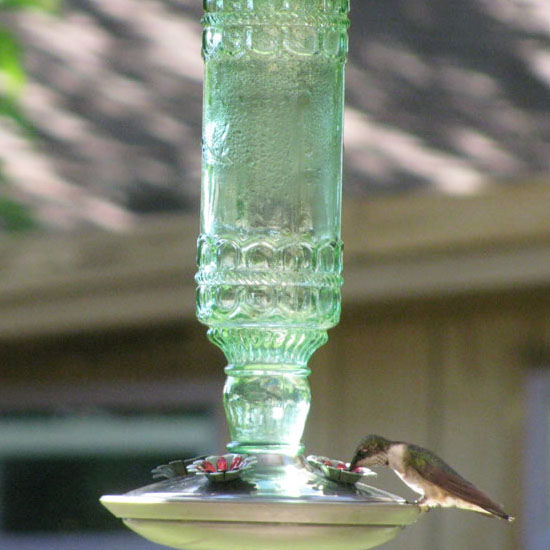 Staying at my friend house near the wood last summer was really fun. Every morning, I could hear the birds' singing and watch them eating up, close and personal. My friend had Coveside Mahogany Windowsill Bird Feeder installed in his window screen, it's like having VIP seat to view your favorite birds chatting and eating. Browsing around the internet, I've found out that this bird feeder is pretty affordable, with the price label from several different merchants, you'll get a good quality product.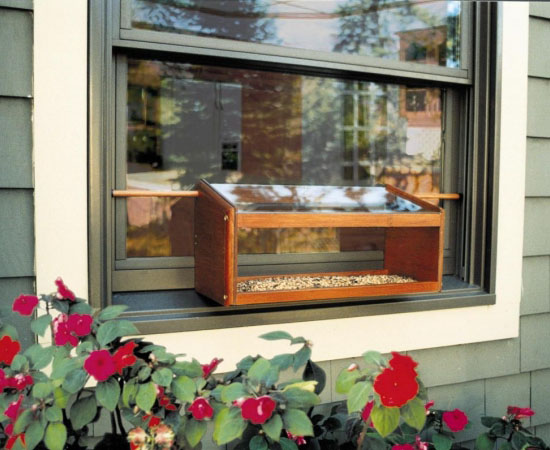 Tweets by @pawfipet