Browsing articles in "Apparel and Accessories"
A cute Samurai Warrior will welcome your guests in style, but instead of afraid, your guests would cuddle it. Most samurai warriors are played by American actors in the movies with spectacular armors and helmets, completed with a cool samurai. Well, this time, your dog or cat can be a Samurai Warrior, protecting you like a good soldier. Beware though, this furry medieval Japanese warrior is so cute that you might not be able to stop kissing them. Available in three size options, please attention to make sure it fits your pet. By the way, that face shield is not included, you might have to create it by yourself.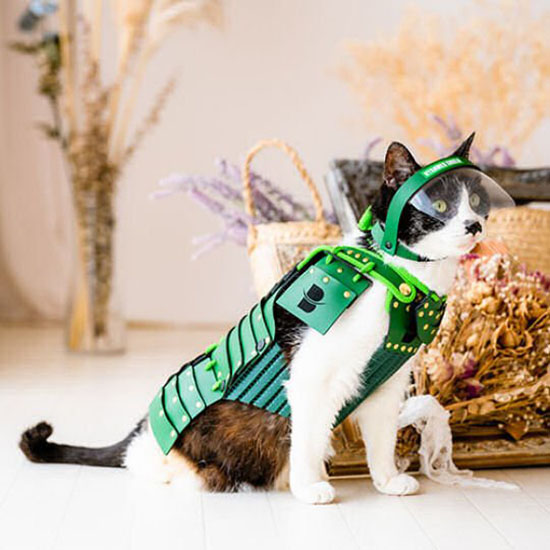 Weather changes from one moment to another, even though it's summer, there's nothing wrong preparing for the rain now. Look at this stylish transparent raincoat designed specially to protect your dog from the rain. This raincoat is available in two models: white trim and blue trim, each is available from size S to XXL. It's 100% waterproof.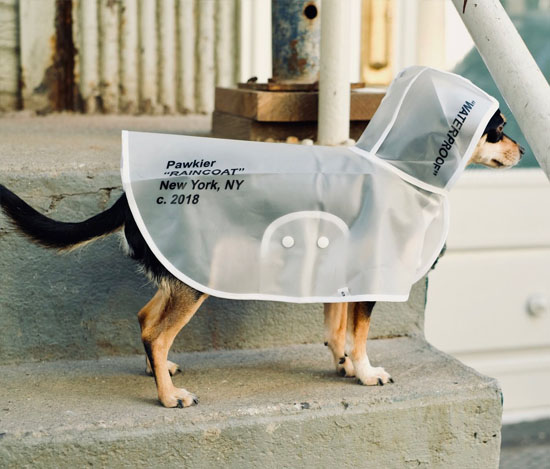 Trident K9 Tactical Helmet is a head protection for working dog. It's a helmet specially designed to provide cranial protection for canines, it also functions as a stable platform for tactical gear such as lights, cameras, or communication devices. You can attach safety accessories e.g. detachable ear protection and muzzles. The main shell is crafted of a single piece, super tough 3D printed nylon, it has complex curves and details to ensure for good performance and durability.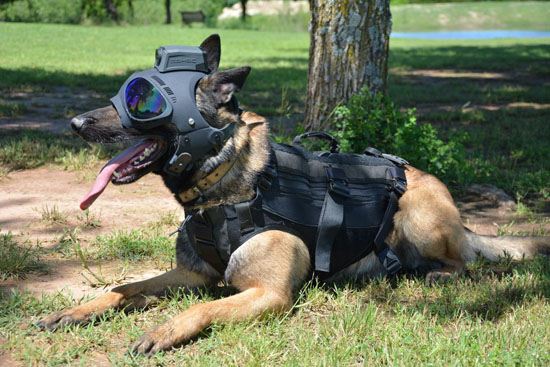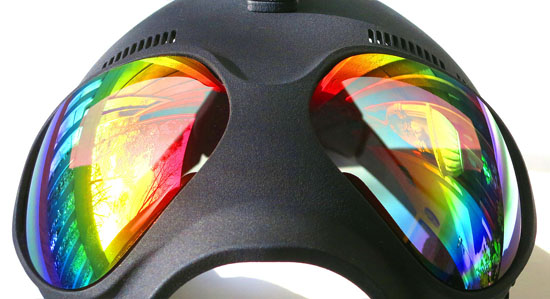 Dress your best friend in a cool, Blue Denim Dog Jacket. This nice jeans jacket is designed by Pablo & Co. boutique, each one is handmade with attention to details. Walk your dog out in style, this denim vest with brass fitting accessories will make your dog looking cute and attractive. This jacket is designed for variety dog sizes, please measure your dog correctly so that you can order the right size.
This Christmas, you can give your sweet companion cool bandanas from Boots and Arrow. These series of bandanas are colorful with vintage style that features unique detailing. Each bandana is locally sourced, it is also designed to be reversible, perfect for neck up to 18-inch. Boots and Arrow has been known for its passion for rescue animals, they have been more than 17 years in the design industry and spend as much time rescuing dogs. All products from this company are representation of good combination between love for design and animals, you can find series of cool products for your dogs.
Our one-of-a-kind dog bandanas were created for the pooch who loves to accessorize. Crafted of locally sourced vintage bandanas, each style features custom-designed screen-printing and unique detailing. All bandanas are reversible and fit up to an 18" neck.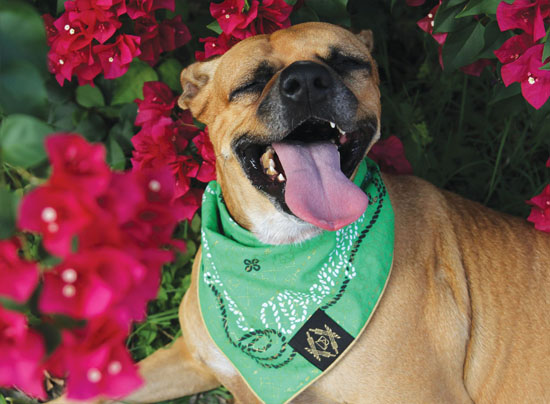 Anxiety and over excitement can be an issue to some dogs, the proven calming method would be giving your dog a comfortable constant and gentle pressure, that's why you need ThunderShirt Classic Dog Anxiety Jacket. By giving acupressure and maintained pressure to your dog's body, it helps to relieve stress and lessen fears in dogs.
We have featured this anxiety wrap sometime ago, this is the updated model to make sure that your dog gets the best of pressure wraps on the market. This product helps to eliminate five major conditions: hyperactivity, anxiety, fear, insecurity, and shyness, these are major conditions that cause unwanted behaviors in dogs.
Found My Animal Waxed Cotton Vest is a stylish apparel to keep your dog warm in colder weather. This is the latest FOUND vest collection, specially handcrafted from best USA sourced waxed cotton brown canvas for the outer part with red and black buffalo plaid wool lining, the hood features cozy olive drab cotton. This vest is ideal for different kinds of dogs, from small sized dog such as yorkies and chihuahas to large sized dogs such as spaniels. This stylish dog vest is available from sizes of 11-inch, 18.5-inch, and 20-inch length. You can also let your dog carry their own treats, there's a cute side pouch with solid brass zipper and grommet, the solid brass snaps are nice for an adjustable fit.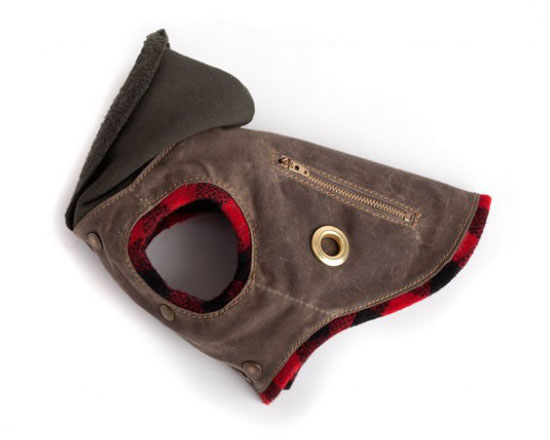 From : Petswag
A stylish dog coat, Dog Coat Brooklyn is made with waterproof outside fabric to ensure it's perfect for rainy days. In colder weather, we're pretty sure that you dog would be much more comfortable inside this cozy and warm coat, the inner lining is made of ultra soft fleece. Aside being comfortable to wear, this coat also adds style to your dog with that lovely high neck collar. There are several size options available, it's perfect from medium sized to large sized dog. The inner lining is machine washable for added convenient.
Training your dog requires treats and toys, PupGym Dog Treat Pouch and Training Bag is a nice pocket bag to keep those treats and small toys. It features high quality material to keep all dog training essentials. The front large zippered pockets can hold your phone, keys, or a tennis ball, you can easily pull it to secure all items inside in one step. Inside this pouch, the inner lining is made of a light blue color, a nice color to help you locate treats or accessories much easier, it can also be pulled out fully for easy cleaning.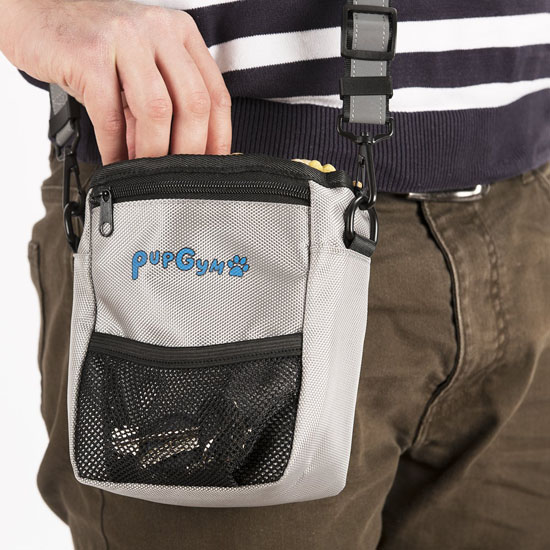 Controlling odor when your house is full with pets can be challenging, you should try installing CritterZone Air Purifier to eliminate those nasty odors. CritterZone Air Naturalizer is pretty powerful unit, filterless and chemical free, the natural process eliminates bacteria, odors, and other pollutants(e-coli, salmonella, mildew, mold, and many more).
Once this unit turns on, it safely and naturally kills germs in the air, not just that, it also provides protection for the surface to prevent any germ and mold growth. Due to its compact size, this unit is highly portable, even perfect for vehicle (use car adapter). It is pretty powerful unit, unlike other air purifier that only covers around 50 to 150 sq. ft., this unit can cover an area up to 800 square feet, it can save your hard earned money. There are 3 settings that you can choose to control the amount of natural charged flow to clean the room or vehicle, it cleans surfaces and even in fabrics. It takes less than 3-watts of energy, CritterZone cleans your air 24/7 for less than a penny/day, it sounds nice, heh?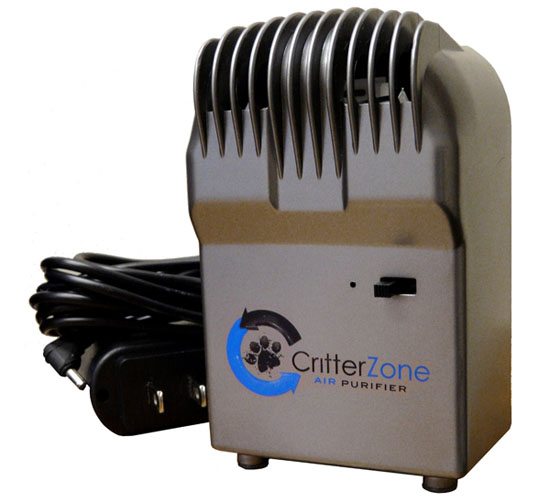 Tweets by @pawfipet